A looser EU could mean that Brexit might not happen, says former Civil Service chief Lord O'Donnell. Lord O'Donnell served as Cabinet Secretary, the highest official in the Civil Service, between 2005 and 2011, under Prime Ministers Tony Blair, Gordon Brown and David Cameron.
Despite the British electorate's vote on 23rd June in a referendum to leave the European Union (EU), he believes a 'more loosely aligned' trading bloc might be a better option than trying to undo and then redo four decades' worth of legislation.
In an interview with The Times, Lord O'Donnell said it would take forever to separate fully from Brussels.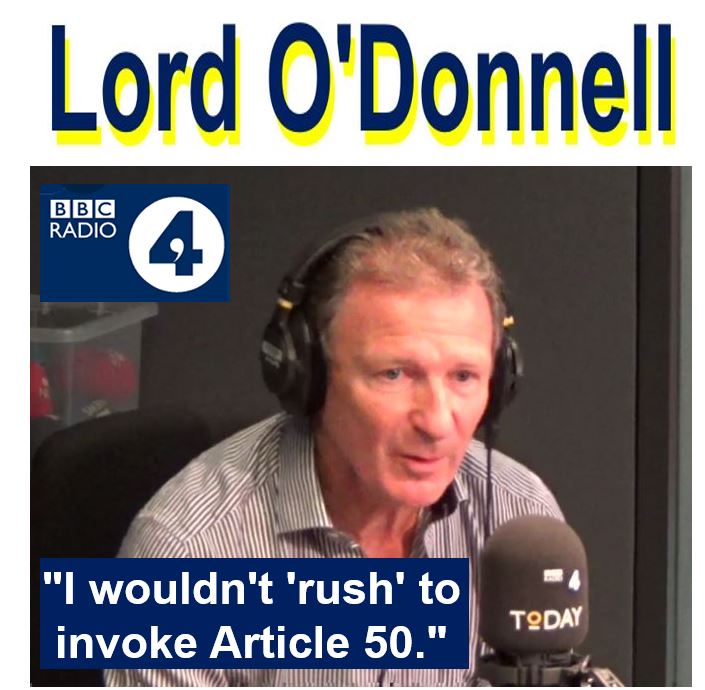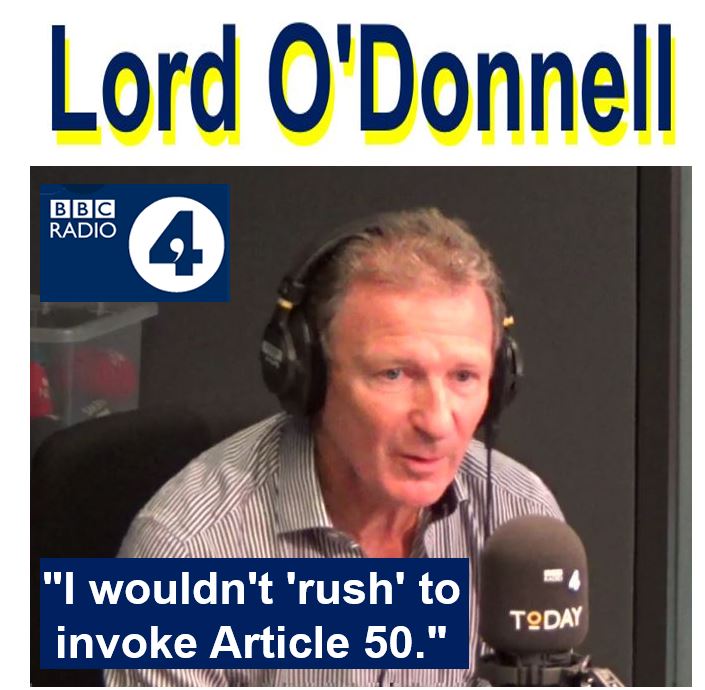 On 'BBC Radio 4 Today', Lord O'Donnell said he would not rush to trigger Article 50, the step required to officially begin an EU exit. (Image: bbc.co.uk/programmes)
Lord O'Donnell said:
"It very much depends what happens to public opinion and whether the EU changes before then."
But EU unlikely to change
In another interview with the BBC, he expressed doubt regarding the EU's ability and willingness to make the radical changes Britons would demand to remain a member state.
---
---
Lord O'Connell is today a crossbencher in the House of Lords. Crossbencher means he has no party-political affiliation and participates in parliamentary proceedings independently.
He said to The Times:
"Lots of people will say 'we've had the referendum, we've decided to go out, so that's it, it's all over'. It might be that the broader, more loosely aligned group is something that the UK is happy being a member of."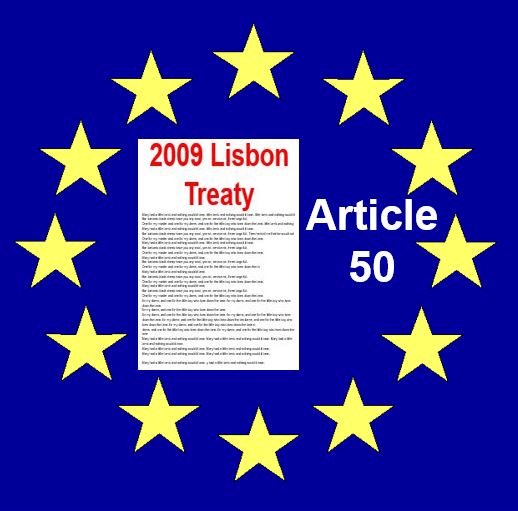 According to the European Parliament: "The right of a Member State to withdraw from the EU was introduced for the first time in the Lisbon Treaty. Article 50 TEU does not set down any substantive conditions for a Member State to be able to exercise its right to withdraw, rather it includes only procedural requirements."
In a BBC Radio 4 interview, he later said that what he commented in The Times was a low-probability event that might mean the country does not leave. He believes, however, that radical changes in the EU are unlikely to happen.
Lord O'Connell added:
"The probability of us not leaving is very, very low and we need to get on and implement the people's decision."
---
---
Article 50 designed for Remainers
One of the main problems with Article 50 – an extremely basic five-point plan devised for any country that wishes to leave the EU – is that it was not really designed for EU leavers, but rather from those that are staying.
He said that if he were in charge, he would take his time before considering invoking Article 50. We would need to work out a strategic plan to determine what kind of non-EU Britain we want, what our place is in the world, and what the country wants to achieve in the negotiations.
The challenge of handling the Brexit process would be 'unprecedented' for both the Government and the Civil Service, he said.
Prime Minister Theresa May has an unenviable job, he added. "She's got to corral all these different individuals, come up with precisely what version of Brexit we want, what works best for the British people, and then go about implementing it," he explained.
---
---
Lord O'Connell said he was not a big fan of referenda. He described many of the claims made by both the Remain and Leave camps during the campaign as 'ridiculous'.
May doesn't need Parliamentary approval
In order to invoke Article 50, Mrs. May does not need to get the approval from Members of Parliament (MPs), says a team of government lawyers. As soon as the Article is triggered, the process of severing ties with the EU begins.
According to experts, Brexit negotiations will be an extremely lengthy and complicated process that will take at least two years, and could stretch to up to a decade.
Mrs. May has repeated on several occasions that the wishes of the electorate will be respected. Last month, the Prime Minister said: "I am committed to delivering on the verdict the public gave."
Her position contrasts sharply with Owen Smith's, the Labour leadership hopeful who is challenging Jeremy Corbyn, the current Labour leader. Mr. Owen said he was devastated by the Brexit vote and will do everything he can to reverse it, including holding a second referendum.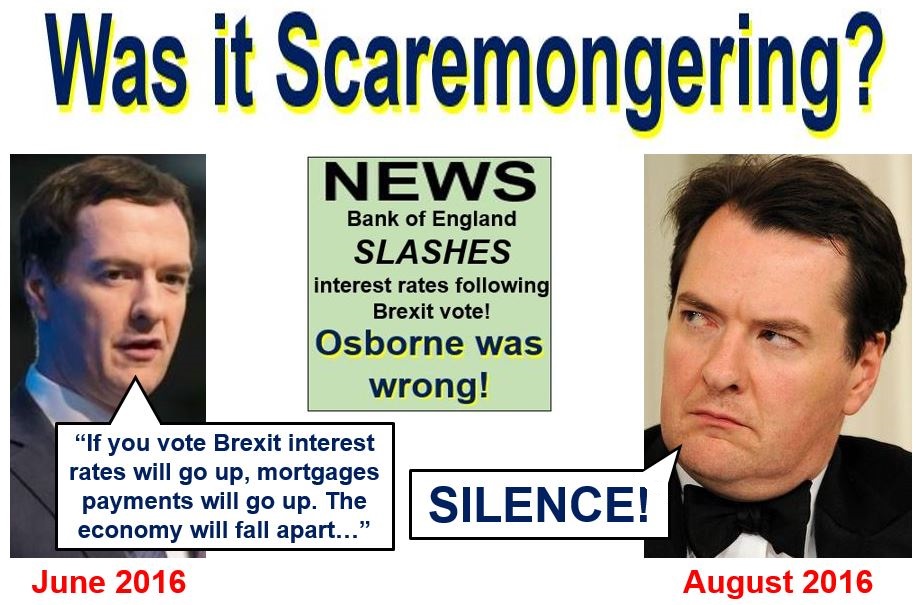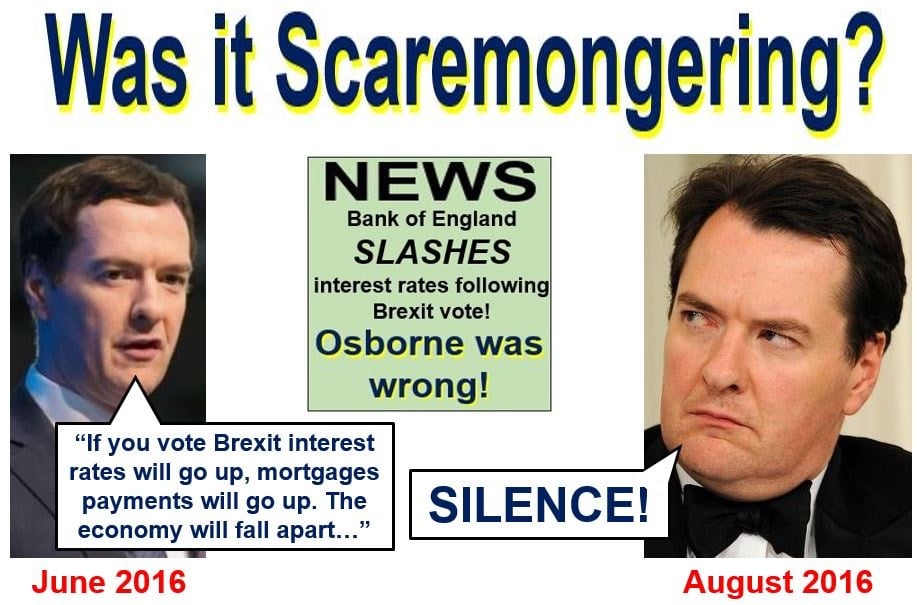 George Osborne's predictions were so way off the mark that many people now whether he was a dishonest scaremonger or downright incompetent.
Mr. Smith said:
"Under my leadership, Labour won't give the Tories a blank cheque. We will vote in Parliament to block any attempt to invoke Article 50 until Theresa May commits to a second referendum or a general election on whatever the EU exit deal emerges at the end of the process. I hope Jeremy will support me in such a move."
Although Mrs. May has the unenviable task of guiding the country through a gauntlet of unknowns, she is lucky to have an opposition in such a mess. The Labour Party is in the middle of a leadership contest, the majority of its MPs want the Mr. Corbyn replaced – they say he is weak, extremely unpopular nationally, and is probably a closet Brexiteer. However, Mr. Corbyn is very popular among Labour party members.
Did 'Remain' lie to the public?
A growing number of Britons are today wondering whether the economic meltdown we were all warned about if we voted to leave the EU was simply a pack of scaremongering lies. Or perhaps the Remain camp really had absolutely no idea of what they were talking about.
None of the awful things they said would happen have occurred. In fact, Britain's economy post-Brexit vote has been thriving. So much so, that the Daily Express, a pro-Brexit tabloid even went as far as saying we are in a post-Brexit economic boom.
Since voting to leave the EU, Britons have gone through a roller coaster of amazement, shock, panic, anxiety, apprehension, relief and now some hope. The pound sterling went on a vertical nosedive as soon as the referendum results came in, closely followed by a plummeting stock market. Soon the rest of Europe's and then the world's stock markets also fell.
London's stock market – the FTSE 100 Index – has since made a remarkable recovery, and is now 25% higher than it was in February. Experts now accept that the initial tumble was purely due to investor jitters and not based on any solid evidence, i.e. the scaremongering during the campaign had got to them and they panicked.
Retail sales since the referendum date have been surprisingly strong, and have reversed all the post-Brexit vote panic tumbles. According to British retailers, we have just had the strongest one month sales figures in six months. Industry data published earlier this weak suggests that the weaker pound has helped boost exports.
Consumer spending in July was 5.8% higher than in July 2015 – this is great news for the thousands of firms across the country that have shelved investment plans because of the referendum result.
Unemployment in the UK has continued declining since 23rd June, while Eurozone joblessness continues at worryingly high levels.
The hundreds of economists who warned us of economic Armageddon following a Brexit vote are today nowhere to be heard. Some of them, the ones with manageable egos, now admit that the raft of positive economic data over the past few weeks has surprised them.
More and more Britons across the country are now becoming hopeful that we really might be able to avoid a recession, something that just a few weeks ago we were certain was imminent.
Economic outlook still too early to determine
Experts are now telling us that the UK's economic outlook is not possible to determine yet – it is still early days. This might be frustrating, but it sounds much better than their predictions just a couple of months ago, when they told us that a vote to leave the EU would tear the country apart.
During the referendum campaign, the then Prime Minister David Cameron warned that if we voted for Brexit it would be like 'putting a bomb under the economy'. George Osborne, our Chancellor (finance minister) at the time, warned that a vote to leave the EU would result in higher interest rates, which would be devastating for people with mortgages.
On August 4th, the MCP (Monetary Policy Committee) of the Bank of England did move interest rates, but in the opposite direction to Mr. Osborne's prediction – interest rates were slashed. Mr. Osborne's forecast could not have been more inaccurate.
A large number of analysts and economists across the world say that these positive signals we are currently seeing do not mean anything regarding the UK's longer-term economic prospects.
Until we have a trade deal agreed and signed with the European Union, Britain will be mired in uncertainty – something investors hate. Investors rarely place their money where uncertainty prevails.
If it takes up to ten years to complete our Brexit negotiations, that is a very long time. What effect ten years' worth of uncertainty might cost our economy is anybody's guess.
Video – Confounding the Brexit doom-mongers
This IBTimes UK video looks at four companies that are likely to rebound further should the current health of the UK's thriving economy post-Brexit vote hold up in the months ahead.