Novartis reported earnings increase of 24% for the first quarter of 2014, slightly below what analysts had forecast.
Switzerland's largest pharmaceutical company said its net income rose to $2.97 billion or earnings per share of $1.21 in Q1 2014, compared $2.39 billion or earnings per share of $0.97 in Q1 2013.
Net sales came in at $14 billion, an increase of 1% over the same quarter last year, but below a Reuters poll of economists forecast of $14.25 billion.
While growth products and sales in emerging markets did well, they were offset by competition from generics and what Novartis calls the "currency exchange effects."
Novartis was formed when two Swiss pharmaceutical multinationals – Sandoz Laboratories and Ciba-Geigy – merged in 1996.
Generics competition undermined sales
Pharmaceutical net sales reached $7.8 billion, registering a 6 percentage point gain in volume growth. However, generic competition, especially from Zometa/Aclasta, whose patent expired in the US a year ago, had a negative effect on sales.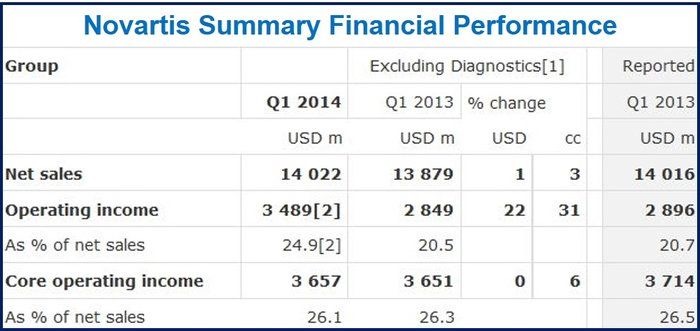 (Source: Novartis)
Novartis' pharmaceutical division's operating income declined 13% to $2.2 billion, due to net restructuring charges related to the American field force of $252 million, the closure of the Suffern plant in the US, and other restructuring moves carried out abroad (non-US and non-Switzerland).
At Alcon, the company's eye unit, sales reached $2.6 billion, an increase of 3%. Its Surgical franchise grew much faster than its Ophthalmic medications.
Sandoz, Novartis' generic unit, reported a sales increase of 3% to $2.3 billion. Volume growth of 14 percentage points exceeded a 10 percentage point fall of price erosion. Sales in Asia (exc. Japan), Latin America and Japan delivered double-digit sales growth.
Its Vaccines unit registered a sales increase of 13% to $215 million, driven mainly by Mejugate (meningitis vaccine) sales to Latin America. Novartis has sold its Vaccines Division (excluding flu) to GlaxoSmithKline for up to $7.1 billion plus royalties.
Consumer Health sales increased 5% to $1 billion. Consumer health at Novartis comprises OTC and Animal Health. The Animal Health unit has been sold to Eli Lilly for approximately $5.4 billion.
Joseph Jimenez, CEO of Novartis, said:
"Novartis delivered a solid quarter, with all divisions contributing to growth. We made progress in innovation, including EU and US approval of Xolair in chronic spontaneous urticaria and significant milestones for Bexsero."
"The transformational deals announced on Tuesday position the company for future success based on our sharpened focus, innovation power and financial strength."