The OECD cut forecasts for global economic growth this year and in 2020 amid Brexit uncertainty and ongoing trade disputes.
The organization forecasts that the world economy will grow 3.3% in 2019 and 3.4% in 2020.
The outlook and projections cover all G20 economies.
The OECD attributed the downward revision to vulnerabilities stemming from China, a weakening European economy, a slowdown in trade and global manufacturing, and high policy uncertainty.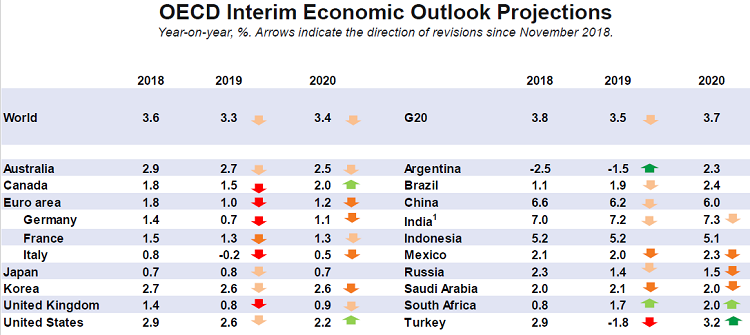 The OECD reduced its forecasts for almost all the world's major economies.
The biggest downgrades were for Germany and Italy.
The OECD more than halved its growth forecast for Germany, from 1.6% to 0.7% and it now expects Italy's economy to contract by 0.2%.
The OECD said that the revision in forecasts for Italy and Germany reflects the countries' "relatively high exposures to the global trade slowdown compared with that of France."
The U.S. outlook was lowered slightly, while the U.K.'s 2019 forecast was cut to 0.8% from 1.4% – this would be the first time UK growth drops below 1% since 2009.
"Substantial policy uncertainty remains in Europe, including over Brexit. A disorderly exit would raise the costs for European economies substantially," added the OECD.
A no-deal Brexit would have a significant impact on not only the UK, but Europe and beyond.
The organization said: "OECD analysis suggests that the increase in tariffs between the two economies [UK and EU] as a result of WTO rules coming into effect would reduce GDP by around two per cent (relative to baseline) in the United Kingdom in the next two years."
Adding, "Although contingency measures to soften the impact of a no-deal outcome are being taken by both sides, UK-EU separation without an agreement would still be a major adverse shock for Europe and possibly elsewhere in the world".
Another major concern is China. A a sharper slowdown in the Chinese economy would have "significant adverse consequences for global growth and trade."
"The global economy is facing increasingly serious headwinds," Laurence Boone, the OECD's chief economist said in a statement. "A sharper slowdown in any of the major regions could derail activity worldwide, especially if it spills over to financial markets."
---