The Organisation for Economic Cooperation and Development (OECD) expects real GDP growth in the UK to drop from 2% this year to 1.2% in 2017 and then hit 1% in 2018, according to its November Economic Outlook.
Whilst the Paris-based organisation expects a slowdown in the British economy over the next two years, its November outlook suggests that the Brexit vote will cause the UK economy to slow less than originally thought. The OECD had previously forecast growth of just 1.8% in 2016 and 1% growth in 2017.
Its November projection assumes the UK will operate with a most-favoured nation status after 2019. The organisation warned of the "considerable uncertainty" surrounding Britain's departure from the the European Union and the outcome of Brexit negotiations, "which will increasingly weigh on growth, and in particular private investment, including foreign direct investment."
"The unpredictability of the exit process from the European Union is a major downside risk," the OECD said on Monday. "Uncertainty could hamper domestic and foreign investment more than projected and the pass-through of currency depreciation to prices could be larger, deepening the extent of stagflation."
"Uncertainty about the future direction of policy, the relationship between the United Kingdom and the European Union, and the reaction of the economy remains high, and is likely to persist even beyond an assumed departure from the European Union in 2019 with trade arrangements based on most favoured nation (MFN) rates," the OECD said in its report.
"Improved prospects of an orderly exit from the European Union while retaining strong trade linkages with the bloc would support near-term growth more than projected," the OECD added.
---
---
Higher inflation
The pound sterling's 18% drop against the US dollar since the Brexit vote and 11% decline against the euro will eventually have an impact on consumer prices, the OECD warned.
The OECD projects inflation to rise to 2.4% in 2017 and reach almost 3% in 2018 – putting a squeeze on purchasing power.
"Inflation is set to exceed the target of 2%, but the monetary policy stance is expected to be unchanged as the inflationary impact of currency depreciation should be temporary. The latest government plans released in the Autumn Statement indicate a slower pace of fiscal consolidation and some increase in public investment. A more significant increase in public investment would support demand in the near term and boost supply in the longer term. With a weak economic outlook, further raises in the minimum wage should be considered prudently," the OECD said.
November 2016 summary of OECD projections for G20 countries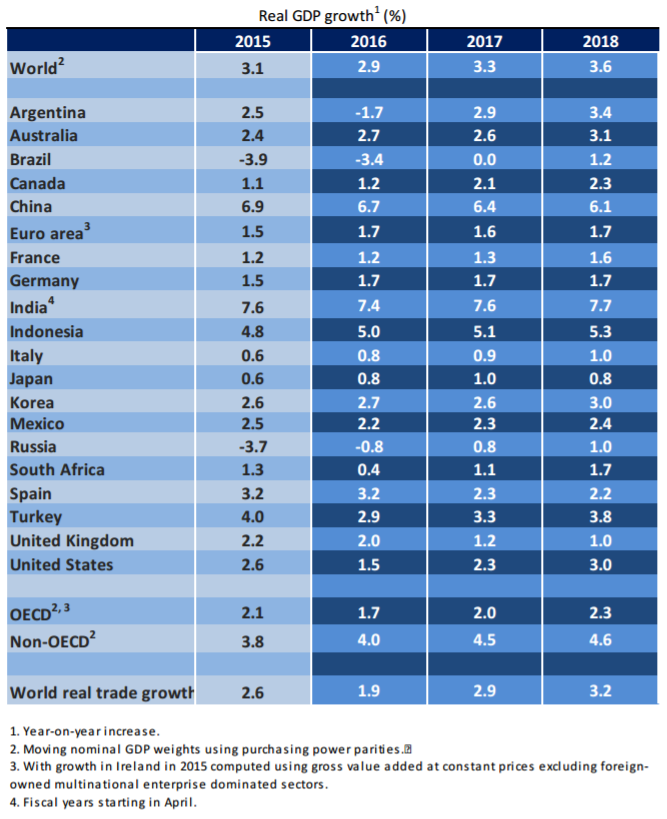 Overall, the UK is projected to significantly underperform the rest of the world economy.
The OECD expects global growth to hit 3.3% in 2017 and 3.6% in 2018.