Many shoppers went online to look for the best deals this year, as online sales increased by 19.7 percent in Thanksgiving, according to IBM.
The data comes from the IBM Digital Analytics Benchmark, which tracked millions of online transactions from over 800 million U.S. retail websites.
The top five cities for online shopping were:
New York City
Atlanta
Los Angeles
Washington, D.C.
Chicago
Online sales peaked at 7:25 PM PST on Thanksgiving Day, and at 9:05 AM PST on Black Friday 2013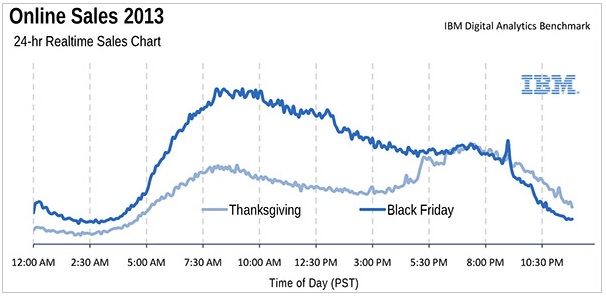 Online sales made on smartphones and tablets
Just over one quarter (25.8 percent) of online sales came from mobile sales for Thanksgiving, and 21.8 percent came from mobile sales for Black Friday.
Smartphones represented 24.9 percent of online traffic on Black Friday, compared to 14.2 percent for tablets. However, tablets accounted for 14.4 percent of online sales versus 7.2 percent coming from smartphones.
Tablet users also spent more too. The data found that tablet users spent $132.75 per order while smartphone users spent $115.63 (fifteen percent less).
On average iOS users spent more than Android users ($127.92 per order versus $105.20 respectively); iOS traffic accounted for 28.2 percent of all online traffic compared to only 11.4 percent for Android.
Increased use of push notifications
Retailers also made best use of mobile push notifications (the alert messages and popup notifications from your mobile apps) over the recent holidays. There was a 37 percent increase in the number of push notifications over Thanksgiving Day and Black Friday.
Referrals from Facebook and Pinterest
Facebook was able to convert referrals into sales four times more than Pinterest.
Shoppers who were referred from Pinterest spent 77 percent more per order compared to those who were referred from Facebook. The average order value from Facebook was $52.30, and $92.51 from Pinterest.
Jay Henderson, Strategy Director, IBM Smarter Commerce, said:
"We're off to an incredibly fast start this holiday season as retailers and consumers meet at the intersection of cloud, mobile and social platforms to both offer and take advantage of the best deals."
Jay Henderson added:
"It's clear that marketers are using cloud analytics technologies like the IBM Benchmark to better understand and act on real-time shopping trends.  This year's winners will be those that can deliver seamless experiences to consumers wherever, whenever and however they choose to shop."
Retail categories
Department stores – Sales increased by 61.4 percent this Black Friday compared to last year, with the average order value increasing by 15 percent (to $146.84).
Health and beauty – Sales increased by 28 percent compared to 2012, with the mobile percentage of sales growing by 65 percent.
Home goods – Online sales for home goods increased by 16.8 percent compared to 2012, with the percentage of mobile sales shooting up 65 percent.
Apparel – Online sales increased by 50.4 percent, compared to 2012. Mobile percentage of sales increased by 43 percent.