OPEC and 10 non-OPEC oil producing nations, led by Russia, announced that they are extending cuts in oil output by nine months.
The alliance is extending its 1.8 million barrel per day supply cut, equivalent to about 2% of global oil production, until the first-quarter of 2018.
The 14 OPEC Member Countries and 10 participating non-OPEC producing countries emphasized the importance of continuing efforts to stabilize the oil market in the interest of producers and consumers.
According to a statement, OPEC and the non-OPEC parties "recognized the need for continuing cooperation among oil exporting countries in order to achieve a lasting stability in the oil market."
"In this regard, the aforementioned non-OPEC countries decided to extend their production adjustments, which originally started 1 January 2017, for a further period of nine months, beginning 1 July 2017," OPEC said.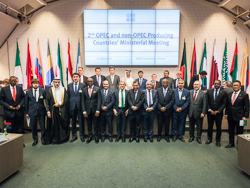 Saudi Oil Minister Khalid A. Al-Falih, who presided over the meeting, said that that the extension should help lower high crude inventories to a level in line with "the five-year average by the end of the year."
"We considered various scenarios, from six to nine to 12 months, and we even considered options for a higher cut. But all indications discovered that a nine-month extension is the optimum," Khalid al-Falih said.
Oil prices dropped after the announcement
The price of oil dropped by around 5%, despite the alliance's announcement to extend the cut. Investors hoped that the alliance would have gone further by extending the cut for a longer period.
Brent crude dropped by $2.60, to $51.36 a barrel, while West Texas Intermediate dropped by $2.58, to $48.78 a barrel.
Neil Wilson at ETX Capital, was quoted by the BBC as saying,
"A nine-month extension just isn't enough to really lift oil prices as we'll continue to see US shale fill the gap. Having said they'd do whatever it takes, Opec is looking a bit toothless now.
"Faced with kind of glut and the scale of the market, the cartel would be better off cutting a lot deeper but for less time than trying to prolong fairly timid cuts."