Oracle fourth quarter net income declined by 4% to $3.6 billion compared to the fourth quarter a year ago, the company announced. Oracle shares fell the most in a year on Friday after its fiscal fourth-quarter report was published. The company was below revenue and earnings forecasts.
Oracle entered the Internet–based cloud software market much later than its rivals and is today paying the price as its customers switch to Web-based computing. The company has been battling with ten quarters of slowing growth.
The lower-than-expected figures were partly due to the shortfall as many customers opt for Oracle's cloud products instead of licensing software. This results in less money coming in up front.
As cloud services only make up approximately 4% of revenue, that dilemma will persist for a while yet.
Transition going well, Oracle says
Oracle CFO, Safra Catz, announced that the company's subscription business is nearing a run rate of $2 billion per year. "As our business has transitioned, more software revenues are being recognized over the life of a subscription rather than upfront. We're making this transition to cloud subscriptions and ratable revenue recognition while continuously increasing our tip-line revenue and our bottom-line profits year-after year," he explained.
Sales of new software-licenses, which analysts are watching closely because they give an indication of the company's future revenue, remained the same at $3.77 billion. Sales of hardware systems increased to $1.47 billion, a 2.4% rise.
Oracle President Mark Hurd informed that they have transformed Sun's commodity hardware business into a money-making and expanding Engineered Systems business. "Our overall hardware business grew 2% in constant currency this past year. We saw record levels of Engineered Systems shipments and expect to deliver our 10,000th unit in Q1," he added.
Second biggest SaaS company worldwide
Larry Ellison, Oracle's CEO and co-founder, says oracle is today the 2nd biggest SaaS (software-as-a-service) company globally, after Salesforce.com, but bigger and more profitable that Rackspace.
Mr. Ellison said:
"We have by far the most complete portfolio of modern SaaS and PaaS (platform-as-a-service) products in the industry: CRM: Sales, Service & Marketing; HCM: HR, Payroll & Talent; ERP: Accounting, Procurement, Supply Chain & more."
"All these SaaS products run on the world's most powerful PaaS: the Oracle in-memory multitenant database and Java. We plan to increase our focus on the Cloud and become number one in both the SaaS and PaaS business."
Target – world leader in Cloud in 2 years
Mr. Elisson says his ambition is to make Oracle the largest cloud software company globally within the next 24 months, an ambitious target given that Salesforce.com's revenue in the last fiscal year was $4.1 billion, compared to Oracle's $1.6 billion on its two cloud segments for the twelve-month period ending in May.
How will Oracle close this huge gap? Probably by spending lots of money buying up companies. It is very close to acquiring Micros Systems to the tune of more than $5 billion, adding software for hotels and restaurants to its offering. Bloomberg said earlier this week that the two companies are in "exclusive talks".
On Friday, Oracle bought collaboration software company LiveLOOK. It did not disclose how much money had changed hands. More than 100 Oracle customers already use LiveLOOK products, which had been embedded into its customer service application. The software allows support and sales staff to browse alongside customers in order to deal with problems and help them buy the most appropriate products.
According to LiveLOOK, it has more than 500 customers, including Match.com, CatpialOne and Accenture.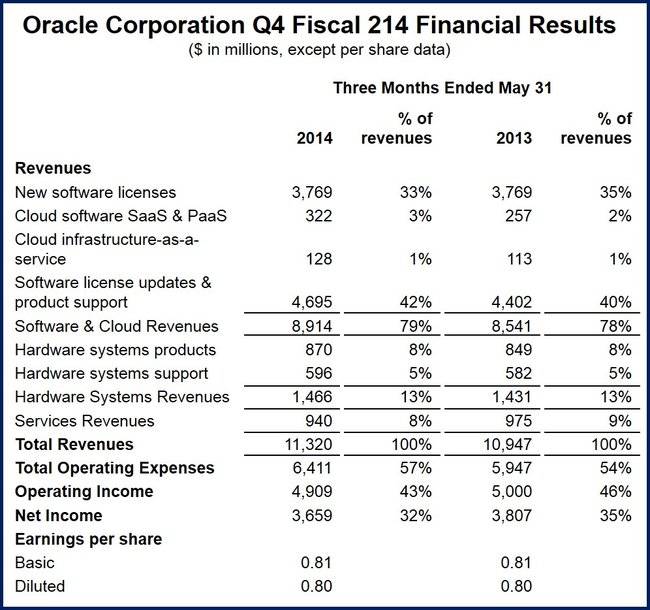 (Data source: Oracle)
"Buy" rating on Oracle stock
Computerworld quotes a research note from Deutsche Bank, which believes that Oracle appears to have enough momentum to keep the earnings decline from alarming investors too much.
The German bank describes the company's latest quarter results as a "modest disappointment". Oracle is getting enough business from its cloud software to warrant a stock "buy" rating, the note added.
Peter Cohan wrote in Forbes that Ellison's net worth probably declined by $3 billion this week. Mr. Ellison is the 5th richest person in the world.