Orangutan populations in Indonesia have been plummeting alarmingly as their habitats literally burn to the ground, says International Animal Rescue, a charity that saves suffering animals around the world. These apes are in desperate need of our help, as forest fires destroy huge chunks of the country's rainforests.
LAPAN (Indonesia's National Space and Aviation Agency) reported that over two million hectares of land have been burnt completely just in the past few months. Nobody yet knows how devastating these recent fires have been on Indonesia's tropical rainforests – where orangutans once thrived in huge numbers.
Scientists in Indonesia do know this: When a headcount is done, if one is possible, numbers will be depressingly low. Before this recent spate of rainforest fires, orangutan populations were already declining rapidly.
Field Manager Argitoe and a colleague rescuing an orangutan that is receiving fluids via a drip. (Image: www.internationalanimalrescue.org)
Damage caused by the fires can be observed in several places across Kalimantan. In the Community Forest of Pematang Gadung – a peat swamp forest covering 21,000 hectares with an incredibly rich biodiversity and a dense population of orangutans – fire damage has been extensive.
Orangutan conservation workers shocked and saddened
International Animal Rescue (IAR), which is based in Uckfield, East Sussex, England, says IAR Indonesia has been working flat out to protect this unique biodiversity. Its members have witnessed the devastating degradation of this important habitat.
---
---
Karmele Llano Sanchez, Programme Director of IAR Indonesia, said:
"There are no words to express how we feel about this. All our efforts to protect orangutans and their habitat are in vain when fires destroy everything in an instant. But we are determined to save this forest, its unique biodiversity and this important peat swamp ecosystem."
For the past three years, IAR Indonesia has been working hard in the area establishing an eco-tourism project in the rainforest and working with local communities to bring down carbon emissions and find sustainable sources of income.
In recent months, IAR Indonesia members have been working 24 x 7 trying to rescue orangutans from the burnt forests.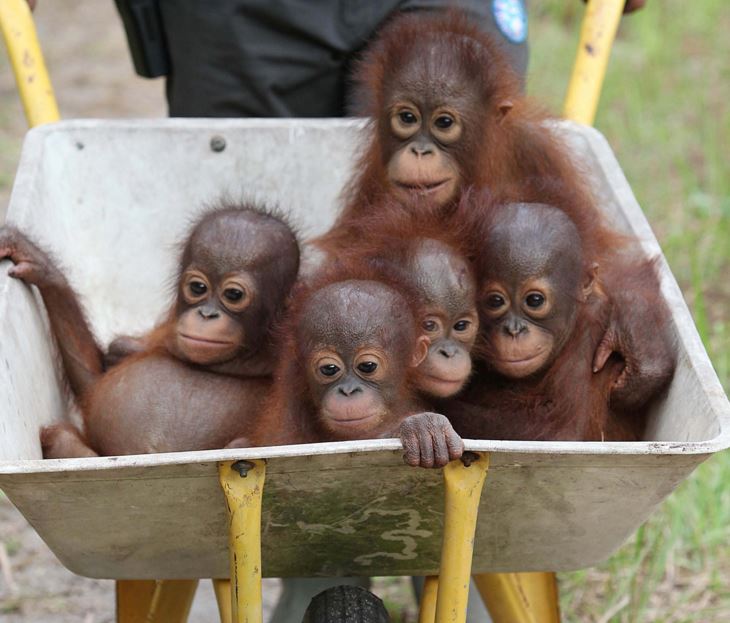 Baby orangutans are wheeled in to the rescue centre everyday. These are the lucky ones, they will be fed – they will survive! (Image: www.internationalanimalrescue.org)
Tantyo Bangun, Chairman of IAR Indonesia, said regarding their rescue efforts:
"Thus far our Rescue Team has rescued more than 20 orangutans from burnt forest and we are still rescuing more. What is worse is that we don't know how many orangutans might have perished before we were able to rescue them."
"This is by far the largest number of rescues IAR has had to conduct in the area since we opened our orangutan centre in 2009, and it is a terrible and deeply worrying indication of the plight of orangutans in Indonesia."
Many orangutans are starving
The HOC (Human Orangutan Conflict) team, which is part of IAR, is monitoring orangutans in areas affected by fires. The apes are suffering from long-term starvation and serious malnutrition because the fires have literally destroyed everything, leaving a bare landscape with hardly any tree and absolutely no food sources.
A starving and severely dehydrated mother with her tiny baby clinging to her. (Image: www.internationalanimalrescue.org)
The HOC workers track down, capture and translocate orangutans that are unable to survive without human intervention. They are assisted by local residents who raise the alarm when they spot an orangutan in the area that needs help.
Gail Campbell-Smith, Programme Manager of IAR Indonesia, said:
"The saddest image you can think of is a magnificent orangutan that should be travelling in the top of the canopy but instead has to drag itself on the ground, struggling even to find a standing tree suitable to make a nest."
"An extra concern is that, as habitat is wiped out, instances of human orangutan conflict increase and these orangutans are in danger of being killed by farmers as they enter farms looking for food."
While the IAR team works round the clock to save these animals and their habitat, the Paris Climate Talks are underway. Leaders and representative from 180 countries have gathered to negotiate an international agreement to reduce carbon emissions and try to slow down the effects of climate change.
Climate change linked to more forest fires and vice-versa
Climate change has brought with it more forest fires, which in 2015 have spread out of control in Indonesia. The extended dry season, caused by the ENSO (El Niño Southern Oscillation) phenomenon has exacerbated the problem.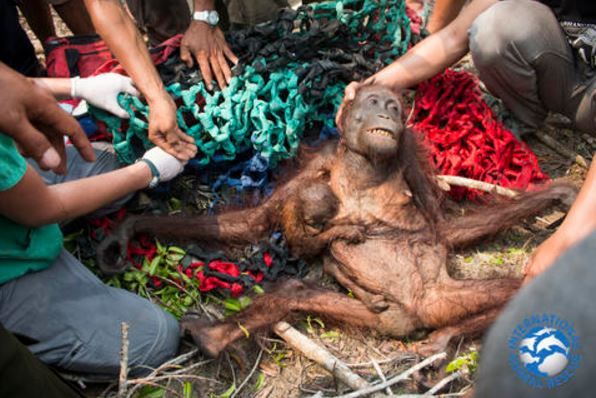 This heartbreaking photo of Mama Anti and her baby shocked the world. (Image: www.internationalanimalrescue.org)
These forest fires emit colossal quantities of greenhouse gases, which significantly aggravate the effects of climate change, and seriously damage human health.
The 1997 fires, which were similar to this year's, resulted in approximately 20 million people suffering from respiratory problems, and between 19,800 and 48,100 premature deaths. In 1997, those fires emitted between 0.81 and 2.57 gig tonnes of carbon.
The effects of El Niño are forecast to continue until the spring of 2016. BMKG (Indonesian Institute for Meteorology, Climatology and Geophysics) expects another severe drought next year.
Fortunately, the belated monsoon has helped push back the forest fires for now. However, the thought that this could all happen again next year is profoundly worrying.
Bangun said:
"If preventive measures are not taken, funds are not invested in fire prevention, and those companies and individuals who start the fires are not prosecuted, this ecological disaster (already called one of the worst ecological disasters of the century) could return again next year."
Sanchez added:
"We are still dealing with the devastating effects of the previous fires and our team is working really hard to save the lives of as many orangutans as possible. Now we also need to start trying to restore and reforest the burnt areas."
"The thought of the humans and animals of Borneo and Sumatra experiencing it all again next year is too much to bear."
Heartbreaking images of mother and baby orangutans
The images and video footage released by IAR show the horrific effects of the fires on the orangutans, and convey the helplessness of these beautiful animals left stranded in the burnt remains of the forest.
Most poignant among the rescued animals are mothers with their small babies clinging onto them for dear life. Just a few weeks ago, the heartbreaking photograph of Mama Anti and her little baby shocked and moved millions of people across the world.
The photos of baby Noval with Mama Novia, who were among the latest series of rescues, are just as heart breaking.
Sanches commented:
"This is not very different to the devastating effects of a war and it should be considered a world crime."
Some good news
IAR has some good news to report. Last week, the team celebrated the release of six rescued orangutans in Gunung Palung National Park in West Kalimantan. Fifteen IAR team members plus twenty-five locals spent four hours carrying the transport cages on foot to the release site.
Carrying a caged animal on foot – a four hour trek to the Gunung Palung National Park in West Kalimantan, where the orangutan will be released. (Image: www.internationalanimalrescue.org)
The physical effort was worth it, they all said. It was one of the few happy moments in the last few months.
Campbell-Smith said:
"We are glad these orangutans have been given a second chance. There is no doubt that all of them would now be dead if it was not for us."
These releases in the National Park went ahead after permission was granted by The National Park authority, The Agency of Natural Resources Conservation (BKSDA) of Gunung Palung.
Sanchez added:
"We are ready to continue working flat out to save the lives of animals that stand no chance of survival without our help. But that is not a lasting solution to the problem. It is vital that serious action is taken to prevent further outbreaks of fires."
"There is no future for the orangutan unless all parties involved can make a commitment to conserving sufficient habitat to ensure their survival and implement measures to reduce carbon emissions and reduce the likelihood of further El Nino climatic events. We hope that determined actions will result from this Climate Conference because we are running out of time."
IAR Video – Rescuing an orangutan from the burning forest