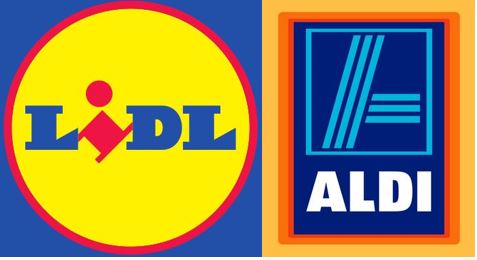 The German discount retailers Aldi and Lidl have seen a surge in popularity over the past few years.
According to the latest figures, more than half of families in the UK now shop at Aldi and Lidl.
Over the past 12 weeks 56 percent of British households visited an Aldi or Lidl.
Sales at the two discount retailers are climbing up at a very fast rate – up more than 20 percent a year.
Aldi and Lidl have been opening new stores in upmarket areas and appealing to wealthier shoppers with premium products. This has helped them increase their market share, according to the consumer research group Nielsen.
In the 12 weeks to September, Aldi and Lidl accounted for 10.7 percent of supermarket sales in Britain, up from 8.7 percent last year.
Mike Watkins, head of retailer and business insight at Nielsen, said the discount stores were "attracting new shoppers by opening new stores and using ads that communicate not just value but quality and freshness too".
Aldi and Lidl are expected to gain "significant increases in market share for the third consecutive Christmas, as they become a bigger part of shoppers' Christmas repertoire," he added.
Mr Watkins said: "Supermarkets continue to see deflation in key categories such as fresh and chilled foods, bakery and packaged grocery.
"There's also volume growth in fruit and vegetables, which reflects the fact that many prices are lower than a year ago – encouraging shoppers to buy more."
Meanwhile, sales figures at the UK's largest supermarkets – Tesco, Morrisons, Asda – are suffering.
Morrisons suffered a 1.4 percent drop in sales
Sales at Bradford-based Morrisons dropped 1.4 percent. According to Kantar, this may get even worse in the coming months because of the effect of store closures.
Fraser McKevitt, head of retail and consumer insight at Kantar Worldpanel, said: "There are no signs of recovery at Morrisons. Shopper numbers are falling and they are likely to continue to fall following the 11 store closure and the sale of the M Locals. One bright spot is online is growing."
Sainsbury's is the only Big Four supermarket doing well
Sales at Sainsbury's increased 0.9 percent after attracting 250,000 new shoppers through its doors and retained a market share of 16.2 percent.
Mr Monteyne said: "This is another good set of Kantar numbers for Sainsbury's.
"They top the year on year till roll growth on a 12 and four week basis and show no market share losses compared to the rest of the big four who all lose market share year on year.
"Sainsbury's keeps delivering on all measures through its better quality credentials, better run stores and better growth channel mix."
---