Overall crime in England and Wales has fallen to record lows, but violent crime has increased, according to figures published on Thursday by the Office for National Statistics (ONS).
The ONS figures, which come from the Crime Survey for England and Wales (CSEW), show that there were approximately seven million incidents of crime against households and resident adults, which was 11% down on the previous year's survey. This is the lowest crime rate since CSEW started publishing statistics in 1981.
CSEW covers a wide range of victim-based crimes, and includes some that the police are not told about. Incidences of nearly all types of crimes were down, including criminal damage and vehicle-related theft with each falling by 15%, while household theft declined by 9%.
There was no overall change in the volume of police recorded crime over the previous year. A total of 3.7 million offences were recorded in the year ending September 2014. The ONS pointed out that improved crime reporting standards may have contributed to the no overall change.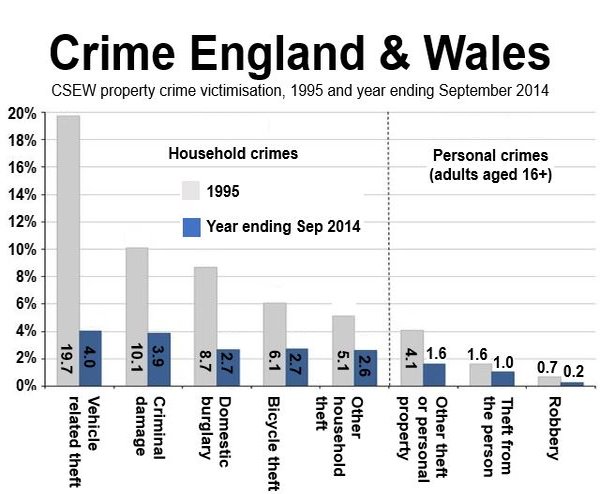 Source: "A stock-take of crime statistics in England and Wales," Office for National Statistics.
Violent crime went up
Violent crime, however, has increased. The number of reported sexual offences increased by 22%, violence against the person rose 16%, while public order offences were 10% up compared to the previous year.
There were 24,043 and 48,934 recorded incidences of rapes and sexual offences respectively, which were the highest recorded by the police since 2002/2003. The ONS wrote "As well as improvements in recording, this is thought to reflect a greater willingness of victims to come forward to report such crimes."
Year on year, the volume of recorded fraud increased by 5%. The ONS points out that it is difficult to judge what the impact of transferring responsibility of recording fraud crime from individual police forces to Action Fraud was. Levels of fraud are significantly under-reported, thus the ONS says these data simply provide a ballpark measure of such offences.