The RAC is betting on petrol soon falling to below £1 per litre as global oil prices, which have declined by over 44% since June 2014, look set to continue sliding.
Brent Crude has fallen below $60 per barrel and WTI hit $56. With OPEC deciding in its last meeting in Vienna not to cut production and the IEA forecasting smaller demand growth next year, most experts are revising their predictions for 2015 prices.
The average price of unleaded petrol (gasoline) in July 2009 was 103.09 pence per litre. The low price then was due to a strong pound. While the pound versus the dollar is slightly weaker than it was in 2009, this is far outweighed by plummeting global oil prices.
The RAC said in a statement:
"There is a very good chance forecourt prices will continue to fall as the price of a barrel of crude goes lower which the RAC is hopeful will lead to petrol being sold nationally for under £1 a litre in the first few months of the new year."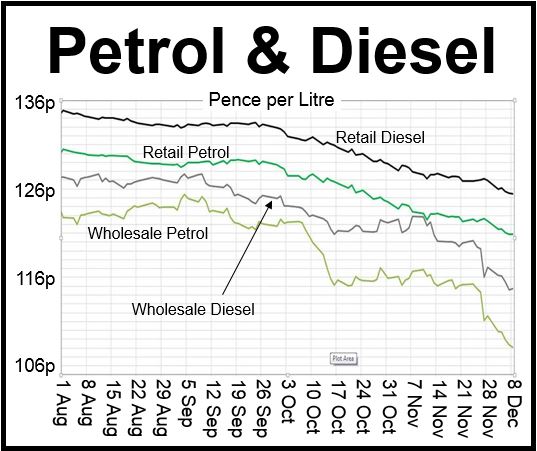 Simon Williams, RAC fuel spokesman, said:
"What's currently happening at the pumps with falling fuel prices is something many motorists will not remember seeing before. Talk of prices going up like a rocket and falling like a feather could not be further from the truth as retailers have been quick to pass on savings at the forecourt since the RAC forecast on 6 December that prices were due to come down by 7p a litre for petrol and 6p for diesel."
"The RAC's monitoring of fuel prices shows the average price of a litre of petrol is 116.9p (14 Dec 2014 – the latest available price) – 13.89p a litre cheaper than the start of the year when it was 130.79p – and diesel is 15.91p cheaper – 122.33p a litre now compared to 138.24p in January. On 15 December 2014 the average supermarket price of fuel was 114.26p for petrol and 120.18p for diesel."
This Christmas, the cost of visiting family and friends will be the cheapest for almost five years, the RAC said.
Given that at the beginning of this year everybody thought petrol prices would continue moving upwards, the prospect of it sliding below £1 a litre at the beginning of 2015 is "incredible", said Mr. Williams.
The RAC predicts that petrol and diesel will fall to 110p and 116p per litre respectively over the next two weeks. These are average prices, so the cheapest retailers will probably be selling at around 105p per litre, or perhaps even lower, Mr. Williams added.
Mr. Williams said:
"It is, however, important to realise that the oil and fuel market can always change due to a number factors, including the strength of the pound against the dollar and the global production of oil. If the current oversupply situation remains then it will clearly be good news for motorists and businesses that rely on the road network."
"With the United Arab Emirates energy minister saying OPEC will not cut production even if oil falls as low as $40 a barrel, we have every reason to think petrol at under £1 early in 2015 is a very real prospect."
The lion's share of UK car fuel prices comprises duty and VAT. Duty makes up 57.95% and VAT 16.67% of the price of petrol.