Pokémon Go has become one of the most downloaded apps ever, but its popularity in the USA may be dwindling.
Apple announced that the game was downloaded more frequently in its first week compared to any other app's first week on the App Store. It has reportedly topped 30 million downloads so far on both iOS and Android and boasts more daily usage than popular apps such as Facebook and Snapchat.
The free-to-play location-based augmented reality mobile game developed by Niantic initially launched in New Zealand, Australia, and the US on July 6. It was gradually rolled out in other markets and launched in Japan on the July 22.
Pokémon Go release date by region: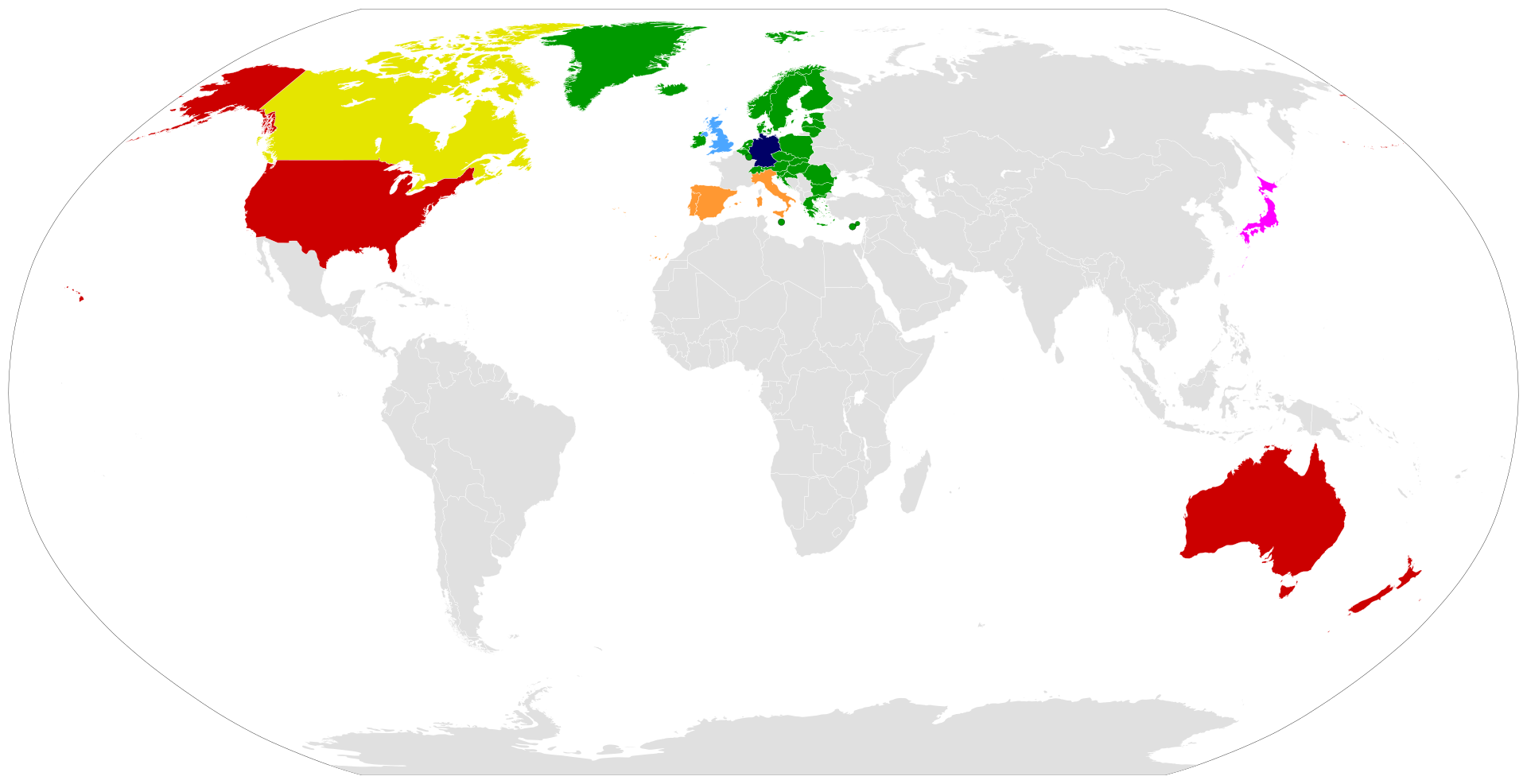 Source: Wikipedia, Author: Aforl
 July 6, 2016   July 13, 2016   July 14, 2016   July 15, 2016   July 16, 2016   July 17, 2016   July 22, 2016
---
However, the game appears to have already peaked in the US, according to a report published by SurveyMonkey titled "Has Pokémon GO peaked? The data say "Yes."
"We're ready to call it. The USA has hit peak Pokémon GO. The game grew incredibly quickly, eclipsing even Google Maps, but its decline has begun," the report said.
The researchers looked at three different indicators to measure the game's popularity: usage, downloads, and search interest.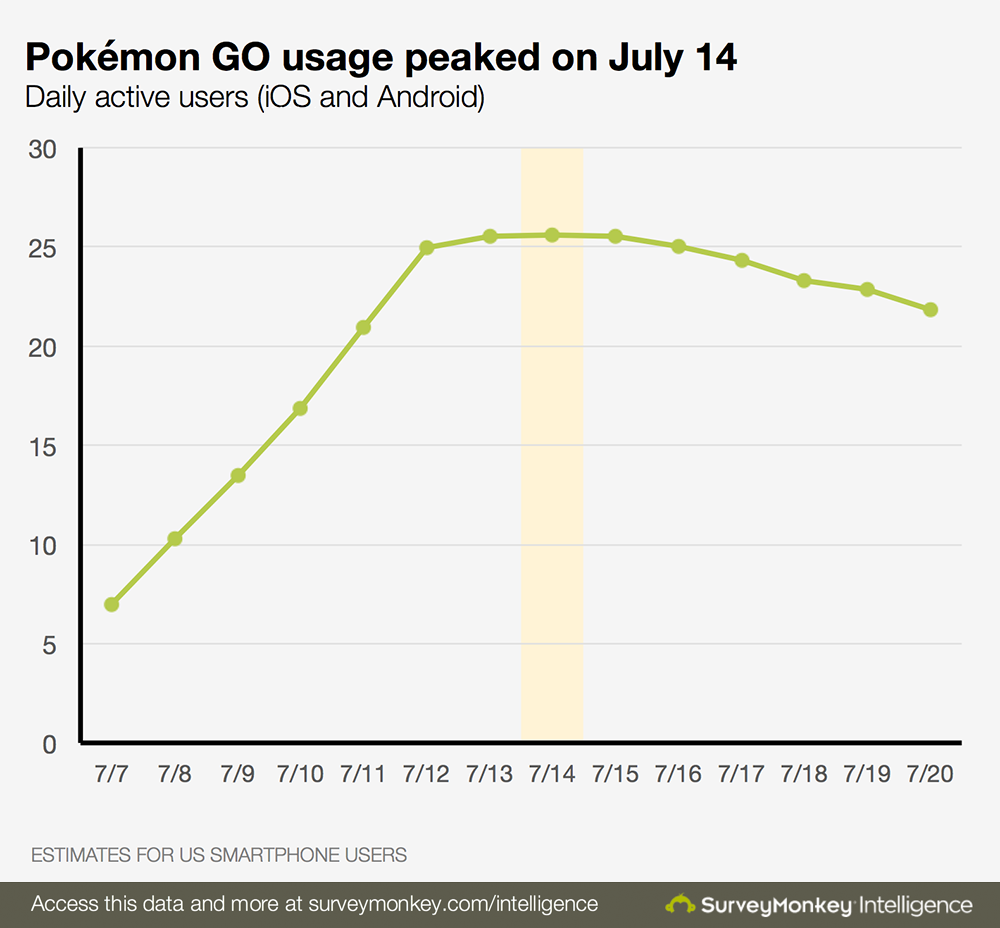 Pokémon GO usage peaked on July 14th, one week after it launched – over 25 million smartphone users played the game on that day.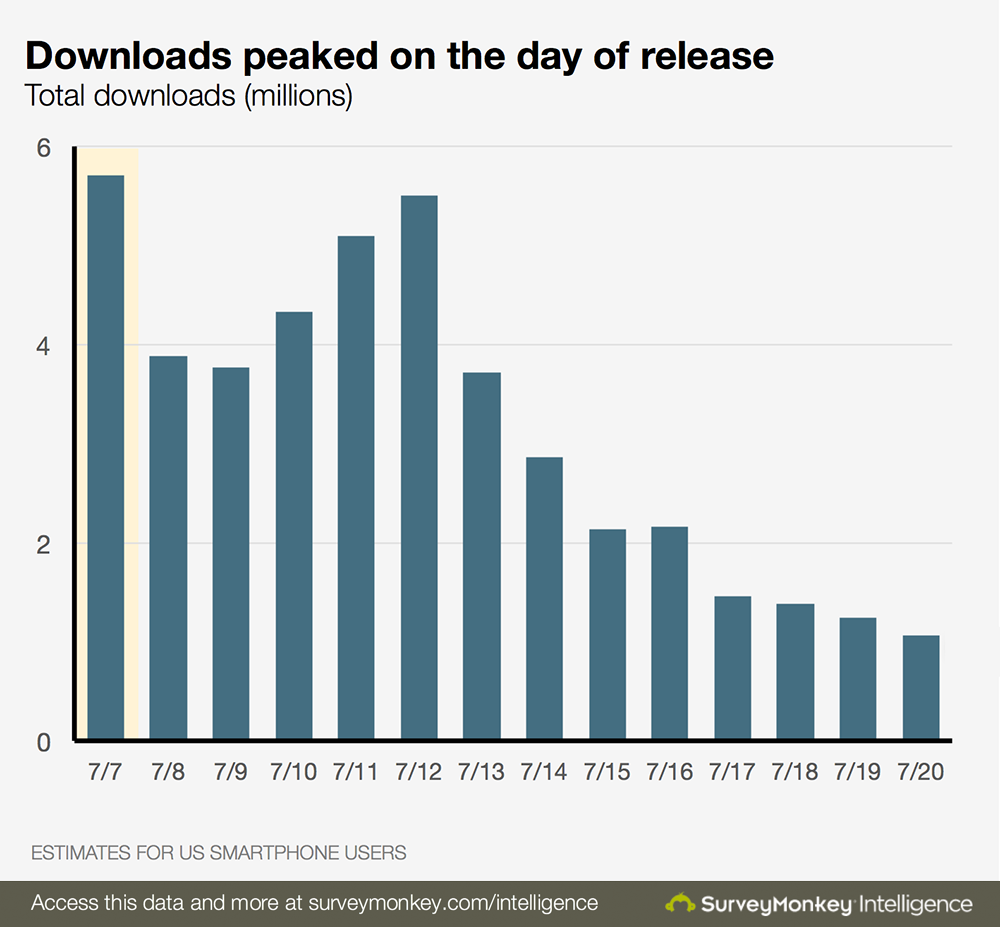 Downloads peaked on the day of its release and search interest in Pokémon Go peaked on July 16th.
The report concluded: "What's remarkable about the explosion of activity around Pokémon GO is how quickly it's happened. Previous ** blockbuster titles Candy Crush and Draw Something took months to gain momentum, gather tens of millions of users, and hit peak usage. Pokémon GO achieved the same thing in a single week.
** A blockbuster is a video game, movie, or pharmaceutical drug that sells extremely well. When a pop song is extremely popular we call it a hit, while a popular book is a bestseller.
"And there's still a long way to go. As we've seen from other games there's still every chance that the game attracts millions of users (and makes millions of dollars) for months, and even years to come. Plus, the game is not yet available in all countries of the world, with some major countries yet to enter into the hype cycle."
---
---
Nintendo stock has boomed because of the app's success
The phenomenal success of the game doubled the market value of Japanese firm Nintendo, adding as much as $20 billion to the company's market capitalization – now at almost $40 billion.
"I've never seen the trend of such a big company's shares changing so quickly in such a short period of time," Takashi Oba, senior strategist at Okasan Securities was quoted by the Guardian as saying.