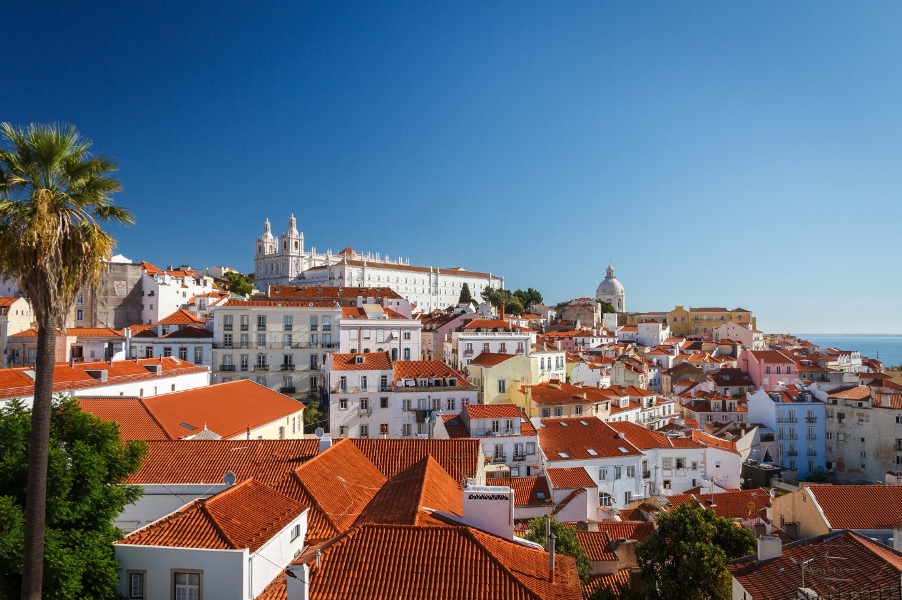 Written by: Kathryn Funk, Content Writer at Lincoln Global Partners
Portugal is simply tailor-made for retirees. With its affordable cost of living, ideal climate, safe streets and manageable pace — you'd be hard-pressed to find a better global option. It's no shock Portugal slid into the number one spot of International Living's 2023 Annual Global Retirement Index. The country boasts a great deal to offer those who wish to retire abroad, and more and more retirees are discovering this gem of Western Europe.
Reasons to Retire in Portugal
Portugal's hominess is one of its greatest allures for retirees. A warm and cozy vibe spreads throughout the country whether you're walking the hills of Lisbon, seaside in Algarve or deep in the interior's rural terrain. Paired with this wholesome sense of comfort is the social and active liveliness of Portuguese life. There really is something for everyone here, be it an explorer, lover of the arts, history buff, the outdoorsy type or just a tea sipper taking it all in. Portugal is a place where life is meant to be enjoyed.
Healthcare and Infrastructure
The country already hosts a fair share of retirees, and the number is only projected to grow. The Portugal News reported, "there are over 475,000 foreign pensions, with 14 out of every 100 pensions received in Portugal paid by foreign entities, amounting to 2.3 billion euros." Conscious of a growing elderly population of both expat retirees and Portuguese citizens, the Portuguese government has poured millions into upgrading infrastructure to accommodate in recent years.
Beyond public infrastructure there is an exceptional subsidized or free healthcare system funded by the National Health Service available to permanent residents. In fact, Portugal ranked 25th in the 2020 Health Care Index by Numbeo. Still, most locals and foreigners alike carry some sort of private health insurance for medical services. Even private insurance plans are inexpensive.
Lifestyle in Portugal
Let's talk about the Portuguese people and the aspect of culture. The friendly, warm and welcoming nature is striking to retirees in Portugal. Certainly one of the most friendly European countries. The kind of place strangers will stop and help you out. Expect to be met with hugs and doubled kissed cheeks.
The majority of Portuguese citizens know at least some English, so while knowing a few phrases in the Portuguese language can't hurt, it's not exactly necessary.
Leading us to harp on safety. Portugal is one of the safest countries in the world and regarded as the safest in Europe. The biggest worry people face in terms of crime is the occasional pickpocketing. The safety factor alone is a big driver to retire in Portugal.
We can go on and on about the delectable coastal cuisine, free-flowing local wines, the ancient architecture paired with touches of modernity, and history layered upon history. Oh the history this country holds — literally skip from one UNESCO world heritage site to the next.
The wondrous landscape is surely attractive to retirees in Portugal. It's the image we all imagine when we picture our workless days — jagged cliffs meeting turquoise seas, sandy shores edging a vibrant city center, coupled with inland farms filled with wines and herds. Fruit trees lining streets of the major city of Lisbon. It genuinely is a perfect mix of natural and manmade beauties.
Cost of Living
Still, the biggest reason to retire in Portugal is the low cost of living. A place you can actually afford retirement, it's definitely one of the most affordable Western European countries. Regardless of your monthly budget, the cost of living in Portugal is relatively low in comparison to other Western European countries. The cost is about 30% less than living in the UK and housing costs are 40% less. The monthly cost of necessary living expenses combined is about €2100 for a couple in a larger city center of Lisbon and €1500 for a couple in a small city or suburban area. Go inland to more rural spots and costs of living can substantially lessen even. Many retirees can live comfortably in Portugal on their social security benefit.
Portugal's Retirement Visa
There are various visa pathways offered to those who wish to spend their work-free days in Portugal. However, the D7 Passive Income Visa is the dedicated visa for retirees in Portugal. It's commonly referred to as a 'Wealth Visa' as it is a residence permit exclusively for people who have the financial means to live comfortably in Portugal without working or burdening the social care system. Those with pension income, retirement savings, dividends or rental income most commonly pursue this visa pathway.
D7 Passive Income Visa
Portugal's D7 Visa offers non-EU citizens with passive income over €705/month (€8,460 annually) the chance to obtain residency in the country. The D7 visa is issued for 2 years and can be renewed for an additional 3 years. After 5 years of total residency, visa holders are eligible to apply for Portuguese Citizenship or Portuguese Permanent Residency. The qualification threshold of this program and its speedy pathway to citizenship make the D7 visa one of the most accessible options in Europe.
D7 Visa Eligibility:
     

Meet the minimum income requirements from a passive source of income outside of Portugal

     

Be at least 18 years of age
D7 Visa Requirements:
     

D7 Visa application form.

     

Valid passport.

     

Two passport photos (passport sized)

     

Proof of passive income.

     

Proof of adequate accommodation (12-month lease agreement)

     

Criminal background check.

     

Valid travel insurance with health coverage.

     

Six months of bank statements
Citizenship Requirements:
5 years of residency

Months per year

Basic level of A2 Portuguese
Once you arrive in Portugal you'll be granted a 4-month visa. Then some additional requirements will have to be fulfilled to finalize the application and acquire the Portuguese residency permit. D7-visa holders must reside in Portugal for 183 days per year to maintain their residency status up until the point that they acquire PR or Citizenship.
Dependents can also be granted residence permits on the D7 visa by showing additional passive income. For adult dependents, applicants are expected to add 50% of the minimum wage, and 25% per child dependent.
The Golden Visa Option
Although time is extremely limited, the Portugal Golden Visa has been a very popular route for those looking to retire in Portugal in the future. Essentially investors can kickstart the process to citizenship before they move to Portugal. The golden visa can be secured through a real estate investment, a capital transfer, creating Portuguese employment opportunities and more. Investing in Portugal Golden Visa properties remains the most popular option with the minimum investment between just €280,000 and €500,000 depending on the type of property and the location. However, the Portuguese government plans to cancel the golden visa program once the "More Housing Bill" is published, likely by the end of May 2023. Investors still have time but the process must start now so that applications can be made as soon as possible. This is a great option for non-EU citizens who wish to acquire permanent citizenship without needing to commit to physically relocating to the country. 
Tax Breaks for Pensioners
Portugal offers generous tax incentives through the Non-Habitual Residence Regime Regime (NHR) available to those that have not been a tax resident in Portugal in the last 5 years. 
Tax relief can be granted on certain types of income for their first 10 years of residency in Portugal such as rental income, capital gains, dividends and investment yields. Plus, non-habitual tax residents are exempt from wealth tax and capital gains if this can be taxed in the country of source. Most importantly for retirees, Non-Habitual Tax Residents are taxed at a flat rate of just 10% on pension income. Income in Portugal is taxed at just 20%.
With proper financial planning and structuring, it's possible to reduce your tax burdens significantly (and of course legally). However, it is crucially important to consult with a professional tax advisor who can advise you on your personal situation.
Where Do Retirees Live in Portugal?
It's up to you whether you choose to rent or buy a property in Portugal. The choice will largely depend on which visa route you choose and how much time you plan to spend in the country. The Portuguese capital of Lisbon is of course a favorite for anyone looking for a vibrant cosmopolitan European city. Porto is another great option for those looking for a culturally rich and lively Portuguese city. However, the vast majority of retirees choose to settle along Portugal's coastline, particularly the Algarve for its sublime beaches, natural beauty and charming laidback way of life.
Retire in Portugal
In conclusion, Portugal earns its spot as the best place to retire in Europe. This European destination flaunts what all retirees are seeking. One can retire abroad in Portugal and protect their retirement savings with the low cost of living without sacrificing quality of life. Having a residence permit in Portugal grants visa-free access to the Schengen Area, national health service, and a pathway to citizenship for those that decide to settle there and learn the basics of the language. Retire in Portugal, a fabulous European nation, save money, live a high quality life and become an EU citizen — Portugal offers the retirement one stop shop.
Learn More About Retiring in Portugal
If you are sold on retirement in Portugal OR you seek further information. Feel free to reach out Lincoln Global Partners for assistance who can further explain the ins and outs of Portugal's passive income visa as well as alternative residency pathways. We can also provide you with information about retirement or investment in other European countries such as Spain, Greece, Italy and Malta plus our Caribbean Citizenship By Investment Programs in St. Lucia, Grenada, Dominica, St. Kitts & Nevis and Antigua & Barbuda.
---
Interesting Related Article: "Retirement Planning Right Now: What You Need to Know"