Packing your backpack is an important aspect when it comes to travel planning. It's quite popular for packing problems to arise when packing for your leisure or business trip and this can be a pretty stressful experience for you. To assist in making travel plans as smooth as possible here is a list of some of the common packing issues along with several tips on how you can address them to have a successful trip.
A lot of baggage
Having a lot of baggage is a pretty common issue that most travelers face. It might be challenging to tackle this issue, but the first thing is to make sure that each item you've packed is necessary for your trip. For instance, warm clothing is a necessity when you are traveling to a country with cold temperatures. Because of the bulky aspect of warm clothes, packing can be a challenge.
One of the possible ways to save some space and avoid squeezing in some jackets and sweaters into your travel backpack is by wearing several layers of clothing as you travel. You save quite a big space by wearing one of your largest coats or jackets to your flight, and when you board the airplane, you can easily put it in one of the overhead compartments. You can also plan well in advance by checking the amenities that, your hotel will offer such as toiletries, so that you avoid carrying any extra items with you.
Damaged items
It can be extremely disappointing to buy many souvenirs while you are on your trip only to get back home and discover that some of them damaged when traveling. Fragile goods should be carried in some of your carry-on and not in the checked stuff. Utilize plenty of bubble wrap, newspaper or even your clothes to wrap some of the items you think may get damaged while traveling. Another useful way of packing small, delicate items is to put them in your shoes and cushioning them using balled up socks.
Wrinkled clothing
Dealing with wrinkled clothing during your trip might dampen your moods and also waste lots of time. Most people do not like spending time removing creases and ironing their clothes, especially when they could be taking care of something else while traveling. To avoid the problem of wrinkles, you should pack your clothing shortly before the date of departure because the longer they remain in your traveling bag, the more wrinkled they'll be. It's also best to consider different packing techniques like rolling and folding several garments together rather than simply folding every clothing separately.
Spillage
Every tourist's nightmare is opening their backpack to find that something has spilled over most of their items. To prevent this, ensure that all the liquid items you carry along are safely enveloped in enough plastic wraps, which is one of the best ways to deal with broken bottles and damaged containers.
Forgotten items
If you are going to need headphones, neck pillow, and perhaps snack during your flight, make sure you pack them in your carry-on luggage. According to Your RV Lifestyle: "Nothing is worse than remembering that you packed your new book in your checked bag and now you have nothing to read for your three hour flight."
As you are approaching the airport, you might realize that you've forgotten your phone charger, guidebook, raincoat, wallet, passport, or some other items that you require for your trip, but don't panic. If you have forgotten an electronic device or an item of clothing, it is time to think positively and probably treat yourself to a new item at an airport store if you are feeling unsettled. Or be brave enough and travel without the possession.
On the other hand, if you realize that you do not have your passport and you are traveling to an international destination, there's no way you will get on an airplane without your passport. In this case, you might miss your flight, but you still have an opportunity to save your trip. First, you should go to the check-in desk of your airline and try booking the next flight online. When it comes to canceled or missed flights airlines' policies might vary, so you might get a sympathetic ear or end up paying the full amount for another ticket.
As you can see, realizing that you have left or forgotten something important can be a pretty horrible experience. Sometimes it might be too late to go back home and get the items, which might result in missing your plane. The best way to prevent all this from happening is to have a list of all the necessary items before your date of travel and keep all essentials such as your passport, mobile phone charger, wallet, and any other elements together.
Backpack breaks
Although this is a relatively rare occurrence, seeing your travel bag explode or break in the airport might be the worst nightmare. Proper preparation is usually the best approach to handle such a situation, which means a duct tape should be at the top of your essentials list.
However, if you forgot your duct tape and your backpack has a big gap, look for some tape around. Whether you have already arrived at your destination or you are at the airport, look for some shops in that place that sell duct tapes or other adhesive materials to prevent items from falling apart. It might also be beneficial to carry with you some safety pins that you can store without any problem to help you handle any faulty zippers.
To deal with this problem completely, ensure that you buy a durable and high-quality traveling bag from a reputable backpack manufacturer. Quality bags are built using some durable materials. Heavy-duty bags are typically made of incredibly strong nylon materials and high-quality zippers. Polyester and nylon are the most common backpack materials. Heavier fabrics such as canvas also make incredibly durable backpacks that you'll be using for many years. Even leather can work, but it can raise the price of a bag.
Valuables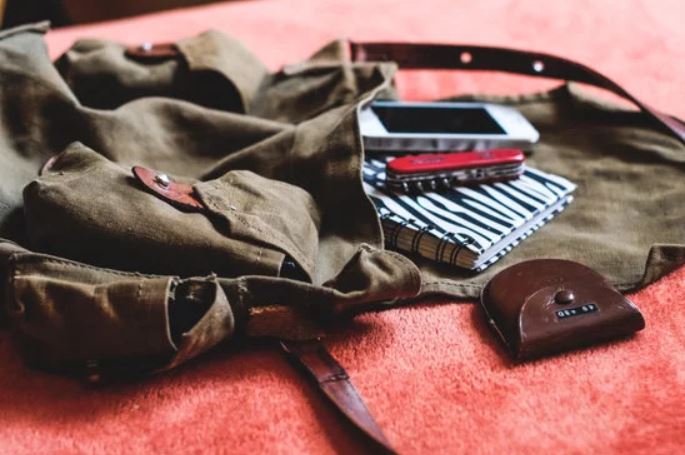 Most often, there is hesitancy involved when traveling with valuable items like laptop computers and jewelry. It's best to avoid traveling with items of great importance because tourists are typically a common target among pickpockets and thieves.
Laptops are also the most difficult things to pack during a trip. The most efficient and safest way to carry your laptop along when traveling is by keeping it in an outer laptop sleeve of your backpack carry-on. Such carry-ons are usually available in the market and offer a secure method to travel with your computer and other precious electronic items.
If you decide to carry along some valuable items, you should store them in your carry-on and then keep them safe once you arrive in your hotel. Most preferably keep them in your room safe and only take them out when needed.
Preparing and packing for a trip can be a pretty stressful experience. It's normal to feel incredibly overwhelmed, especially when lots of travel plans are involved. One of the worst things you can ever do is to postpone packing your bags for the last minute. Plan well in advance. It's best to have a list of all items you will require to pack to keep things organized. Ensure that you browse through your list regularly and also make appropriate changes to it if you find some items that need to be included or removed.
Remember that a small mistake such as packing a prohibited item in your backpack can put you into a problematic chain of events. Luckily, tourists faced with packing issues don't have to depend on sympathy to save their dream vacations. Whether you are dealing with a surplus of souvenirs, a confiscated item, a broken bag, or a nasty spill, the packing emergency tips discussed above can be the only difference between a tragedy and a stress-free getaway.