If you are a large depositor and either RBS or the Bank of Ireland are looking after that money for you, you are going to have to pay them rather than receiving interest. Yes, you did not read this wrong – the money you essentially lend them will cost you, while they earn money from your deposit plus whoever they lend your money to.
The impacts of the UK's and other European interest rate cuts are starting to make their way into the continent's banking system. In two different monetary regimes – euro and pound sterling regimes – there are today banks charging large depositors for looking after their money.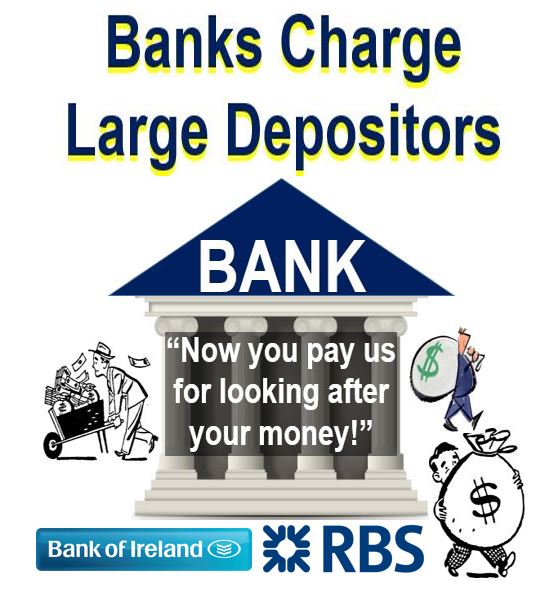 Are Bank of Ireland and RBS the first of many to start charging depositors? Is this the beginning – will all customers eventually be charged? Experts don't think so.
Bank of Ireland to charge for privilege
The Dublin-based Bank of Ireland in the Eurozone announced that it is going to charge customers with large deposits for the privilege of placing money in the bank.
Bank of Ireland's CEO since February 2009, Richie Boucher, is clearly not scared to stand out in the crowd. His bank may be the first in the country to start charging customers for their deposits, but he certainly will not be the last, experts say. More likely, he has just opened the flood-gates.
---
---
If you are a Bank of Ireland customer and have lots of money deposited there, be prepared to pay 0.1% annually as from 10th October 2016 for the privilege of having the bank look after your savings for you.
Bank of Ireland says lots of money means at least €10 million deposited. The bank says only a few customers will be affected. This is a consequence of the European Central Bank's (ECB's) decision to charge 0.4% on overnight deposits.
What is the aim? The ECB hopes people, companies and other entities will be put off saving money, and decide to invest it, spend it, or do a bit of both – two actions which help boost jobs and economic growth.
---
---
RBS also to charge depositors
RBS (Royal Bank of Scotland), says it is going to do the same thing in sterling markets, i.e. in the UK.
Any major financial institution with deposits for trading purposes will be charged. The bank says it is a consequence of the Bank of England's Monetary Policy Committee's post-Brexit vote stimulus package.
As from Monday, approximately seventy RBS customers will receive negative rates – any cash they place as collateral for trading in futures, options or other complex financial products will carry a levy.
An RBS spokesmperson said:
"Until recently, RBS has applied a 0% floor to the overnight rate charged for deposits required by clearing houses for futures trades."
"However, due to the sustained low interest rate environment, RBS will now be passing the cost of holding such deposits on to a limited number of our institutional clients. Futures are entered into by sophisticated financial investors looking to hedge risk."
Both RBS and the Bank of Ireland emphasized that small business customers will not be affected.
In fact, RBS has been testing the waters for some time. Its subsidiary, Ulster Bank, has been charging large corporates in the Republic of Ireland for holding deposits with the bank for quite a while.
At the end of 2015, London-based HSBC said it would begin charging other financial institutions (banks) for deposits held in currencies where negative rates prevail.
The Financial Times quoted Andrew Lowe, an analyst at Berenberg, who said:
"What you're seeing is there have been a few banks in Germany and a couple in Switzerland which have started to charge for deposits; importantly, it's to corporate customers, or very wealthy people."
"You are likely to see the UK banks follow suit, in particular if rates fall further," he added. "Everything that applies to Europe applies to UK banks as well."
What about personal customers?
Is this the first step towards charging all bank customers for depositing money – including personal customers?
Most experts say this is extremely doubtful, but none went as far as completely ruling out this possibility. If it were to happen, the move would be massively unpopular and would likely lead to a sizeable proportion of the population returning to the centuries' old custom of keeping their money under the mattress.
In an interview with the Guardian, Laith Khalaf, a senior analyst at Hargreaves Lansdown said regarding the fate of personal customers:
"We are still a long way from banks imposing negative interest rates on personal customers, which would be a deeply unpopular move, though clearly the direction of travel is concerning for savers."