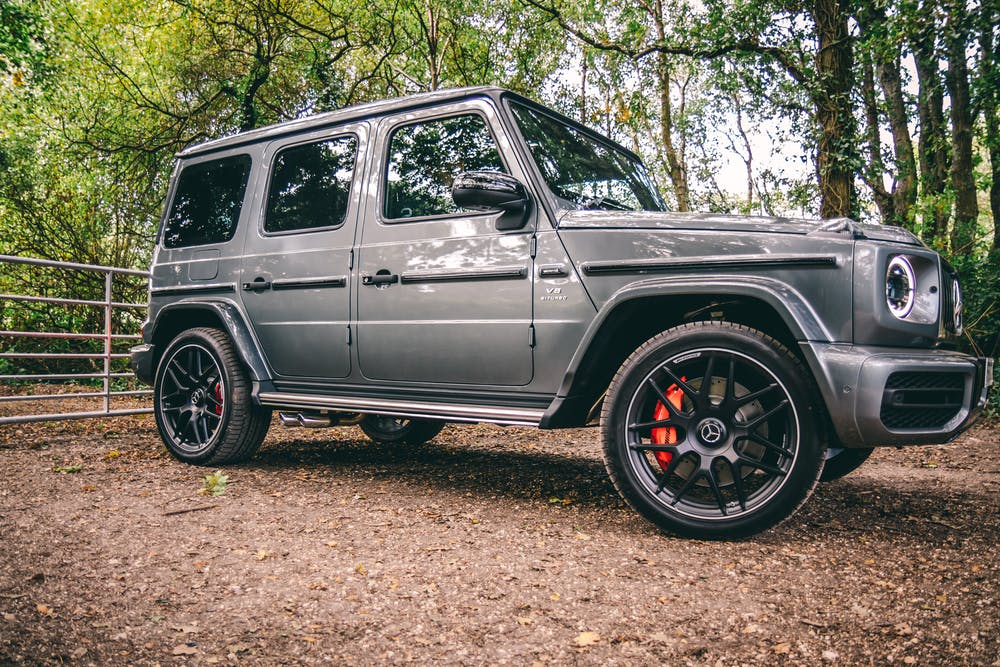 Mercedes-Benz's performance division has built a strong image thanks to its expertise at coordinating several design elements: What makes a car attractive? Which elements make our jaws drop in admiration and desire every time we see them on the street? Why exactly do we prefer some car models to others? The truth is, we perceive beauty as a whole through parts and cars are no exception to it. In their case, beauty comes from a fine coordination of body style, sheet metal, windows, body paint, particular details of each model and, of course, rims. Rims of all sizes, materials and designs.
This component has come a long way from when its function was merely structural. Nowadays, rims are designed to fulfill requirements such as mechanical resistance under heavy acceleration, structural integrity over time, small contribution to the vehicle's weight, enough air intake to cool the brake equipment and reasonable cost… while looking gorgeous. Cars depend on their wheel set more than ever to persuade potential buyers to close the deal.
Mercedes-AMG Rims
Since the Affalterbach automaker has become a reference in the luxury market, it would be only natural to expect high standards on everything that makes its cars. When it comes to the rims used on its cars, those standards can be divided in two groups: technical ones, like those mentioned in the previous paragraph, and aesthetic ones. The "whole through its parts" rule applies here as well: pursuing excellence in every part of craftsmanship is what makes this brand deserve the great reputation they have.
The importance of overall resistance goes without saying in any car model, but this factor reaches another level when it comes to performance cars: they are designed to be at their best when driven at high speeds, so their requirements will always be more extreme than those of urban cars. That is why an AMG car, for example, could never use rims or any other mechanical part from a regular Mercedes-Benz; with great performance comes great requirements.
When it comes to beauty, every element of a rim design contributes to some extent. Many spokes give a massive look while few of them favour air intake at expense of drag; solid spokes look clean while detailed ones are more visually impressive; black paint makes the rims blend in with the rest of the wheel while silver paint makes them stand out; larger wheels accommodate larger brake discs but force the tyres to be narrower, and so on. AMG rims are designed with all that in mind.
How can I tell if my AMG wheels are real?
First of all, by their quality. Real AMG rims are extensively tested to fulfill the aforementioned requirements and withstand conditions considered severe for performance cars, which means a much higher standard than that of city cars. They are supposed to contribute to a smooth ride and precise steering at all times because which is directly related to driving safety. However, there are some other indicators that deserve your close attention because they are more precise.
Available options: AMG offers multiple levels of modifications and performance to many car models, so it is natural that each one has its specific set of rims. Genuine AMG rims are offered in specific options in accordance with Mercedes-Benz's recommendation.
Available information: a trusted dealer has plenty of information about its products such as origin, technical details, full installation instructions, and recommendations of use and maintenance. You should be able to learn everything about the rims you want.
Appropriate pricing: Quality comes at a cost. Meeting all those requirements demands the finest materials and the most qualified professionals to produce those rims, so you should not expect to see miracles: excessively low prices are usually a sign of plagiarism.
Taking care of all that surely requires time and money, but those steps are fundamental to honour your initial investment and make sure that your Mercedes-AMG model will preserve its original capabilities. And how can you get started with that search process? By finding a dealer which you can trust to provide you with genuine Mercedes-AMG parts in general, not only rims. Fortunately, this article contains a suggestion which will definitely help you with that.
Where can AMG rims be purchased?
Mercteil is an online shop specialized in genuine Mercedes-Benz components of all kinds, which inexorably includes the AMG and Brabus line-ups. From the official website, you can get an initial notion of its extensive catalogue of tuning and spare parts, which is neatly categorized according to their function on the car and details such as the respective technical information and recommendations of which models are compatible with them and how to install them.
Speaking of rim sets, you can browse through a wide range of options which can be grouped and shown in many ways. One of the most useful is by filtering that list according to your car model: it narrows your search according to requirements such as those previously mentioned here even if your car model was recently discontinued. While many options are centred on AMG and Brabus cars, it is worthy of mentioning that smart cars and the Sprinter van are also included.
Once you select a given rim set, Mercteil offers you a detailed specifications page where you have access to the respective technical information such as rim dimensions and catalogue number, and recommendations of how to install them and which tire specifications to select – both rim and tire must be carefully selected to bring the best performance, of course, and Mercedes-Benz puts that to practice by granting the Mercedes-Benz Original seal on the recommended tire models.
Now that you know all that, it is time to choose the new rims for your Mercedes-Benz! Take your time when browsing Mercteil's catalogue because you will surely find several interesting options from which to choose – whether it is a Mercedes-Benz, a Mercedes-AMG or a Brabus car. Feel free to use our contact page for any additional information you need!
---
You may be interested in: Can You Get Rich By Investing In Stocks?