The annexation of Crimea and the tensions in Ukraine have resulted in a Russian credit rating downgrade from BBB to BBB-, which is just above "junk" status by Standard and Poor's (S&P).
Over the last few months investors have been moving tens of billions of dollars out of the country.
The Bank of Russia (Банк России) raised its benchmark interest rate to 7.5% from 7% in a move aimed at defending the value of the ruble, which has declined by 8% against the dollar so far this year.
This is the second successive month that the key interest rate has been hiked.
The central bank says it aims to reduce inflation to 6% by the end of this year, and does not expect rates to fall during the next few months.
According to S&P:
"In our view, the tense geopolitical situation between Russia and Ukraine could see additional significant outflows of both foreign and domestic capital from the Russian economy."
S&P added that Russia's already weakened growth prospects could be further harmed by tensions in the Ukraine. If the US and its allies – Canada, Europe, Japan and Australasia – impose tighter sanctions, there is a real risk of further downgrades, the credit agency added.
Capital flight and the Russian credit rating downgrade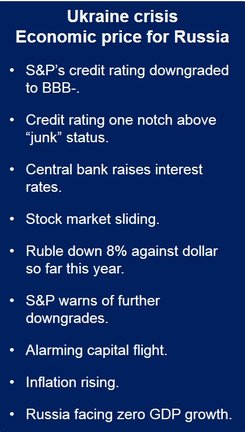 Since 2013, investors have been moving their funds out of Russia, when the country's economy started showing clear signs of trouble. In recent weeks the flow of money out of the country has accelerated as concerns over Ukraine increase.
At the end of March, Andrei Klepach, Russia's deputy economy minister, warned that the country was facing rising inflation, stagnant growth and alarming capital flight.
Klepach predicted that about $70 billion would have been pulled out of the country by jittery investors during the first quarter of 2014.
Approximately $63 billion was taken out of Russia by investors in 2013. The figure for the whole of 2014 is likely to be several times bigger.
As soon as Europe regards the dangers of Russia's hunger for expansion as greater than the economic risks from losing energy supplies from the country, economic sanctions are bound to spiral.
CNN has been informed by senior US officials that further US sanctions against Russia could come as early as Friday. President Obama said today that he would be discussing targeted sanctions against Russia with other European leaders.
President Obama, who is on an official visit to South Korea, said:
"What we've been trying to do is continually raise the costs for Russia of their actions while still leaving the possibility of them moving in a different direction."
"We will continue to keep some arrows in our quiver in the event that we see a further deterioration of the situation over the next several days or weeks."
According to the Moscow Times, Vladimir Putin acknowledged yesterday that economic sanctions have had an impact on the Russian economy. He added, however, that Moscow was ready to take further moves if the Ukrainian government uses military force in the eastern part of the country.
Russia facing zero growth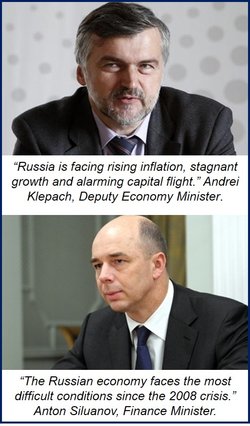 On April 15th, Anton Siluanov, Russia's Finance Minister, said his country is facing zero growth for 2014 because of the Ukraine crisis.
The Russian economy faces "the most difficult conditions since the 2008 crisis," Siluanov said.
According to Mr. Siluanov, investors have removed more than $63 billion from Russia in the first quarter of this year.
Russian shares have declined in value this week, and fell a further 1.6% today after S&P announced the downgrade.
Alexei Ulyukayev, Russia's Economy Minister, said:
"It's obvious that this decision is partly politics driven, and partly is a reaction to a worsening macroeconomic situation."
As other credit agencies follow suit, which is most likely, Ulyukayev's comment on the political motivation of the downgrade will become less convincing, analysts say.
In an interview with the BBC, Timothy Ash, an analyst at Standard Bank, said:
"Russia is going backwards as reflected by developments in relations with Ukraine and the West. (The move is) bad for investment, bad for capital flows, and bad for broader political, economic reform and institutional reform."
Fox Business quoted an analysts at Potomac Research Group, a Washington, D.C.-based political consultancy, which wrote the following to clients:
"With the Geneva agreement in tatters, events seem to be spiraling out of control in eastern Ukraine. Even if Russia doesn't invade (Ukraine), the economic impact of tough new sanctions on trade could become a growing market concern."
What are Sanctions?