The Russian space programme is in for some serious funding cuts as the national economy falters as a result of crashing crude oil prices, economic sanctions, a failing ruble and financial mismanagement. The Roscosmos State Corporation for Space Activities (Roscosmos), the national space agency, told Reuters on Tuesday that it plans to reduce spending.
According to Russian newspaper Izvestia, Roscosmos had proposed cuts amounting to several billions of dollars, including scaling right back on its Moon exploration plans, which envisaged setting up a human colony there.
Roscosmos says a number of government ministries are currently looking at the country's space programme up to 2025 and looking for ways to save money.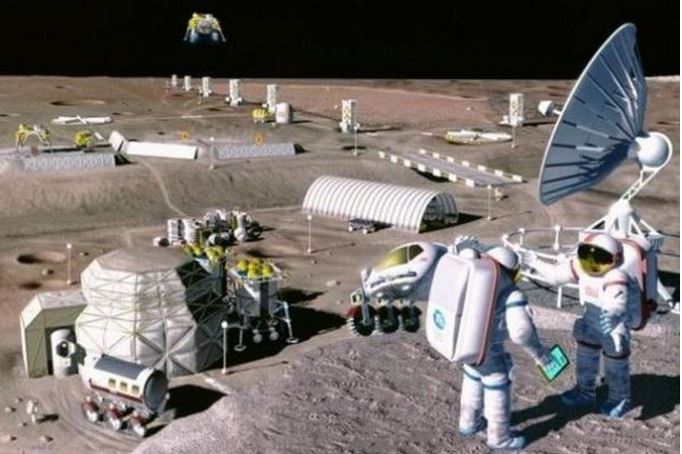 How will these cuts affect Russia's plans to have a colony of humans on the Moon?
Izvestia says the manned flights segment of the Moon missions are likely to be cut by $1.22 billion, which is a large chunk from its total budget of approximately $5.74 billion. However, the plan to build a spaceship to fly to the Moon will probably come out of this spending cut round unscathed, the newspaper added.
What of the Moon colonization plan?
According to an article in the Moscow Times last year, Russia was planning to have a manned colony on the moon by 2030 and was rushing to get the first robotic rovers to explore the lunar surface in 2016.
---
---
Russian newspaper sources said Roscosmos and other centres had outlined a three-step plan toward having people on the Moon.
A robotic craft was to be sent to the Moon in 2016, and by 2028 the country would be ready to send manned missions. In the final stage, which would begin in 2030, humans would arrive on the lunar surface to set up the infrastructure required for an initial colony using local resources.
If the lunar projects suffer severe cuts, all these plans for colonizing the Moon will either have to be cancelled or postponed by several decades.
In a statement to Reuters, Roscosmos said:
"The revised project of the federal space programme for 2016-25 envisages the study of the Moon by automated orbiters, as well as by building up scientific and technical potential for further studies, including by manned missions."
Since the middle of last year, the Russian ruble has plummeted. (Image: xe.com/currencycharts)
Russia's failing economy
Russian GDP (gross domestic product) shrank by 3.7% during the January-to-November period, its Economy Ministry said.
Both the Russian Government and the International Monetary Fund expect the country's economy to have shrunk by 3.8% by the end of 2015. Inflation has soared over the past year, leading to a severe decline in retail sales and domestic consumer spending.
Earlier this month, Alexei Ulyukae, Russia's Economic Development Minister, called for the development of 'non-oil exports' to help make up for the dramatic drop in global energy prices. Russia, like Venezuela, is highly dependent on oil exports for most of its income from abroad.
The Russian Government has ordered steep cutbacks in all its ministries, with hundreds of projects either cancelled or put on hold. Spending on the FIFA 2018 World Cup football competition has also been reduced. The Guardian reported in July this year that the Russian government had cut the 2018 World Cup budget by £340m ($504m), even though stadium construction projects were way over budget and behind schedule.
On Tuesday, Roscosmos announced that Russia is still the world leader regarding successful space launches in 2015. A total of 29 launches were completed. The United States came second with 19 launches.
Roscosmos said in a statement:
"In 2015, Russia carried out 29 carrier rocket launches, 18 – from Baikonur, three – from the Guiana Space Center, one – from Dombarovsky GMD and seven launches from the Russian Defense Ministry's Plesetsk Cosmodrome."