The Safeway brand is back, says Morrisons, twelve years after Britain's fourth largest chain of supermarkets acquired the UK operations from California based retail giant Safeway Inc. In 2004, Safeway had 479 supermarket stores in the UK. Morrisons acquired it for £2.9 billion, the largest UK retail deal at the time.
The supermarket stores will not change their names, they will still be called Morrisons. The Safeway name will be added to a range of products that will be sold wholesale to independent shop owners.
In a press release, Morrisons wrote:
"Safeway brand to be revived as a range for wholesale to independent retailers."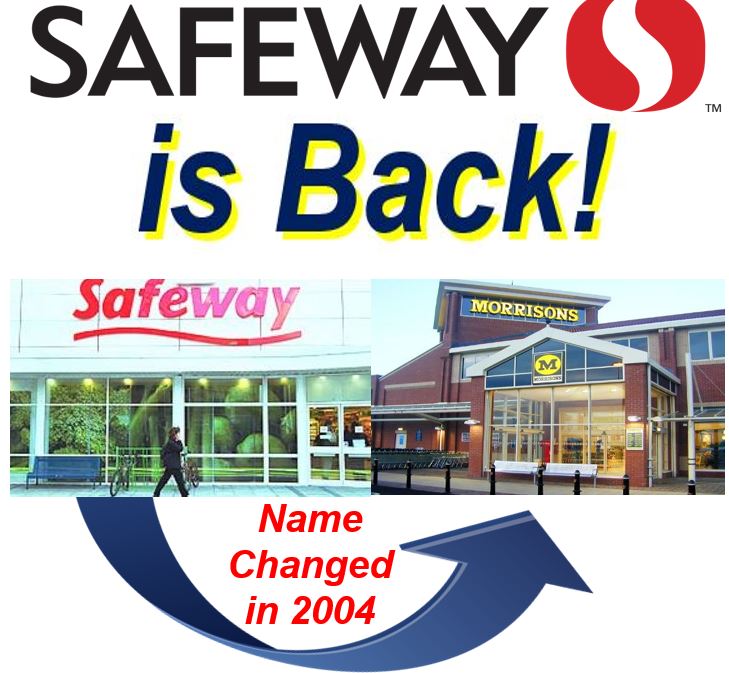 I remember when Safeway changed to Morrisons in my home town – Hastings – about twelve years ago. Initially, the old gasworks were there. When the supermarket opened we were all happy. Personally, I felt a twinge of sadness when it changed names.
Safeway name on convenience products
According to Morrisons, it is developing a range of hundreds of convenience products – branded Safeway – that will be sold wholesale to independent retailers. The range will be on sale early in 2017.
The British convenience market is very diverse and broad, with approximately 75% owned by independents. Re-introducing the Safeway brand will enable the supermarket chain to leverage its sourcing and unique food market skills to give independent shops' customers access to its products, Morrisons said.
---
---
Regarding the convenience food market, David Potts, Morrisons' CEO, said:
"These are two capital light ways of growing in the convenience food market. By working with well-established partners and reviving the Safeway brand, we are making our products more accessible to more customers."
Morrisons Daily stores at petrol stations
The company also announced today that it is to open ten Morrisons Daily convenience stores at Rontec petrol stations. The logistics services will be provided by wholesaler specialist Palmer & Harvey. This is a pilot scheme, Morrisons said.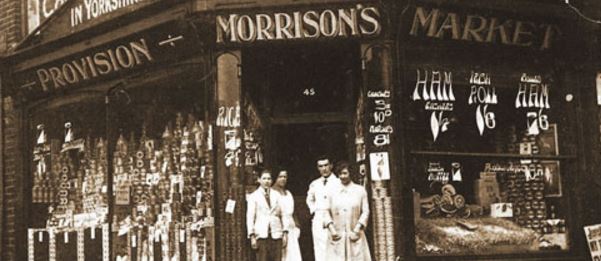 Morrisons is over 100 years old. From selling butter and eggs on a Bradford market stall, then opening one shop in the city centre (image above), it grew into the UK's fourth largest supermarket group, serving more than 11 million customers a week. (Image: morrisons-corporate.com)
It is already piloting a convenience offer with Motor Fuel Group, another petrol station operator.
Chairman and Chief Executive of Rontec, Gerald Ronson CBE, said:
"We are constantly looking for ways in which we can improve the service and product range we offer to our customers and are pleased to be working together with Morrisons on this pilot."
---
---
Executive Deputy Chairman of Palmer & Harvey, Chris Etherington, said:
"We are very excited by the opportunity to work with Morrisons to develop Morrisons Daily with Rontec. Palmer & Harvey have worked with the Rontec team for over 40 years and we are very much looking forward to building a long, successful relationship with Morrisons."
Morrisons – a brief history
Morrisons was founded in 1899 by William Morrison, who became an egg and butter merchant in Bradford, West Yorkshire.
He operated under the name of Wm Morrison Limited. In 1952, his son Ken Morrison took over.
A corner shop was opened in the centre of Bradford in 1958 – the first self-service store with priced products in the city. It had three checkouts.
Its first proper supermarket opened in 1961 in the Girlington district of Bradford. It was called 'Victoria'.
Morrisons became a PLC (Public Limited Company) – listed on the London Stock Exchange – in 1967.
The acquisition of Safeway in 2004 allowed Morrisons to expand into Southern England.