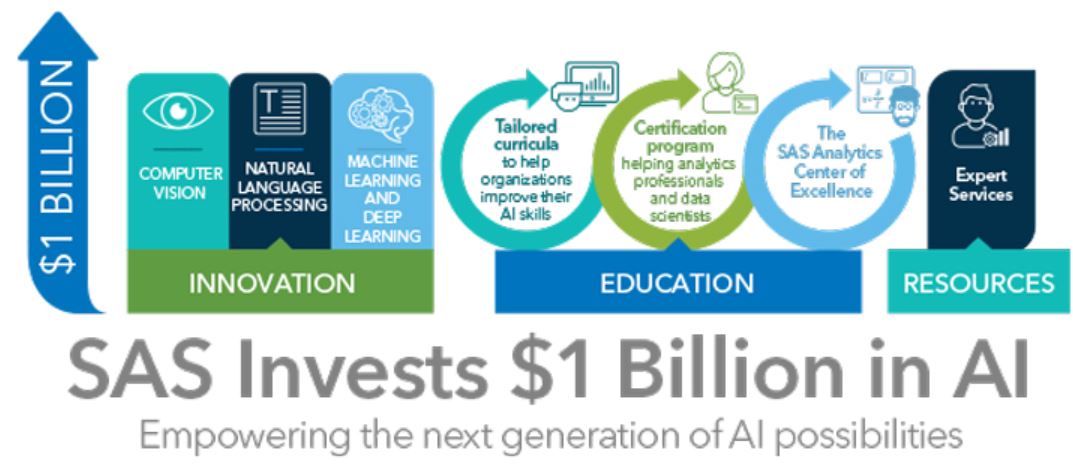 SAS announced that it is to invest $1 billion in artificial intelligence over the next three years. The company will invest in expert services, education, software innovation, and more.
SAS (pronounced 'sass' – SAS Institute) is a multinational developer of analytics software. It is based in Cary, North Carolina, USA. It is the largest privately held software business in the world.
SAS believes that expert services and educational programs will equip data scientists and business leaders for the future of AI. They will provide them with the skills, support, and technology they require to transform their organizations.
Jim Goodnight, CEO of SAS, said:
"At SAS, we remain dedicated to our customers and their success, and this investment is another example of that commitment."
"With our innovative capabilities in AI, SAS helps businesses deter damaging fraud, fight deadly disease, better manage risk, provide exemplary service to customers and citizens, and much more."
SAS to focus on three main areas
SAS' $1 billion AI investment will focus on:
Education Initiative – addressing the needs of customers to understand the benefits of AI better.
Expert Services – to optimize customer return on artificial intelligence projects.
R&D Innovation – where the company continues to build on the success of its worldwide AI efforts.
AI, Machine Learning, and Neural Networks
Artificial Intelligence (AI) refers to software technology that makes robots or computers think like human beings. The software also makes them behave like humans.
AI is a theory and development of computer systems that can carry out tasks that typically require human intelligence. Visual perception, decision-making, and speech recognition, for example, are human intelligence features that AI may possess. Another feature is translation between languages.
We can learn from experience, i.e., get better as we go along. Machines with AI are also able to do that. When machines possess that capacity, we call it Machine Learning.
A neural network is an example of machine learning.
---
---