Running a hotel business is exhausting and unpredictable. One year can bring you a lot of guests and money and yet the next one can cause you headaches and financial losses. Not to mention how hard it is to struggle with the absence of guests two years in a row as we do now. A lot of hotel owners these days are asking the question: Should I sell or keep my hotel?
These days, business with hotels started to fail globally. If that makes you think about selling your hotel and investing in something else or just simply to enjoy, we'll give you 3 reasons why you should do it now:
Coronavirus pandemic caused a crash of hospitality business;

Tourism is showing signs of recovery;

Despite the pandemic, the real estate business thrives.
Having a hotel these days when almost no one travels is unprofitable and if you're thinking about selling your hotel now would be great timing to do that. Hotel brokers can help you to place the property on the market under confidentiality if you need it.
Pandemic
It's not a secret that the pandemic that befell us, turned the world upside down. There is almost no area of human life that is not affected by this inevitable circumstance and business is suffering as well. If you work in tourism you probably know what we are talking about.
Hotel owners all over the world are having trouble staying in business. During the last two years, lockdown and Covid-19 caused the cancellation of many planned events like festivals, expos, and fairs. Seminars for big and small, domestic and international companies are stopped so people don't travel anymore for business purposes as they used to.
Many of the events planned for those two years were held online, so there was no need for people to travel to other cities or to other countries. The same situation is with sports events. It will be enough to say that the Olympic Games in Tokyo and the EURO 2020 have been canceled and rescheduled for 2021. Without regular guests, hotels are staying empty. That caused big financial losses for hotel owners.
Many studies are showing a strong correlation between hospitality business and macroeconomic indicators, such as Gross Domestic Product (GDP), Consumer Price Index (CPI), unemployment, etc. In other words, if the national, or global economy goes down, hospitality goes down as well.
Tourism is recovering
Although the pandemic isn't over yet and many countries are in partial, or total lockdown, tourism is showing signs of recovery. Global vaccination and immunization are slowing down the pandemic and we finally can see the light at the end of the tunnel.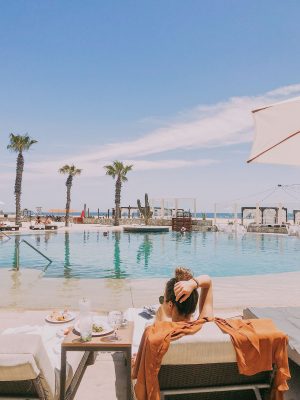 In 2020 the world faced the biggest crisis since WWII. The global traffic has stopped and the hospitality business suffered the most. Many hotels were closed permanently and owners didn't have a chance to sell them.
Fortunately, due to the recovery of tourism, demand for hotels is growing again. People are starting to travel again, the summer is behind the corner and investors see the opportunity to buy hotels. Hence, if you want to sell the hotel, this is the right moment. Hotel prices are increasing and it's the perfect moment to sell it.
Real estate prices are high these days
During normal periods, people usually invest in the stock market or keep the funds in the banks. But when the crisis occurs, we can see a totally different situation. Every crisis turns the investment market upside down.
During financial crises, investors are losing confidence in stocks and money and turning to investments in gold and real estate. It's a completely normal phenomenon, every crisis, from the Great depression (1929-1933) to the 2008 financial crisis, and now the global pandemic caused a crash of the stock market.
If you are a hotel owner, this is a good moment for you. The hotel business is highly capital intensive. It means that you need to invest a lot of money to build a hotel and if you own it, you may consider yourself a rich person.
Selling a hotel worth millions isn't easy. It could be a life-changing investment for both, seller and investor. You need to have that in mind and be patient, there are not that many investors willing to spend millions on any real estate. Hopefully, the global economy is recovering and people are starting to invest and you may find the investor for your hotel sooner than you expect.
Conclusion
Before you make a definite decision about selling your hotel, make a good research and try to sell it smartly. Don't rush, you're making a huge deal that may change your life. Advertise it, try to collect as many offers as possible, and choose the best option for yourself.
---
Interesting Related Article: "Airbnb has negatively impacted three key metrics of hotel performance growth"