Serco Group plc., a British outsourcing multinational company, issued its fourth profit warning this year on Monday, which sent shares crashing and wiping off the firm's market value by half-a-billion pounds.
The Hook, Hampshire-based company said it was going to launch a rights issue. Serco shares in morning trading on the London Stock Exchange took a 30% nosedive to 220p as investors ran for cover following the latest update.
An equity rights issue of up to £550 million in Q1 2015 has been planned, as Serco attempts to shore up its balance sheet.
In 2013, Serco was caught up in a tagging scandal where it continued charging for monitoring criminals who had either died, gone abroad or were back in prison.
The company is still paying for the huge clean-up operation after overcharging the Government, which is by far its biggest customer, by several tens of millions of pounds. Serco faced a six-month ban in 2013 on all government contracts and is spending a fortune to keep its public-sector contracts.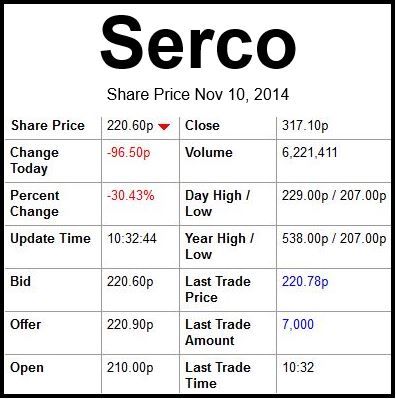 (Source: Serco investors share price data)
The company said it was downgrading its adjusted operating profit guidance for this fiscal year to between £130 million and £140 million, a reduction of £20 million.
Impairment and other provisions will probably total approximately £1.5 billion, the bulk of which is related to intangible assets and goodwill, the company said. This is a massive sum, given that its market value is about £1.7 billion.
Serco added that these contract provisions will probably affect its banking covenants. It added that it would be entering talks with its lenders to address this.
Non-core businesses will be sold, Serco said, including most of its private-sector business processing activities.
In May, after issuing its third profit warning of the year, Serco placed 49.9 million new shares at 320p and raised £160 million.
CEO Rupert Soames said:
"The rapid progress we have made in recent weeks on the Strategy Review and the Contract & Balance Sheet Reviews has brought us to the point that we are able to provide an initial estimate of the impairments, write-downs and Onerous Contract Provisions that are likely to be required at year end. Whilst it is a bitter pill, it is better for all concerned that we swallow it now and establish a really solid foundation on which to build Serco's future."
"As might be expected, the Contract & Balance Sheet Reviews have encouraged much turning over of stones, and reflects our changing strategy and the latest view of the challenges we face on a few large contracts. These challenges, together with a less pronounced improvement in trading in our second half than we expected, have led us to a more cautious view of 2014 and 2015."
"Looking ahead, we have not yet completed our Strategy Review, and we will present it, as planned, at the time of our Full Year Results in March 2015. However, the direction is clear: Serco will concentrate on its core as a leading supplier of public services – an international B2G business focused on Justice & Immigration, Defence, Transport, Citizen Services and Healthcare. These are businesses which we are really good at, where we deliver outstanding service, and where our skills, experience and international reach can differentiate us. There are a tough couple of years ahead as we make this transition, but it will be worth it."
Mr. Soames, who was formerly CEO of engineering company Aggreko, took the helm at Serco in May 2014.
Serco Group plc., which is listed on the London Stock Exchange and is an FTSE 250 Index constituent, operates private and public transport & traffic control, aviation, military and nuclear weapons, prisons, detention centers and schools on behalf of the British government.