A Shell profit warning was followed by an announcement that the Anglo-Dutch company is cutting spending and streamlining operations.
It is also suspending its Arctic drilling program.
Shell Chief Executive Ben van Beurden, who started his tenure on January 1st, 2014, announced plans to make the world's third largest oil & gas company leaner, with a change of emphasis towards stepping up asset disposals and growing cash.
The company today posted 'clean' profits of $2.9 billion for Q4 2013, a significant decline compared to $5.6 billion in Q4 2012. ('Clean profits' strip out the impact of oil price fluctuations).
Van Beurden said:
"Our ambitious growth drive in recent years has yielded a step change in Shell's portfolio and options, with more growth to come, but at the same time we have lost some momentum in operational delivery, and we can sharpen up in a number of areas."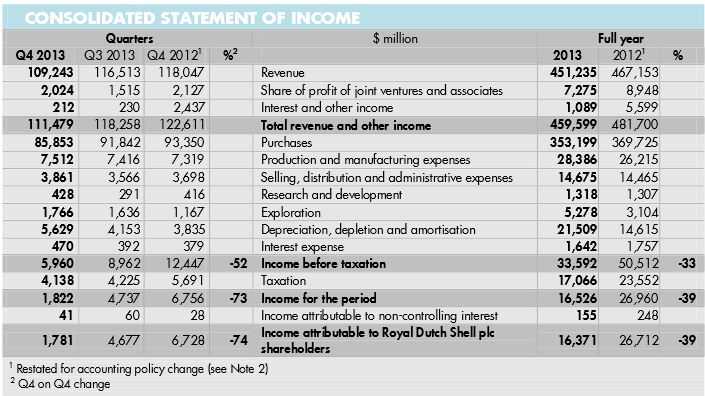 (Source: Royal-Dutch Shell)
Shell's landscape dramatically changed over the last year
Shell says the landscape it had expected has changed. Nigeria's worsening security situation in 2013, plus delays to non-operated projects in a number of other countries have altered the outlook for the company.
Although oil prices continue to be high worldwide, in North America natural gas prices and related crude markers remain low, plus industry refining margins are being squeezed.
Shell wrote in a press release today "Restructuring and improving profitability in North America Upstream resources plays, and Oil Products world-wide, is a particular focus for the company."
Alaskan project cancelled
The company says it has decided to abandon its exploration program in offshore Alaska following the recent Ninth Circuit Court decision against the Department of the Interior.
Van Beurden said:
"This is a disappointing outcome, but the lack of a clear path forward means that I am not prepared to commit further resources for drilling in Alaska in 2014. We will look to relevant agencies and the Court to resolve their open legal issues as quickly as possible."
Shell forecasts income of $15 billion as a result of asset sales for 2014-15.
As its operational landscape has changed, as well as the streamlining of the company's portfolio, Shell says it will not be updating against previous cash flow and net spending targets. "I want Shell to be measured on our competitive performance", van Beurden said.
Shell predicts capital spending will fall from $46 billion in 2013 to $32 billion in 2014, including $2 billion in previously announced acquisitions.
The company added "Innovative large-scale projects such as Pearl gas-to-liquids have been the main drivers behind Shell's recent increase in cash flow, which reached over $87 billion in 2012-13 combined, an increase of 35% on 2010-11. Recent start-ups and Shell's latest projects and acquisitions – dominated by liquefied natural gas, and deep-water oil in the Gulf of Mexico, Brazil and Malaysia – are expected to build on this growth in 2014."
To please investors, Shell says it will increase the first quarter dividend to $0.47 per share, an increase of 4% in a move signaling its ability to increase free cash flow.
Shell profit warning not an isolated case
Chevron Corp issued a profit warning earlier this month, and Exxon Mobil Corp, the world's largest oil & gas company, posted disappointing quarterly profits today.
Reuters quoted Peter Hutton, an analyst at the Royal Bank of Canada, who said regarding Shell "This is a good start, they're saying the right things, more loudly and more quantified than we had expected." He added that the dividend increase was "confident" and more than he had expected.