Should California be divided into six different states? Yes says venture capitalist Tim Draper – who has started a proposal called "Six Californias".
According to Mr. Draper, California is "simply too big and bloated."
California is the most populous state in the United States and Draper says that creating policies to meet the needs of over 38 million people "just doesn't seem to work."
Draper believes that more local government is better and that the Six Californias proposal to split California into six separate states would help lawmakers address people's needs.
In an interview with TechCrunch Draper provided five reasons why California should be split into six states: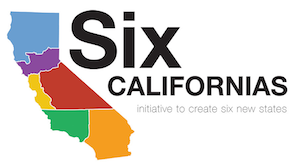 1. The people of California need a better ratio of Senators per person.
2. Lower costs for services because of increased competition.
3. A fresh start for the new states.
4. Better local policies.
5. The ability to "move between states more freely."
The proposed six states are:
Jefferson – which would include the following counties: Butte, Colusa, Del Norte, Glenn, Humboldt, Lake, Lassen, Mendocino, Modoc, Plumas, Siskiyou, Shasta, Tehama, and Trinity.
North California – to include Amador, El Dorado, Marin, Napa, Nevada, Placer, Sacramento, Sierra, Solano, Sonoma, Sutter, Yolo, and Yuba.
Central California – which would include Alpine, Calaveras, Fresno, Inyo, Kern, Kings, Madera, Mariposa, Merced, Mono, San Joaquin, Stanislaus, Tulare, and Tuolumne.
Silicon Valley – containing Alameda, Contra Costa, San Benito, San Francisco, San Mateo, Santa Clara, Santa Cruz, and Monterey.
West California – the following countries would make up this area, Santa Barbara, San Luis Obispo, Los Angeles, and Ventura.
South California – to include Imperial, Orange, Riverside, San Bernardino, and San Diego.
Draper is currently looking for 1 million voter signatures in order to place the measure on the November 2015 state ballot.
Despite many political observers saying that the proposal is simply impossible and will not happen, some say that it could have an impact nevertheless.
According to a former Republican political strategist, Dan Schnur, the proposal "could very well end up promoting a conversation about rerouting power from the state to local governments."
---
People interested in receiving updates on the Six Californias proposal can do so by signing up here.
Below is a copy of the Six Californias proposal along with a map of how California would be split up: