Slimbridge, the home of Sir Peter Scott, the 'patron saint of conservation', will be open to the public thanks to a £4.4million Heritage Lottery Fund grant. Sir Peter, the only child of Antarctic explorer Captain Scott, was named after Peter Pan – his godfather was JM Barrie, the author of the children's story.
Sir Peter Markham Scott (1909-1989) was a British ornithologist, conservationist, painter, sportsman and naval officer. He was knighted in 1973 for his contribution to the conservation of wild animals, and also received the J. Paul Getter Prize for his work.
The BBC's first ever natural history programme was filmed live at Sir Peter's studio lounge at his home at Slimbridge Wetland Centre in Gloucestershire in May 1953.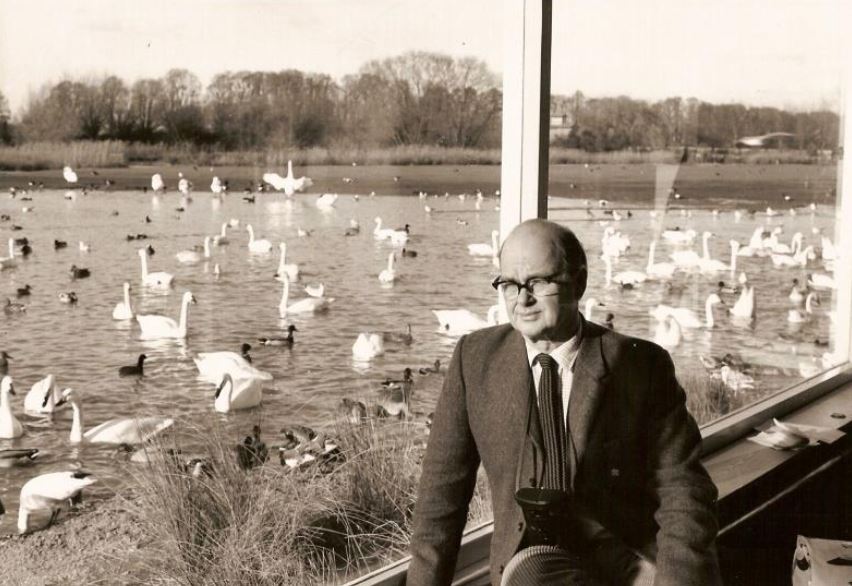 Sir Peter Scott at Slimbridge. (Image: www.hlf.org.uk)
Sir David Attenborough's inspiration
Sir Peter Scott's pioneering TV career, which began in the 1950s, inspired several broadcasters, including Sir David Attenborough, who said:
"Peter is and always will be the patron saint of conservation. Long before words like 'biodiversity' were coined, Peter looked out from that huge window in his house at Slimbridge and realised our lives are so linked with our natural world that we have to learn to love it and look after it."
---
---
"I think it's wonderful that absolutely anyone will be able to sit in that same window in future years and feel just as inspired."
Slimbridge a centre of modern conservation
The house forms a key part of the story of modern conservation – the international system for designating species as extinct, endangered or threatened was largely devised by Sir Peter as he helped to found the World Wildlife Fund (WWF), the Wildfowl & Wetland Trust (WWT), the IUCN Species Survival Commission and several other organisations that have saved many animals from extinction.
The Heritage Lottery Fund's (HLF's) grant will help renovate the house and enable members of the public to experience the fascinating history within its walls. The Scott Tour will continue out into the grounds, which is host to the world's largest collection of water birds including the Hawaiian goose, which Sir Peter saved from extinction.
New attractions will be added to the house, including a theatre and aviary, more hides from which visitors can overlook the wild nature reserves, and access to WWT's world-famous conservation breeding duckery.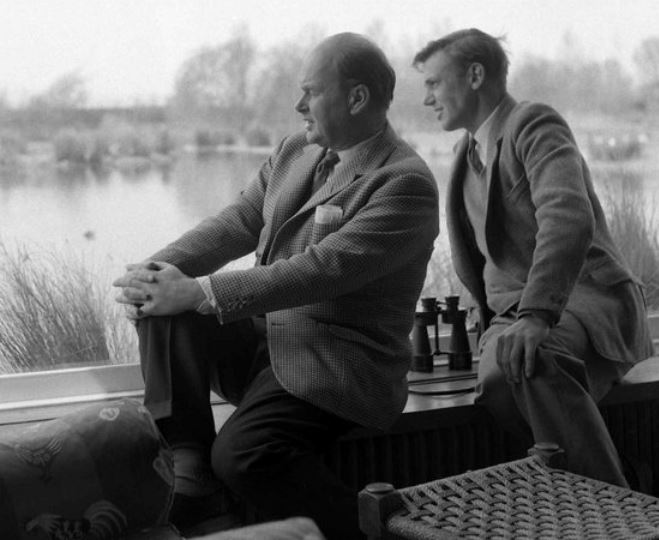 Sir Peter Scott with Sir David Attenborough at Slimbridge. (Image: BBC)
Parliamentary Under Secretary of State at the Department for Environment, Food & Rural Affairs (DEFRA), Rory Stewart, said:
"The Wildfowl and Wetland Trust do really important work looking after our landscapes and wildlife, and I'm delighted HLF is supporting the Trust to honour the memory of the great Sir Peter Scott."
"Sir Peter changed the way we think about conservation and the new centre at Slimbridge will bring his legacy to life and continue the truly excellent work already underway to protect our wildlife."
---
---
HLF Trustee Jim Dixon made the following comment about Sir Peter:
"Sir Peter Scott inspired a generation of conservationists across the world. His studies on the migration of wildfowl made him a firm believer in working across national boundaries for conservation."
"I can't think of a more fitting way to use National Lottery players' money than by marking his global reputation and giving Slimbridge a renewed role to celebrate the work he pioneered and loved."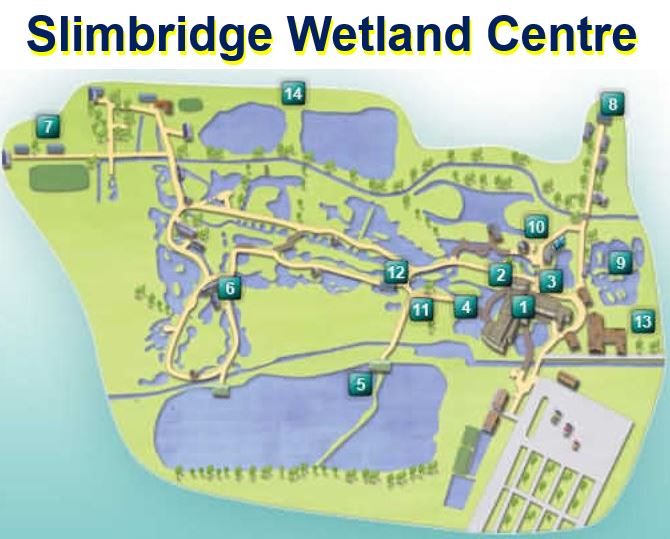 1. Visitor Centre 2. Sloane Tower 3. Waters Edge Restaurant 4. Big Pen 5. South Lake 6. Lesser & Greater Flamingo's 7. South Finger Hides 8. Summer walkway 9. The Rushy 10. Sustainable Garden 11. Play Area 12. The Crane School 13. The Duckery 14. The Reserve. Soon the house will be added to the list. (Image: www.cotswolds.info)
WWT still needs to raise more money
An initial £360,000 has been awarded by HLF to help WWT develop plans for the new heritage tour of the Slimbridge Wetland Centre, beginning from Sir Peter's house.
The whole project will cost £6 million, so WWT will need to raise an additional £1.6m, apart from the £4.4 million HLF grant.
Martin Spray CBE, Chief Executive of WWT, said:
"We want everyone in the area to feel proud of how important Slimbridge is to wildlife conservation across the world, and to enjoy getting close to wildlife in a beautiful, watery landscape. We're inviting local people to be part of sharing that pride, and to inspire the young conservationists of tomorrow."
The only child of explorer Captain Scott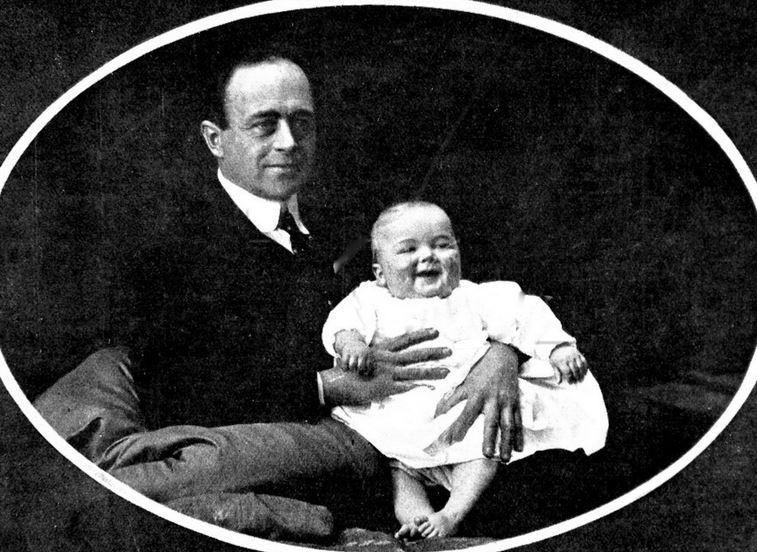 Sir Peter Scott (baby) with his father Captain Scott, also known as Scott of the Antarctic. Sir Peter once said: "We shan't save all we should like to, but we shall save a great deal more than if we had never tried." (Image: www.tumblr)
Sir Peter Scott was born in London, the only child of Antarctic explorer Robert Falcon Scott (Captain Scott) and sculptor Kathleen Bruce. When he was two years old his father died. In his last letter to his wife, his father wrote "Make the boy interested in natural history if you can; it is better than games."
At Trinity College, Cambridge, he initially started reading Natural Science, but graduated in the History of Art in 1931. While studying at Cambridge, he shared digs with Scottish zoologist and ecologist John Berry – they shared many views.
Video – Scott's last letter to his wife
In this WWT video, Sir David Attenborough's admiration for Captain Scott and his son Sir Peter Scott is clearly evident. He says Sir Peter's work inspired a whole generation, including himself, to discover the natural world.