A new survey by Glassdoor places Slough at the top of this year's list of the United Kingdom's 25 best towns and cities in which to work and live.
Slough, the largest town in England's county of Berkshire, beat Manchester and Cambridge, who came in second and third place in the large job site's 2017 report for the 25 Best UK Towns & Cities to Work In.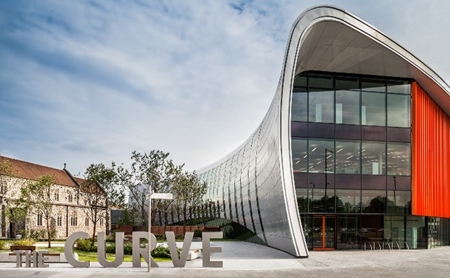 The Curve, Slough's iconic library and culture centre, is part of the town's urban renewal program.
Credit: slough.gov.uk
Last year, Slough, which lies some 20 miles west of central London, was not even in the top 25, while Cambridge occupied the top slot, and Manchester was nine places lower down the list.
Jobs, cost of living, satisfaction
Glassdoor compile the list by scoring (5 = best city, 1 = worst city) the UK's 50 most populated towns and cities on the following factors:
– Hiring opportunity: how easy is it to get a job in this town or city?
– Cost of living: how affordable is it to live here?
– Job satisfaction: how satisfied are employees who work here?
---
---
Hiring opportunity is the ratio of active job openings to the town or city's population. Cost of living is a comparison of median annual base salary to median home value of that area, and job satisfaction comes from employee reviews of companies on the Glassdoor site.
The top 25 towns and cities for 2017 are: (1) Slough, (2) Manchester, (3) Cambridge, (4) Swindon, (5) Stoke-on-Trent, (6) Reading, (7) Leeds, (8) Milton Keynes, (9) Bolton, (10) Oxford, (11) Coventry, (12) Derby, (13) Nottingham, (14) Birmingham, (15) Ipswich, (16) Belfast, (17) Southampton, (18) Aberdeen, (19) Luton, (20) Dundee, (21) Newcastle Upon Tyne, (22) Bristol, (23) Blackpool, (24) Hull, (25) Peterborough.
You can view the full list, together with each town or city's score and other information such as: population, their number of current job openings, median base salary, median area home value, and overall job satisfaction.
---
---
Big employers moving to the area
Dr. Andrew Chamberlain, Chief Economist at Glassdoor says that Slough's top position on the list reflects the fact that large multinationals are establishing themselves there.
He comments that the town also has high average salaries and is close to Heathrow airport and the M4 motorway. This transport corridor is home to tech giants like Cisco, Microsoft, and Oracle.
"Although people in London are generally satisfied," Chamberlain notes, "it has proven not only to be an expensive place to live, but also an ultra-competitive city in which to find a job."
Urban renewal
Coincidentally, Slough is currently undergoing somewhat of an urban transformation.
Billed as a partnership between local government and private investors, Slough Urban Renewal already features The Curve, Slough's iconic learning and culture centre. It also promises to enhance local schools, provide new homes and open spaces, and improve transport links and leisure facilities.