A Slovakia Ukraine gas pipeline has been agreed, which will allow Central European natural gas to get to Ukraine via Slovakia. Slovakia says it will start reusing an abandoned pipeline that can transport 3bcm (billion cubic meters) of gas to Ukraine annually, thus reducing the country dependence on supplies from Russia.
According to Slovak pipeline operator Eustream, a deal was reached during talks in the Ukrainian capital Kiev.
Ukrainian and Slovak operators – from Ukrtransgaz and Eustream – will meet on Monday to sign a memorandum of understanding in Bratislava.
The Slovakia Ukraine gas pipeline goes from Vojany in Slovakia to Ukraine's western city of Uzhorod.
Ukraine consumes approximately 55bcm each year, half of which comes from Russia.
Germany's energy company RWE has started supplying gas to Ukraine via Poland. RWE says it will supply up to 10bcm annually.
Russia doubled its price of gas to Ukraine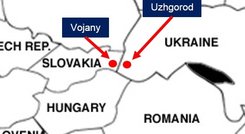 After pro-Russian Ukrainian president Viktor Yanukovich was toppled in February, Russia nearly doubled the price of natural gas it supplies to Ukraine. According to Russia, Ukraine has built up a debt of $2.2 billion with Gazprom.
Russia says it has been selling natural gas to Ukraine at knockdown prices for several years, worth a total of $35 billion.
Ukraine and Gazprom are in dispute over the debt and there is concern that the Russian supply could be suddenly cut off if no agreement is reached.
Initially, Ukraine asked Slovakia to reverse the direction of natural gas supplies in the Russia-to-West pipeline. However, the Slovakian government was not keen on the plan, fearing it might break the terms of its agreement with Gazprom.
Using the Vojany-Uzhgorod pipeline would not violate Gazprom agreement
According to EU Energy Commissioner, Guenther Oettinger, reverse-flow gas supplies from Slovakia to Ukraine by the trunk pipeline would be illegal without Gazprom's consent. The Vojany-Uzhgorod pipeline, however, would not require Gazprom's agreement, he added.
In a statement on Saturday, Slovak Economy Minister Tomas Malatinsky said:
"I am convinced that this solution is the first possible and realistic one, and one which does not threaten the energy security of Slovakia and other EU countries."
ITAR-TASS new agency quoted Alexei Miller, Gazprom's CEO, who said that reverse gas supplies from Europe to Ukraine would be a debatable issue.
Miller said:
"If one looks at the map of the Ukrainian gas transportation system, he will easily understand that the system is designed to operate in one direction only and there is no technical possibility to reverse it. If this is some virtual reverse flow, there can be questions about its legality. It's unclear what grounds Ukraine has to use Gazprom's gas in the pipeline on its territory. This may raise legal questions."
Ukraine's Prime Minister Arseniy Yatsenyuk said buying natural gas from Europe would be $100 to $150 cheaper than getting it from Russia.
The European Union has told Ukraine it will help the country diversify its natural gas supplies.