QuickBooks, developed by Intuit, is a popular accounting software package that helps small businesses to track sales, create invoices, and send them to anyone they want. The application stores all the data in a database file, known as QBW file. Like other database files, it is also prone to corruption and other issues. If your QuickBooks data file is damaged or corrupt and you want an instant solution repair the file, then you can use a specialized QuickBooks repair software, such as Stellar Repair for QuickBooks. Let's discuss about this software in detail.
What is Stellar Repair for QuickBooks?
Stellar Repair for QuickBooks is an advanced tool for repairing corrupt or damaged QuickBooks data (QBW) file and recovering all the file components, like employees, customers, vendor information, and more. It is developed by Stellar, a company renowned for its file repair tools. 
Reasons to use Stellar Repair for QuickBooks
Here are some reasons that may compel you to use Stellar Repair for QuickBooks. 
Simple and intuitive interface that works well for all kinds of users.

Extensive repair capabilities. It repairs all QBW file components, such as customers, vendors, employees, and more.

Recovers content from QBB backup file.

Displays a preview of the contents of the corrupted file before saving them.

Compatible with all QuickBooks versions – from 2007 to 2022.

Recovers data from QuickBooks Enterprise Solution, Premier, and Pro editions.

Fixes all types of QuickBooks data file errors, such as -6000, -80, -6150, H202, and more.

Generates a log report for reference and auditing.
How to Use Stellar Repair for QuickBooks?
Here is a step-by-step process on how to use Stellar Repair for QuickBooks.
Step 1: Download and Install
The first step is to download and install the tool. After downloading the exe file, double-click on it to open the setup wizard. Simply follow the setup wizard to install the software on your system. 
Step 2: Select the QuickBooks File
Launch the software. The home screen will look like this.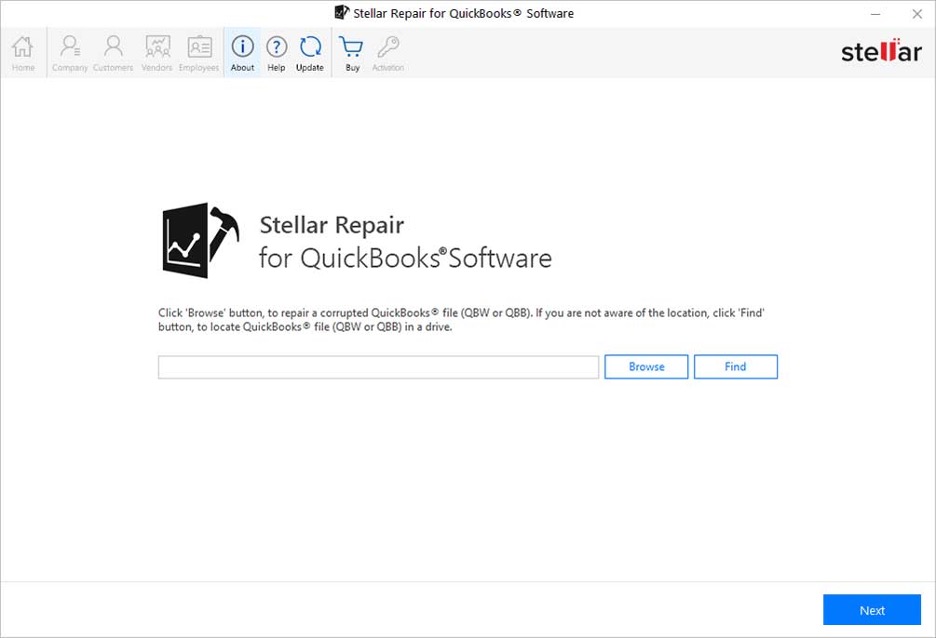 You can browse through your system to select the corrupted QuickBooks file. Alternatively, you can type the name and find it. After selecting the file, click the "Next" button.
Step 3: Choose a QBB File
If there is a QuickBooks backup file, select that in the next step.
If you don't have a backup file, skip this step.
Step 4: Scan the Chosen File
Now, check if you've chosen the right file and click on the Scan button.
The below screen is what you'll see if you didn't choose a backup file.
If you have chosen a QBB file, this is the screen you'll see.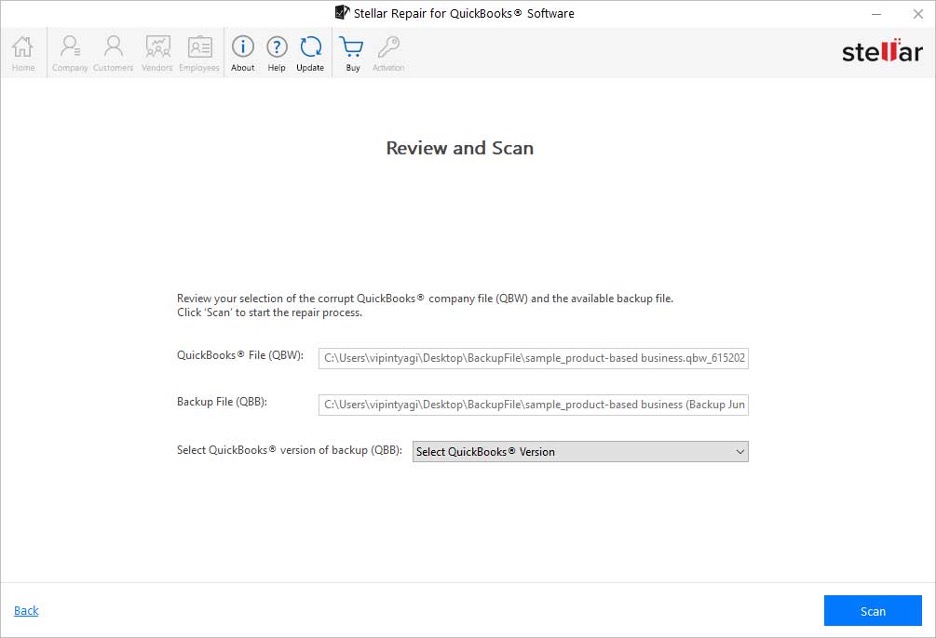 Step 5: Preview the Data
After confirming your selection, the software will start scanning the chosen file. This can take a few minutes to a few hours, depending on the file size.
Once the scan is complete, you can preview the data.
Below is the company data you'll see.
This is the customers' data.
You can see information about vendors when you click the Vendors tab.
And here's what the employees' data screen will look like.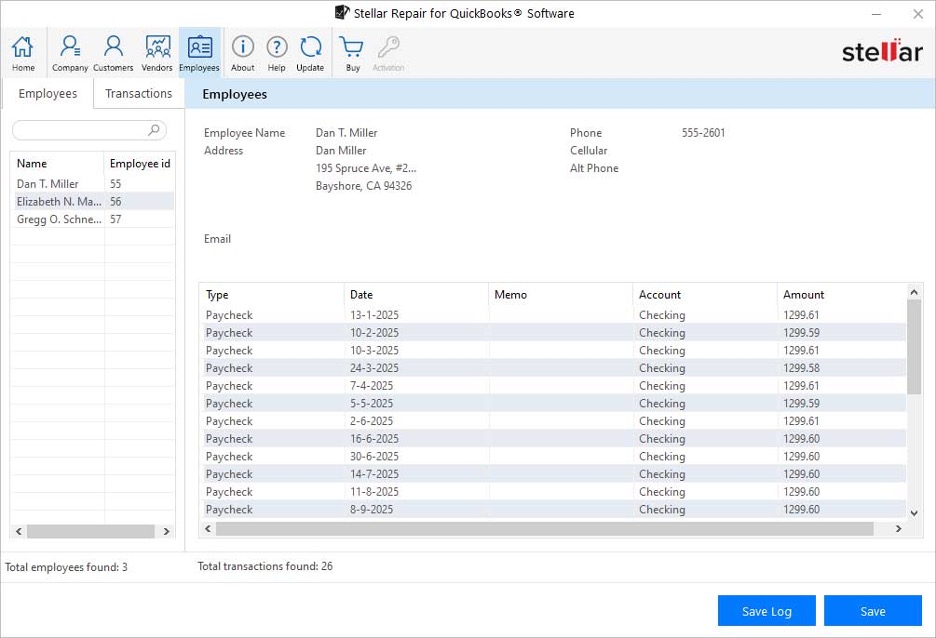 Make sure to select the records you want on each screen and click on the "Save" button.
Step 6: Create a New QBW file
After making your selection, give a name to your new QBW file and select a location. This is where the selected contents will be saved.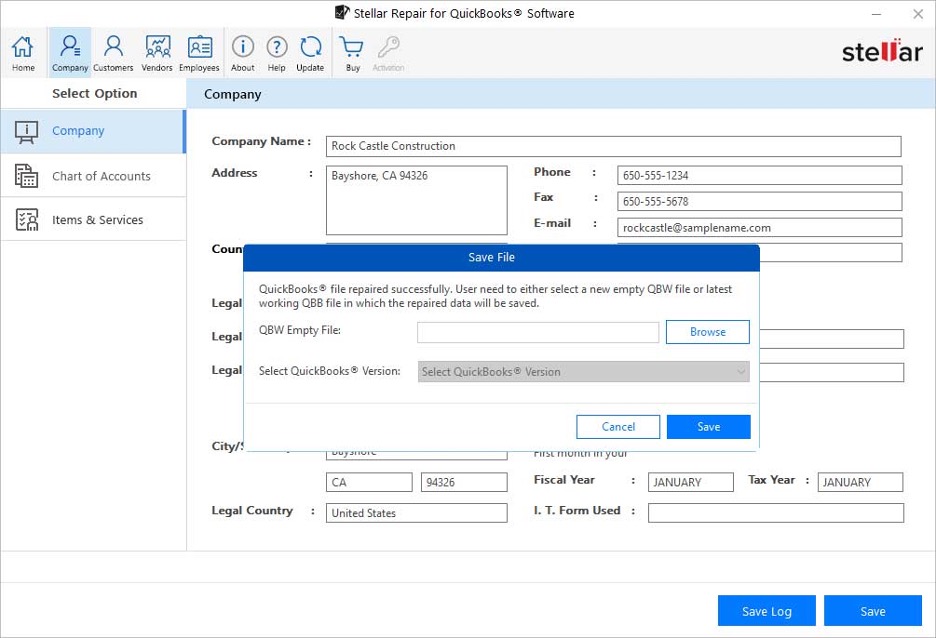 Once the process is complete, you will get a notification. Simply click OK to exit the tool.
As you can see, the process of repairing QBW file using Stellar Repair for QuickBooks Software is simple and quick. The simple user interface masks the complex technicalities of file repair and recovery. Undoubtedly, this is a must-have tool for every QuickBooks user. 
Final Thoughts
Stellar Repair for QuickBooks is a highly useful tool to repair and recover corrupt QBW files. It ensures integrity of all the data stored in the QuickBooks file during the repair process. It has advanced capabilities to extract data from any corrupted QBW file. The simple-to-use user interface gives a comfortable user experience. 
---
You may be interested in: 5 Features About Quickbooks Cloud Hosting