A new study by MIT (Massachusetts Institute of Technology) and NREL (Energy Department's National Renewable Energy Laboratory) has shown that solar manufacturing costs are driven by production scale and not lower labor costs.
The study – "Assessing the Drivers of Regional Trends in Solar Photovoltaic Manufacturing" – was funded by the Energy Department through its Clean Energy Manufacturing Initiative, and is published in the peer-reviewed journal Energy & Environmental Science.
Many experts and most of the media have believed that China's dominance in solar manufacturing, specifically photovoltaic (PV) solar energy systems, is due to cheap labor and direct government subsidies.
However, the new MIT/NREL study demonstrates that most of China's current competitive advantage in solar manufacturing comes from production scale "in part through preferred access to capital (indirect government subsidies), and resulting supply chain benefits."
Solar manufacturing costs in China can be replicated in America
The study authors add that China's current advantage could be reproduced in the USA.
NREL Senior Analyst Alan Goodrich and colleagues developed manufacturing cost models to examine the underlying causes for shifts from a global network of manufacturers to a production base that is today predominantly based in China.
According to the study, China's historical advantage in low-cost manufacturing is primarily due to advantages of production scale, and offset by other factors specific to the country, such as inflation and investment risk.
The authors wrote that "technology innovation and global supply-chain development could enable increased manufacturing scale around the world, resulting in broader, subsidy-free PV deployment and the potential for manufacturing price parity in most regions."
Innovations in crystalline silicon solar cell technology may attract new investment, the report notes. The authors believe that eventually this new technology may become as economically competitive as photovoltaic solar energy systems.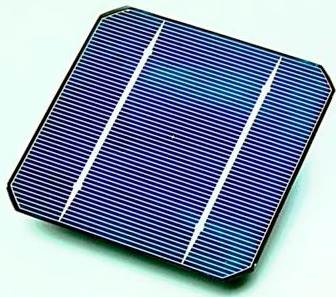 Crystalline silicon solar cell technology may eventually become as economically competitive as photovoltaic solar energy systems.
Alan Goodrich said:
"Our analysis finds that investments in technology research and development are critical not only to the widespread deployment of solar PV in most locations, without subsidy, but also may equalize factors that affect regional competitiveness, thus creating opportunities for U.S.-based manufacturers. The race for cost-competitive clean energy from the sun is far from over and incredible growth opportunities remain."
David Danielson, Assistant Secretary for Energy Efficiency and Renewable Energy at the Energy Department, said "Innovation is critical to driving the technological advancements that can position the U.S. to gain greater market share in the global PV supply chain. We believe that innovation could drive down costs and drive up efficiencies not only in PV manufacturing, but also in the production of other high-tech and high-value clean energy technologies, and position U.S.-based manufacturers to be leaders in one of the most important global economic races of the 21st century."
The researchers gathered data on industry-validated manufacturing costs to calculate minimum sustainable prices (MSP) for monocrystalline silicon solar panels made in China and the United States – simulating how a multinational manufacturing company decides where to place its production plants.
America needs innovation, low cost and no subsidies
The study found that currently, China-based manufacturers have a 23% MSP advantage over manufacturers based in the U.S., excluding shipping costs. Most of a China-based factory's MSP edge over a U.S.-based one is due to scale and supply-chain advantages. These advantages are not inherent to China and can be replicated in U.S.-based factories if similar scale can be achieved.
For capital investment to be motivated in America to manufacture PV at scale, the technology must be completely innovative, low cost, and able to compete without any subsidies.
Co-author, Professor Tonio Buonassisi, of MIT, said "The 'holy grail' is an innovative PV module with high efficiency, low material costs, streamlined and scalable manufacturing, and unquestionable reliability. The PV modules you can buy today have a few of these attributes, but not all of them together. Thus, practical technological innovation is a key driver to accelerate the convergence between photovoltaics and traditional energy sources, both in terms of price and scale. This common goal, for the benefit of all nations, is an opportunity for international cooperation that leverages our complementary strengths."