Solar panel awards worth $94 million were announced by Andrew M. Cuomo, the Governor of New York State. The NY-Sun awards are aimed at large solar electric projects that will increase solar capacity in the State by over 214 megawatts or 68% compared to installed plus in-the-pipeline capacity in 2013.
The aim is to move the State closer to a sustainable, self-sufficient solar industry.
Governor Cuomo said:
"Today we are making another long-term investment in our clean energy economy – with nearly $100 million in funding that will dramatically increase our capacity to generate and utilize solar energy across the state. New York is quickly becoming a national leader in renewable energy by building a competitive solar industry, and today's award recipients are an example of how that progress continues to grow."
"As we recognize Climate Week, this is a significant step forward in our goal of creating a better place for New Yorkers to live and work, and I look forward to seeing these projects contribute to a cleaner environment."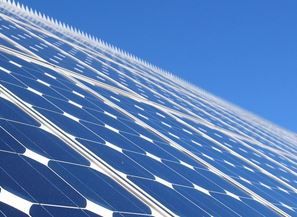 Governor Cuomo says New York is rapidly becoming a national leader in renewable energy.
The new capacity will be generated at 142 project sites. It is part of the New York State Energy Research and Development Authority's Competitive PV (photovoltaics) program, which says it has spent the last four years trying to stimulate the market for systems bigger than 200 kilowatts.
The $94 million in renewable funding will add to private investments totaling $375 million in new PV power infrastructure projects, Gov. Cuomo said.
The project sites comprise 50 businesses, 15 non-profits, colleges and health care institutions, 41 schools and school districts, and 36 municipal and other government facilities.
President and CEO of the New York State Energy Research and Development Authority, John B. Rhodes, said:
"The results of this solicitation highlight the success of Governor Cuomo's NY-Sun initiative in driving a significant increase in solar power in the State, and the large interest from school districts is an indicator of the success we can expect from NY-Sun's new K-Solar program, which focuses specifically on solar projects at schools. NY-Sun is mobilizing private investment in this clean renewable resource as New York State continues to build clean energy systems that are resilient, reliable and affordable."
More larger developers involved this time
Forty-nine developers submitted proposals, which is a significant increase compared to two previous solicitations, the Governor said. This time round, proposals have been submitted in New York State for the first time by large developers that have previously concentrated their operations on other states, regions and countries.
Projects submitted this time were more than twice the size compared to a year ago, rising from 750 kilowatts to 1.8 megawatts.
According to the Governor's press office, aggregate bid prices for awarded projects fell from $1 per watt one year ago to 55 cents per watt in Con Edison territory, and to 41 cents from 68 cents in the rest of the State. This means 1.6 times more solar energy generated per ratepayer dollar compared to 2013.
Several awarded sites will use remote net metering, which allows energy system owners who produce more energy than they use at one location to accrue annual credits that can be used against other electric accounts under their name.
President and Chief Executive Officer of the New York Power Authority, Gil C. Quiniones, said:
"The NY-Sun awards announced by Governor Cuomo underscore the tremendous strides that are being made to greatly increase the amount of clean solar electricity capacity in New York State. The competitive photovoltaic program leading to these awards also reflects a strategic approach for lowering solar power costs and spurring the private sector's investments in this clean renewable power source."
The following NY-Sun installers received awards:
TM Montante Solar Developments LLC (2 sites)
SunStream Partners LLC (2 sites)
SunEdison Government Solutions LLC (1 site)
SunEdison Commercial Solutions LLC (1 site)
SolarCity Corporation (24 sites)
Solar Power Financial (10 sites)
Solar Liberty Energy Systems Inc. (4 sites)
SoCore 2013 Project Co 5 LLC (1 site)
Siemens Industry Inc. (5 sites)
Safari Energy LLC (5 sites)
Research Foundation of the State University of New York on behalf of CNSE (1 site)
RER Energy Group (5 sites)
Real Good Energy (1 site)
OnForce Solar Inc. (5 sites)
One Energy Development LLC (1 site)
NYC Department of Citywide Administrative Services (24 sites)
NextEra Energy Inc. (16 sites)
General Electric International Inc. (1 site)
Dynamic Energy LLC (4 sites)
Distributed Sun LLC (2 sites)
Bright Power Inc. (1 site)
Borrego Solar Systems Inc. (14 project sites)
The International Energy Agency says that by 2050, solar energy will be the dominant source of electricity.