The Republic of South Korea confirmed on Wednesday its order for 40 Lockheed Martin F-35A Lightning II aircraft as part of its F-X fighter acquisition program. South Korea said it will sign the Letter of Offer of Acceptance (LOA) between the Korean and US governments for the aircraft, with deliveries commencing in 2018.
The order, worth approximately $7 billion, is South Korea's largest-ever weapons purchase, and is aimed at addressing North Korea's military threats.
Orlando Carvalho, Lockheed Martin Aeronautics executive vice president, said:
"We are honored by and appreciate the trust and confidence the Republic of Korea has placed in the 5th Generation F-35 to meet its demanding security requirements on the Korean Peninsula. We look forward to producing and delivering, on time and within budget, Korea's F-35A Conventional Take Off and Landing variant aircraft. This decision strengthens and extends our long-standing security partnership and truly enhances the regional stability among our greater Asia Pacific allies."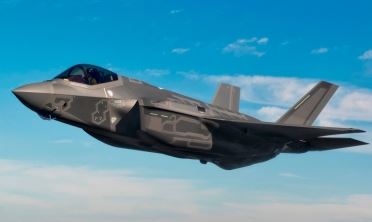 The Lockheed Martin F-35A Lightning II aircraft (Photo: Lockheed Martin)
The Republic of Korea now becomes the third country, after Israel (2010) and Japan (2011), to select the F-35A fighter jet. Other interested buyers include the United Kingdom, Australia, Canada, Italy, and Turkey.
According to Lockheed Martin, the F-35 Lightning II is a 5th generation fighter that combines "advanced low observable stealth technology with fighter speed and agility, fully fused sensor information, network-enabled operations and advanced sustainment."
North and South Koreas, which are technically still at war because the 1950-1953 Korean war ended with a truce (armistice) rather than a peace treaty, have hundreds of thousands of active troops along the world's most heavily-armed border. While North Korea's air force is ill-prepared and old, it is believed to have a large number of missiles pointing towards its southern neighbor.
Lockheed Martin is a global security and aerospace company based in Bethesda, Maryland. It employs about 113,00 workers globally and is mainly engaged in research, design, development, manufacture, integration and sustainment of advanced technology systems, products and services. In 2013, the company posted net sales of $45.4 billion.