British astronaut Tim Peake, who went out on a spacewalk yesterday, described the experience as exhilarating, one that "will be etched in my memory forever." He was the first Briton ever to float in space with just his suit separating him from the giant weightless vacuum outside. Major Peake and fellow spacewalker Tim Kopra took some breathtaking photographs.
Major Peake wrote in Facebook:
"Today's exhilarating spacewalk will be etched in my memory forever – quite an incredible feeling! Huge thanks to the ground teams who make it all possible and keep us safe out there – you guys rock!"
He shared a spectacular selfie taken during his spacewalk, which reflects planet Earth, the Union Jack and parts of the space station in the background like a mirror. The image is bound to become a prize-winner somewhere.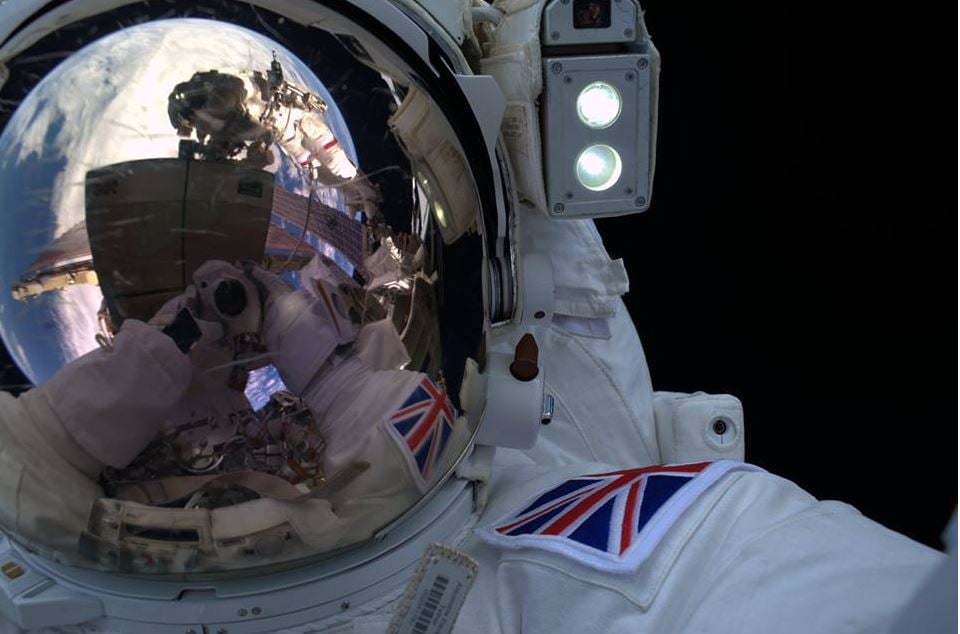 Major Peake's selfie during his spacewalk. This must surely be the UK's photograph of the year! (Image: facebook.com/ESATimPeake)
Spacewalk cut short due to helmet leak
The much-awaited spacewalk, as far as 65 million Britons were concerned, had to end early because fellow spacewalker Colonel Tim Kopra, a NASA astronaut, reported a small amount of water leaking into his helmet.
Even though the leak was not considered dangerous and the astronauts' lives were not threatened, flight director Royce Renfrew followed the recently tightened-up protocol and ended the event at 16:58, two hours early.
---
---
Three years ago, Luca Parmitano, an Italian Astronaut, developed a significant leak water leak in his helmet, which obscured his vision. US astronaut Chris Cassidy had to help the Italian Air Force pilot back to the space station.
Parmitano said he nearly drowned in the water in his helmet. Since that incident, carbon dioxide sensors have been installed into the helmets to warn astronauts of potential problems.
Since then, spacewalk safety regulations have changed. Colonel Kopra, who was on his third spacewalk, told mission controllers that a small water bubble measuring a few inches had developed inside his helmet.
Major Peake said it was a proud moment to be wearing the Union Flag in space. It was also a proud moment for millions of Britons back on Earth. (Image: facebook.com/ESATimPeake)
According to mission control, the water must have come from his spacesuit's cooling system, given that Colonel Kopra managed to sample it and described it as 'cold'.
NASA emphasized that the water bubble leak yesterday did not constitute an emergency, and explained that the spacewalk was cut short 'as a precaution'.
15 minutes from abort order to airlock
The two astronauts – the 'two Tims' – took fifteen minutes to get to the Quest airlock after being told to cut short the spacewalk.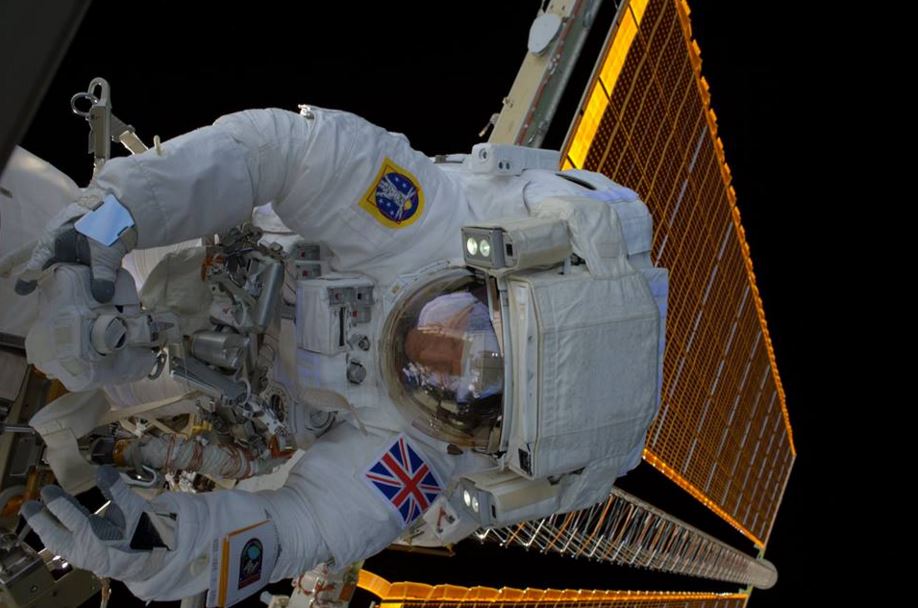 One of the space station's eight solar power units had been out of action since November. Major Peake (pictured above) and Colonel Kopra went out to fix it – the mission was successful. (Image: facebook.com/ESATimPeake)
When they were inside, the outer airlock hatch was shut tightly. Major Peake then thanked mission control: "You guys did a great job."
Three space station crew members, Station Commander, NASA astronaut Scott Kelly, as well as two Roscosmos (Russian space agency) cosmonauts Yuri Malenchenko and Sergey Volkov, were on hand.
As soon as the inner hatch opened, the three crew members helped their two spacewalkers get out of their spacesuits. Colonel Kopra's face was dried with a towel. They used a syringe to obtain a water sample, and retrieved the helmet absorption pad to determine what the cause of the water leak was. They also took photos of the helmet.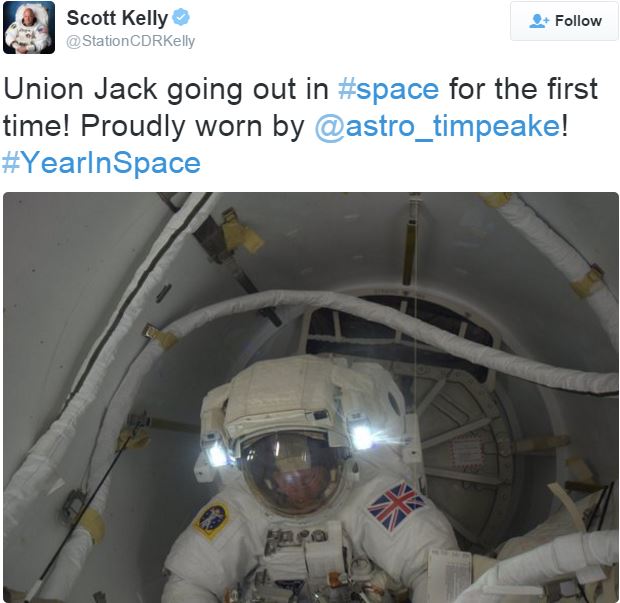 Commander Scott Kelly wishing Major Peake good luck just before his spacewalk. (Image: twitter.com/StationCDRKelly)
Union Jack exploring space
As Major Peake prepared to exit the airlock just before the spacewalk, Commander Kelly said it was 'really cool' to the see the Union Flag (Union Jack) outside.
Commander Kelly said "The Union Jack has explored all over the world, now it's exploring space."
Major Peake replied "It's great to be wearing it. A privilege, a proud moment."
Major Peake making a heart shape to his two sons – Thomas and Oliver – just before blasting off into space in December, 2015. They were more concerned about where he would go to the loo (toilet) while in the space station.
Major Peake's wife, Rebecca Peake, tweeted "Thank you Scott for your fantastic support and brilliant words at start of EVA," (EVA stands for extravehicular activity, i.e. a spacewalk).
NASA, which described the spacewalk as 'successful', wrote:
"NASA astronaut Tim Kopra and ESA (European Space Agency) astronaut Tim Peake completed the primary task for their spacewalk on January 15, 2016 before it was ended early by Mission Control Houston. The astronauts replaced a failed voltage regulator that caused a loss of power to one of the station's eight power channels last November, accomplishing the major objective for this spacewalk."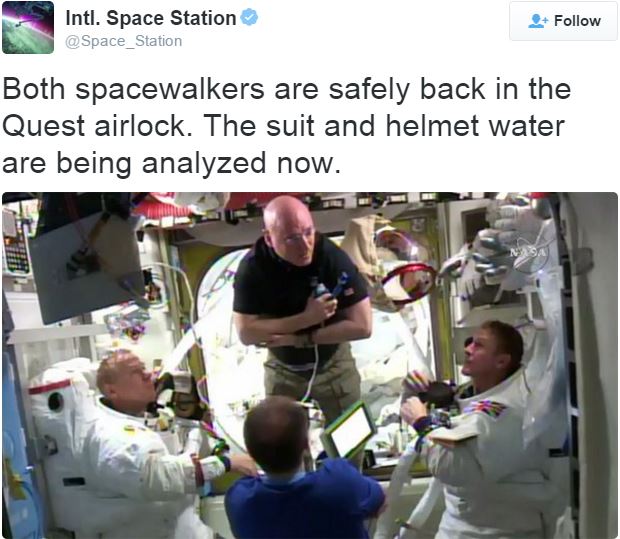 The two spacewalkers safely back inside the International Space Station. (Image: twitter.com/Space_Station)
Regarding Tim's timetable for the next few days, the European Space Agency wrote:
"With the spacewalk completed, Tim has a few days of rest before continuing work on the extensive scientific programme that is part of his six-month Principia mission."
Major Tim Peake, 43, born in Chichester, West Sussex, blasted off to the International Space Station as part of a 6-month mission in December 2015. He became the first Briton in space since Helen Sharman in 1991, who travelled on a Soviet spaceship and visited the Mir station for eight days. Major Peake is the first Brit to do so under a British flag.
BBC Video – Tim Peake's first spacewalk
Major Tim Peake began the first ever spacewalk by a Briton. He stepped outside the International Space Staion's Quest airlock just after 13:00 GMT.