SpaceX Falcon 9 debris has been found off the coast of the Isles of Scilly, UK, by a local boatman, who initially thought it was a dead whale or a large sea creature 'and the birds were feeding of it'. SpaceX Falcon 9, a space rocket, was launched from the Cape Canaveral Air Force Station on the Atlantic coast of Florida in June 2015. About two minutes after blastoff the rocket blew up, with debris crashing into a huge area of the ocean.
The large chunk of debris found between the islands of Tresco and Byher – part of the archipelago off the southwestern tip of Great Britain's Cornish peninsula – measured 10 metres (32 feet) by 4 metres (13 feet).
The debris was recovered with the help of a local professional boatman, and was then towed into New Grimsby – a coastal settlement on the island of Tresco – and is currently held under guard on the beach at Tresco.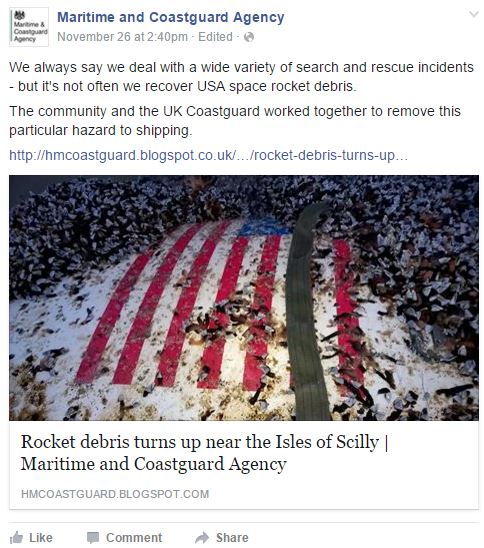 The Maritime and Coastguard Agency posted information on the debris discovery on Facebook. (Image: facebook.com/MCA)
Ships told to be on the lookout
After the debris was found in the afternoon of November 26th, coastguards issued a warning to all shipping in the area to be on the lookout.
Coastal area commander for the coastguard, Martin Leslie, explained:
"The markings show an American flag. It looks like it's an American rocket and seems most likely to be the unmanned SpaceX Falcon 9 which blew up shortly after take-off from Cape Canaveral in June."
---
---
"We're grateful for all those who helped in its recovery, it was a great example of the community working together."
'Overpressure event' caused SpaceX Falcon 9 to blow up
SpaceX Falcon 9 was launched from Florida on 28th June, 2015. It disintegrated 2 minutes and 19 seconds after blast off, resulting in the total loss of the space rocket.
The rocket had been in the process of sending a cargo ship and the Dragon vehicle to the International Space Station (ISS).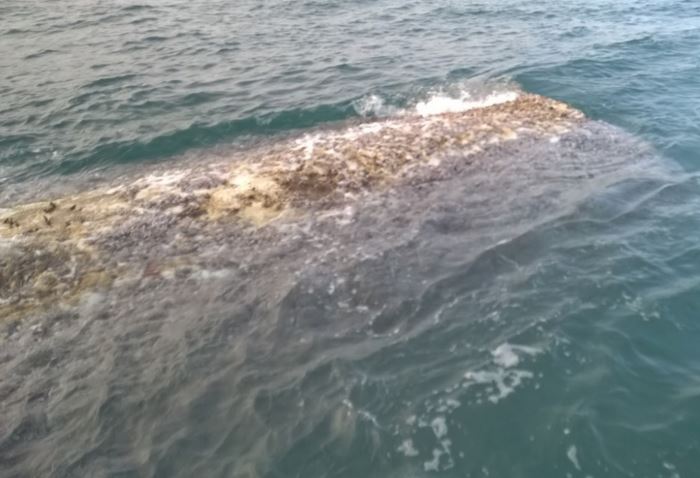 Joseph Thomas, from Tresco Boat Services, found the debris 'covered in goose barnacles' about 100 metres (328 feet) from the shore. (Image: Maritime and Coastguard Agency)
Nobody is 100% sure what caused the explosion. It was assumed to have occurred after a metal strut in the space rocket's upper-stage engine failed to function as it should. The strut broke, resulting in the release of a bottle of helium. The helium exerted extra pressure on the second-stage engine which triggered the rocket's explosion over the Atlantic Ocean.
Elon Musk, CEO of SpaceX (Space Exploration Technologies Corporation), a California-based aerospace manufacturer and space transport services company that made the rocket, said the explosion was due to an 'overpressure event' in the upper stage's liquid oxygen tank – a suggestion that has never been confirmed.
The explosion of the unmanned rocket in June had been preceded by seventeen successful launches. Falcon 9's next flight is scheduled for December 20th, 2015.
Video – Rocket debris being towed by a tractor