Dublin-based C&C Group plc suffered an 11% fall in its share price after the English pub and restaurant firm Spirit Pub Company plc rejected its £760 million takeover bid on Friday. C&C is famous for its Tennents lager and Magners and Bulmers cider.
Spirit has branded, managed and leased pubs across the UK that operate under several brand names, including Original Pub Company, John Barras, Taylor Walker Pubs, Flaming Grill, Fayre & Square and Chef & Brewer.
C&C's move has put Spirit in the middle of a bidding battle. Spirit, which has over 750 branded and managed as well as more than 450 leased pubs, has advised its shareholders to accept a £750 million offer from British brewery Greene King.
The Board of Spirit said on October 23 that it received a preliminary approach from C&C, and confirmed that it was rejected.
According to C&C, a merger with Spirit would offer several benefits: the new entity's revenues and costs synergies, a wider range of strategic and operating options, "a combination of C&C's highly cash generative business with Spirit which C&C believes will provide capital to optimize performance and drive shareholder value", and access to better procurement terms for a combined business.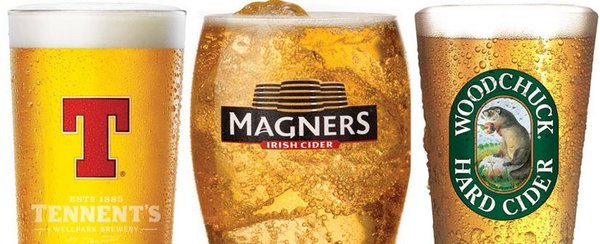 C&C is famous for its beer (Tennents) and two ciders (Magners and Woodchuck) (Photo: C&C Group plc)
On October 20th, Greene King offered Spirit 109.5p per share, which was an increased from a previous 100p bid last month that was rejected.
People familiar with the matter say C&C is unlikely to concede defeat, despite is share slide slump and some negative comments from several analysts.
Many analysts were surprised that C&C would be interested in buying Spirit. Nomura, which downgraded C&C, said such an acquisition would be a considerable step away from its long-term strategy of being a brand-led wholesaler.
The Financial Times quoted Nigel Parson of Canaccord Genuity, who said of C&C's acquisition plan "You guarantee yourself a shop window, but it's an expensive way of doing it." Mr. Parson did not see much synergy in a merger.
Spirit has 777 branded or managed pubs across the United Kingdom, and a further 452 leased pubs. The company employs nearly 17,000 workers.
C&C manufactures, markets and distributes alcoholic drinks, particularly cider. It has production plants in the UK, Ireland and the United States, and its products are sold worldwide.
Greene King is based in Bury St. Edmunds, Suffolk, England. The brewery was founded in 1799, and has grown into one of the country's largest through a series of takeovers. It owns hotels and pubs, including the Hungry Horse pub chain. The company, which is listed on the London Stock Exchange, is a constituent of the FTSE 250 share index.