Eminent theoretical physicist Professor Stephen Hawking, along with 150 scientists, today warn that Brexit would be a total disaster for UK science. The scientists, all fellows of the Royal Society, issued this warning in a letter to The Times today, 10th March, 2016.
Brexit means Britain Exiting the European Union. On 23rd June this year, Britons will vote in an in-or-out referendum, i.e. voters will chose to remain or leave the European Union (EU).
Their main concern is that the UK would no longer be a melting pot of international talent in the world of science.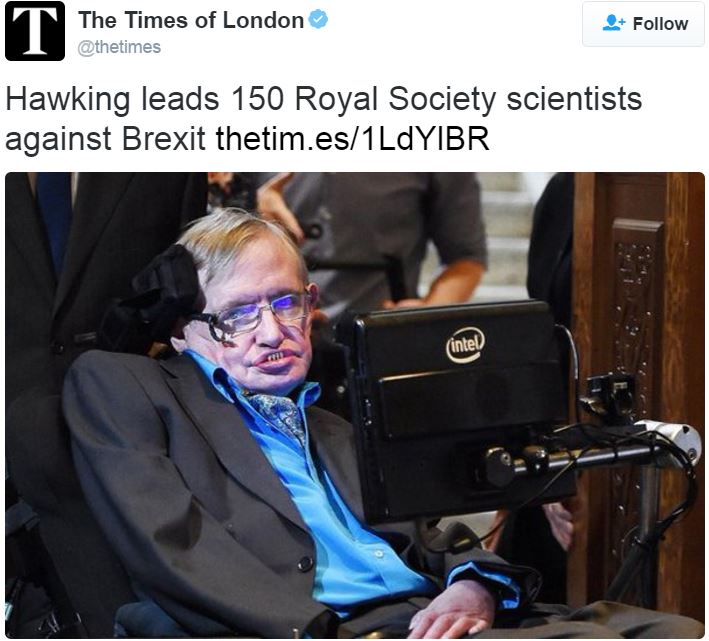 Prof. Hawking and 150 fellow scientists fear Britain's leading position in the world of scientific research would be lost. (Image: twitter.com/thetimes)
Many young scientists come from EU
Leaving the EU would be very bad for scientific research in the United Kingdom, because an enormous number of young scientists are recruited from Europe, the letter says.
---
---
The letter states:
"We now recruit many of our best researchers from continental Europe, including younger ones who have obtained EU grants and have chosen to move with them here."
"Being able to attract and fund the most talented Europeans assures the future of British science and also encourages the best scientists elsewhere to come here."
The British economy as well as UK science as a whole has benefitted enormously from EU funding, the scientists add.
The UK clearly pays in considerably more to the EU than it gets back. However, the British scientific community does well out of the EU (figures in blue). (Image: royalsociety.org/topics-policy)
Swiss science struggles
They point out, for example, that Switzerland, a non-EU nation that pays in to the EU, has limited access to funds and finds it much harder than the UK does to attract young talent, simply because of freedom of movement restrictions.
---
---
The letter adds:
"If the UK leaves the EU and there is a loss of freedom of movement of scientists between the UK and Europe, it will be a disaster for UK science and universities."
"Investment in science is as important for the long-term prosperity and security of the UK as investment in infrastructure projects, farming or manufacturing; and the free movement of scientists is as important for science as free trade is for market economics."
The letter was organised by Cambridge University protein specialist Sir Alan Fersht.
Consider implications for science, Royal Society asks
In December 2015, Sir Venki Ramakrishnan, President of the Royal Society, said:
"The outcome of the UK's referendum on EU membership is an important issue for the UK. Of course science will only be one of many things people have on their minds when they cast their vote."
"However, we would like to encourage them to factor it in as a consideration in this debate. Scientific research affects our daily lives and the long term growth of our economy, and brings many benefits to society in health, energy, food and the environment, to name but a few key areas."
"We hope these reports will be a useful guide for anyone who wants to understand the role of the EU in the UK research landscape."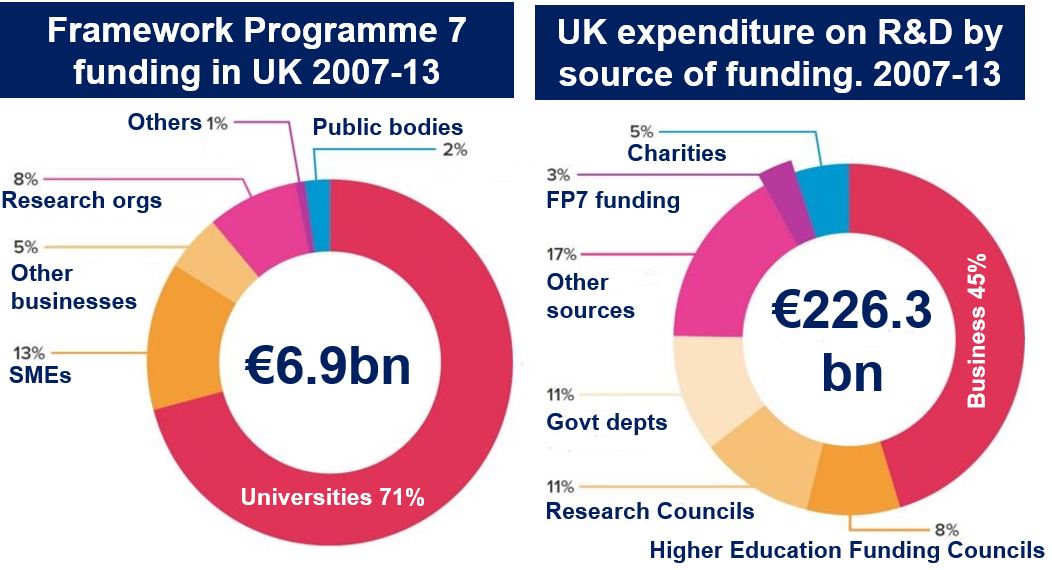 UK and EU science funding of projects in Britain are quite different, both in quantity and where the money goes. (Image: royalsociety.org/topics-policy)
Brexit warning by Sir Paul Nurse
Last month, Sir Paul Nurse, who was awarded the Nobel Prize in Physiology or Medicine in 2001, warned that Brexit would be bad for the nation.
Sir Paul attacked the short-term political opportunism that some lawmakers are currently pursuing – a move which he believes will come at great cost for the country's scientists as well as future generations. Opportunism refers to exploiting a situation without caring how it may affect others.
The former President of the Royal Society and current Director of The Francis Crick Institute warns that scientists in the UK would find it much harder to get research and development funding if voters choose to leave the EU – the move would 'sell future generations short,' he added.
Sir Paul Nurse said:
"We need a vision for our future that is ambitious and not to run away and bury our heads in the sand, and we can best do this by staying in the EU. We should not be side-tracked by short-term political opportunism."
"Being in the EU gives us access to ideas, people and to investment in science. That, combined with mobility (of EU scientists), gives us increased collaboration, increased transfer of people, ideas and science – all of which history has shown us drives science."
Some scientists support Brexit
Scientists for Britain, a group that supports leaving the EU, says it is a myth to believe that the nation's scientific community is somehow less solid and robust than it appears.
Britain has always been a major player in the world of science. Scientists for Britain quotes a recent UNESCO Science Report that showed that for a country with only 0.9% of the whole world's population, the UK has 3.3% of its scientific researchers, who produce 6.9% of global scientific output.
On its website, Scientists for Britain wrote:
"Indeed, a recent UK Government funding document found that the UK produced around 15.1% of the world's most highly-cited (or regarded) scientific papers. From these figures, there is no doubt that our industrious and talented scientists punch way above their weight when it comes to global science – hardly a position of weakness."
Video – What does Brexit mean for UK scientists?
In this video, Dr. Mike Galsworthy, Programme Director, Scientists for EU, talks about the implications of a Brexit for UK scientists.