World-famous theoretical physicist Professor Stephen Hawking says that an inspirational teacher transformed him from a lazy pupil into a keen lover of maths who went onto gain a scholarship and become Professor of Mathematics at the University of Cambridge, a position once held by Isaac Newton 350 years ago.
He believes Mr. Tahta, who died in 2006, helped him unlock his passion for science – the man literally changed his life.
He says his St. Albans School teacher, Dikran Tahta, opened his eyes to the 'blueprint of the Universe' – mathematics.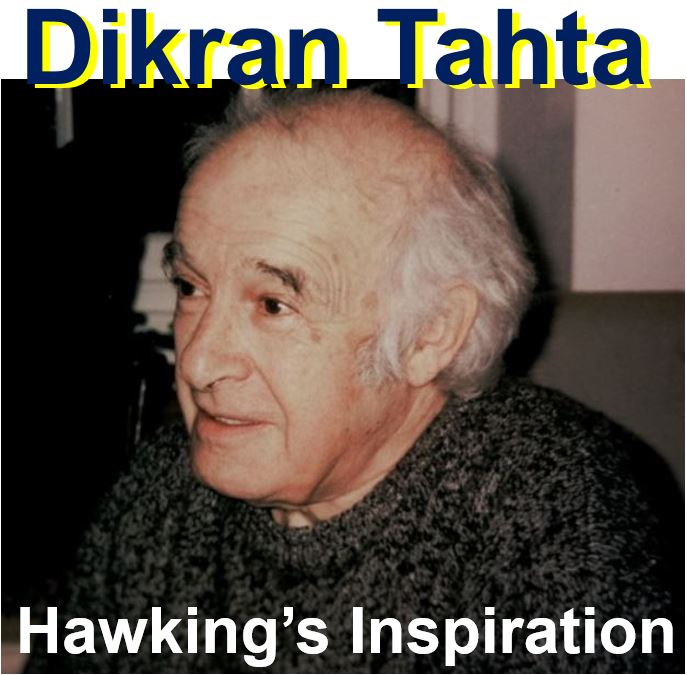 Mr. Tahta, the teacher who inspired Prof. Hawking to love maths, died in 2006. (Image: globalteacherprize.org)
Many teachers were boring
Prof. Hawking remembers that as a schoolboy he had bad handwriting and tended to be lazy. Several teachers at his school were boring, except for Mr. Tahta.
Prof. Hawking was talking ahead of the Global Teacher Prize when the 10 finalists were announced. The final winner will be awarded the prize – $1 million (£0.7m) – this weekend.
---
---
It is surprising how many eminent scientists, virtuoso musicians and other leaders in their field, who mention a teacher at school as the trigger for their lifetime passion.
At the beginning of his talk (video at bottom of this page), Prof. Hawking said:
"It all starts with the seed of love. The love of music. The love of history. For me it was the love of science. At St. Albans School there was an inspirational Maths teacher, Mr Tahta."
Mr. Dikran Tahta. (Image: globalteacherprize.org. Credit: The Tahta family)
"Thanks to Mr Tahta, I became a professor of Mathematics at Cambridge, in a position once held by Issac Newton. I have spent my life attempting to unlock the mysteries of the universe. When each of us thinks about what we can do in life, chances are we can do it because of a teacher."
The world today needs great teachers more than ever, Prof Hawking added. We must never forget 'Teachers matter,' he emphasized.
---
---
According to ArmenPress, Mr. Tahta was born in 1928, the child of Armenian Genocide survivors who settled in Manchester. He wrote several books and papers in the field of mathematics.
The Global Teacher Prize
The Global Teacher Prize is a $1 million award presented each year to an exceptional teacher who has made an outstanding contribution to his or her profession.
According to globalteacherprize.org:
"The prize serves to underline the importance of educators and the fact that, throughout the world, their efforts deserve to be recognised and celebrated. It seeks to acknowledge the impacts of the very best teachers – not only on their students but on the communities around them."
Stephen Hawking when he was a pupil at St Albans School. (Image: globalteacherprize.org. Credit: Mary Hawking)
Lack of education is a key factor behind several of the economic, political, social and health problems the world faces today. Education has the power to reduce conflict, prejudice and poverty.
The Global Teacher Prize is awarded by the Varkey Foundation, under the patronage of HH Sheikh Mohammed bin Rashid Al Maktoum, Emir of Dubai, and UAE Vice President and Prime Minister.
You can find out more regarding why the Varkey Foundation believes teacher status is so important here.
Video – Stephen Hawking's teacher who changed his life
Watch this powerful video in which Prof. Hawking gives us a wonderful insight into Mr. Tahta, the teacher who changed his life!