Eminent scientist Professor Stephen Hawking says humans need to be less aggressive, more empathic and explore space more as an insurance policy on our survival in case we destroy ourselves on Earth, as he showed the winner of an international competition around London's Science Museum.
Prof. Hawking said:
"The human failing I would most like to correct is aggression. It may have had survival advantage in caveman days, to get more food, territory or a partner with whom to reproduce, but now it threatens to destroy us all."
"A major nuclear war would be the end of civilization, and maybe the end of the human race."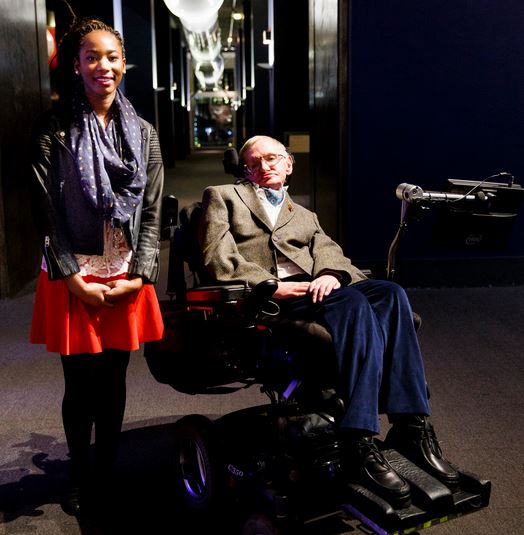 Creative writer and teacher Adaeze Uyanwah won the tour after creating a blog and video describing a "perfect day" in London. (Image: VISITLONDON.COM)
London's Official Guest of Honour Adaeze Uyanwah, winner of an international competition organized by VisitLondon.com to go on a two-week trip to London, had asked Prof. Hawking what of our common shortcomings as human beings he would alter, and which virtues he would magnify.
Regarding empathy, he said it "bring us together in a peaceful loving state." It is the human virtue he would most like to magnify.
He was also asked about the Oscar-winning movie The Theory of Everything, in which Eddie Redmayne plays Prof. Hawking. He joked that "Unfortunately Eddie did not inherit my good looks," but was happy to see that his official synthesized voice helped the actor win an award.
A meeting Ms. Uyanwah will never forget
Ms. Uyanwah, who beat more than 10,000 contestants from around the world to win the trip to London, said she will never forget her meeting with Prof. Hawking and hearing his views first hand.
Ms. Uyanwah said:
"It's incredible to think that decades from now, when my grandchildren are learning Stephen Hawking's theories in science class, I'll be able to tell them I had a personal meeting with him and heard his views first hand. It's something I'll never forget."
Prof. Hawking believes that space exploration would improve the survival of the human race. The landing on the Moon gave us perspectives of life on Earth – this outlook must develop if we want to improve our chances of surviving over the long term, he said.
Human space exploration must continue, it is our "life insurance", he explained.
Prof. Hawking said:
"Sending humans to the moon changed the future of the human race in ways that we don't yet understand."
"I believe that the long term future of the human race must be space and that it represents an important life insurance for our future survival, as it could prevent the disappearance of humanity by colonizing other planets."
Ms. Uyanwah, a teacher and creative writer from California, is looking forward to some other events during her two-week stay in London. She will have tea with Downton Abbey actor Jim Carter at Lords Cricket Ground, do a fashion photoshoot with Fenton Baily, go on a shopping spree with Glamour editor Jo Elvin down Oxford Street, have a guided tour of the Royal Opera House with former ballet dancer Darcey Bussell, and have the opportunity to appear as part of the cast of Mamma Mia! in the West End.
Hawking's favourite items
During their tour of the Science Museum, Prof. Hawking showed Ms. Uyanwah some of his favorite items, including a rare copy of Newton's Principia Mathematica and a portrait of him by David Hockney in an iPad. "I'm still not quite sure about the fingers," Prof. Hawking commented.
Prof. Hawking ended the tour with the following comment (addressed to Ms. Uyanwah):
"I hope that the objects and galleries you see here today will help remind you, as they did me years ago, to try to make sense of what you see and hold on to that childlike wonder about what makes the universe exist. Look up at the stars and not down at your feet."
About Prof. Stephen Hawking
A young Stephen Hawking (Image: hawking.org.uk)
Stephen William Hawking CH CBE FRS FRSA (born 8 January 1942) is an British theoretical physicist, cosmologist, author and Director of Research at the Centre for Theoretical Cosmology at the University of Cambridge.
He was born in Oxford to Frank and Isobel Hawking, both of them graduates from the University of Oxford.
In 1950 the family moved to St. Albans, Hertfordshire. The family was considered highly intelligent and rather eccentric. Meals were frequently spent with each member of the family reading a book. They travelled in a converted London taxicab.
Shortly before being diagnosed with amyotrophic lateral sclerosis (ALS, motor neuron disease or Lou Gehrig's disease) as a graduate student at Cambridge, he met Jane Wilde, a friend of his sister. The relationship blossomed and they were engaged in October 1964 and married in July 1965.
Prof. Hawking later said his engagement gave him "something to live for".
His scientific works include a collaboration with Sir Roger Penrose on gravitational singularity theorems in the context of general relativity, and the theoretical prediction that black holes emit radiation (Hawking radiation).
He was the first to propose a cosmology explained by a union of the general theory of relativity and quantum mechanics. He strongly supports the many-worlds interpretation of quantum mechanics.
He received the Presidential Medal of Freedom, the highest civilian award in the United States. He is a lifetime member of the Pontifical Academy of Sciences and is an Honorary Fellow of the Royal Society of Arts. From 1979 to 2009 he was the Lucasian Professor of Mathematics at the University of Cambridge.
His book, aimed at lay people – "A Brief History of Time" – was on the Sunday Times bestseller list for 237 weeks.
ALS has paralyzed him over the decades. He uses a single cheek muscle attached to a speech-generating device to communicate.
Prof. Hawking has been married twice and has three children.
Video – Become London's Guest of Honour
Why not try to win the competition to become the London Guest of Honour?