Supermarket proximity – being near a supermarket – helps boost house prices in the UK, a new Lloyds Bank study found. Homes within easy reach of a supermarket fetch, on average, £21,512 more than homes in nearby areas, the researchers report.
Upmarket supermarket proximity boosts house prices even more – the average price for homes within easy reach of a Waitrose typically costs £36,480 more than the wider town average, i.e. a property near Waitrose goes for (average) £429,118, compared to £392,939 for one further away.
Homes within easy reach of a Marks and Spencer are worth £29,992 more than those further away, followed by those near Sainsbury's, which sell for £26,081 more.
Even properties near a discount chain, such as Iceland (£22,767) are more expensive than their counterparts in other parts of town.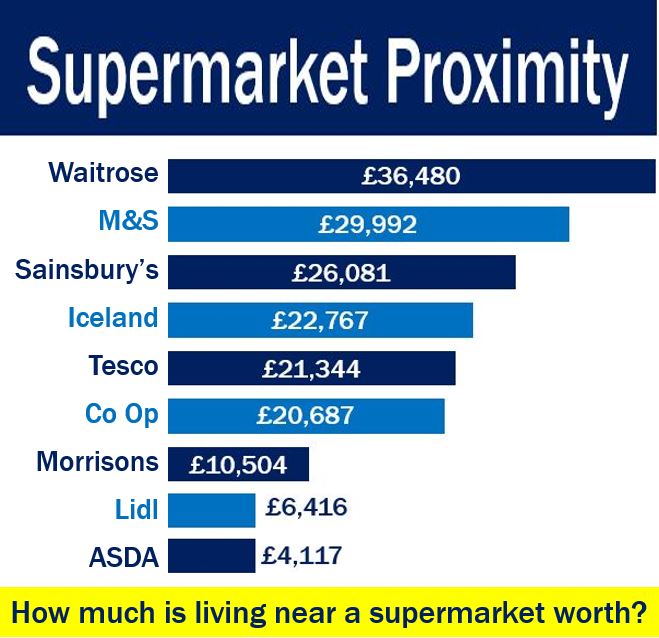 Supermarket proximity and the amount a property's price is boosted is closely linked to how upmarket or downmarket the retailer is. Waitrose is the classiest and pushes home prices up the most, followed by Marks and Spencer (the second-classiest), which came second, followed by Sainsbury's, etc. (Image: adapted from lloydsbankgroup.com illustration)
The Lloyds Bank researchers found that properties within easy reach of all four supermarket chains were selling for 9% more than homes elsewhere.
Budget supermarket proximity
Properties close to budget supermarkets have seen the steepest house price increases in percentage terms, with growth of eleven percent in three years.
Since 2014, an average property near an Asda, Morrisons, Lidl or Aldi has risen in price by £21,400 or 11%, compared to 9% for all the supermarkets, and slightly higher than for all regions in England and Wales (ten percent).
---
---
From 2014 to 2017, the average price for a house near an Aldi increased by about £20,000 – £178,809 to £198,810 – while those with a Lidl nearby rose by £23,000 (from £216,258 to £239,981).
In cash terms, Waitrose supermarket proximity gives a property the biggest price boost – £33,015 (from £396,104 to £429,118), which is an increase of 8%.
The average price for a house within easy reach of a Waitrose supermarket is £429,118 – the priciest of all chains – and more than double the price of properties near an Aldi store (£198,810). Properties near a Marks and Spencer sell for, on average £350,263, and those close to Sainsbury's for £314,154.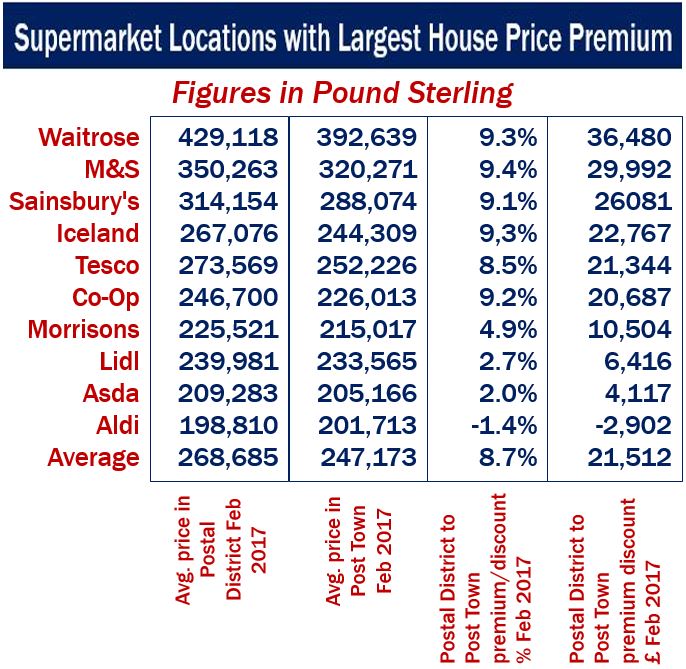 (Information Source: lloydsbankinggroup.com)
The 'Waitrose Effect'
Lloyds Bank Mortgages Director, Andy Mason, said:
"With homes in areas close to major supermarkets commanding a premium of £22,000, the convenience of doing weekly shopping within easy reach may well be a pull for many homebuyers looking for good access to local amenities.
"The 'Waitrose Effect' is clear; having a premium brand on your doorstep means buyers typically need to pay top prices. But the research also shows that areas with 'budget' stores have, on average, seen the most rapid house price growth in recent years."
"There has been some suggestion that the likes of Lidl and Aldi are increasingly locating in more affluent areas where prices are already relatively high. Indeed, in 2014 house prices in areas with a Lidl were, on average, £4,700 lower than in neighbouring areas; today they are £6,400 higher."
---
---
According to the Report, out of ten regions, Waitrose dominates in eight with the largest price premiums. In cash terms, the greatest premium associated with Waitrose proximity is in the North West of England, where properties near a store sell for £80,272 or 38% more than in other parts of town.
This is followed by properties close to a Waitrose in the West Midlands, which sell for £76,812 or 40% more, and Yorkshire and the Humber (£53,924 or 30%).
Video – UK house prices in decline
This Financial Times video explains that estate agents (US: realtors) in the United Kingdom are making it clear to prospective clients that they are entering a very price-sensitive market.