According to the latest Business Roundtable's (BRT) CEO economic outlook survey, US plans for hiring, investment, and expectations for sales over the next six months made its largest increase in the first quarter of 2017 since the fourth quarter of 2009.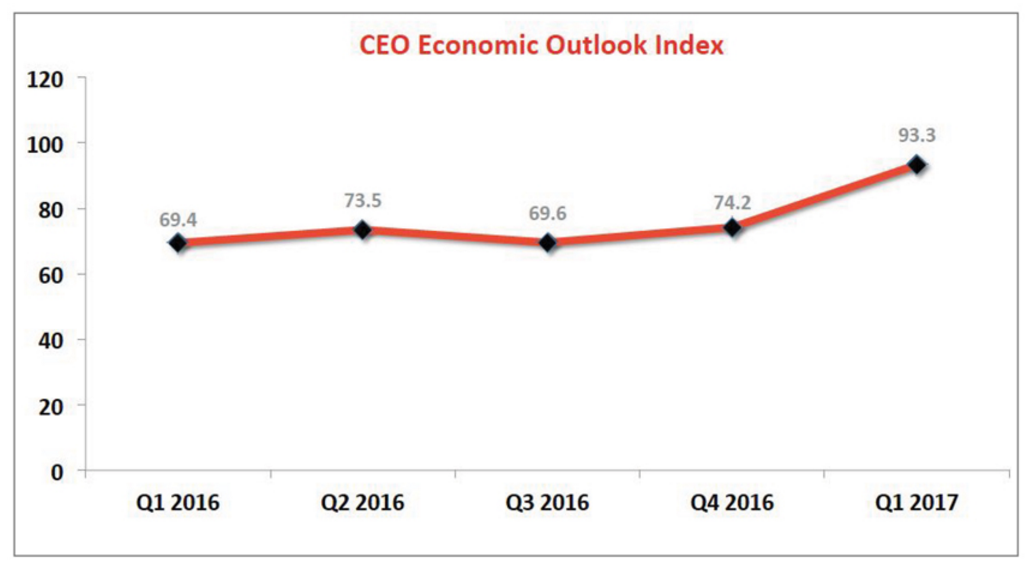 The CEO Economic Outlook Index rose 19.1 points to 93.3 in the current quarter, from 74.2 in the fourth quarter of 2016.
Increased economic optimism among America's top business leaders has been fueled by promises made by the Trump administration regarding fewer regulations for business (less red tape) and an overhaul of the tax code.
In a special question, 52 percent of CEOs identified tax reform as be single best policy to create a positive environment for their company's growth, while 27 percent of respondents identified regulatory reforms as the single best policy issue to drive growth.
"I am enthusiastic about the opportunity to enact a meaningful pro-growth agenda that will benefit all Americans. As these results confirm, business confidence and optimism have increased dramatically," said Jamie Dimon, Chairman and CEO of JPMorgan Chase & Co. and Chairman of Business Roundtable.
"Our CEOs are committed to working collaboratively with policymakers to drive policy solutions, starting with far-reaching tax reform and a smarter approach to regulation," Dimon said.
Joshua Bolten, Business Roundtable President and CEO, added, "CEOs appear to be responding to early indications that the new Administration is serious about creating a better environment for job creation and investment in America."