T-Mobile has cut the price of its unlimited shared data plan by 29 percent down to $100 month. This a move by the company to compete with other US wireless carriers that have announced significant cuts in the costs of data plans.
On Wednesday T-Mobile will offer customers unlimited talk, test, and 4G LTE data for two lines with its $100 a month Simple Choice plan, according to a company announcement made on Monday.
The company claims that its Simple Choice plan is "America's only family plan with unlimited 4G LTE data for the whole family and a multi-line family discount."
John Legere, chief executive officer of T-Mobile, said in the statement:
"Of course, every single T-Mobile Simple Choice postpaid customer immediately qualifies to take advantage of this offer. That's how the Un-carrier does it, putting our customers first. But not the carriers. Last week, one of them launched a new promotion that not one of their existing customers could get. That makes my head spin, and it's exactly the kind of BS we're on a mission to end."
Up to eight additional lines can be added for $40 each line.
"People are saying loud and clear that they hate the confusion and complexity of the carriers' shared data plans, and they should. They threaten you with punishing overage penalties unless you police your own family's data usage or up your data bucket and spend more every month," Legere said.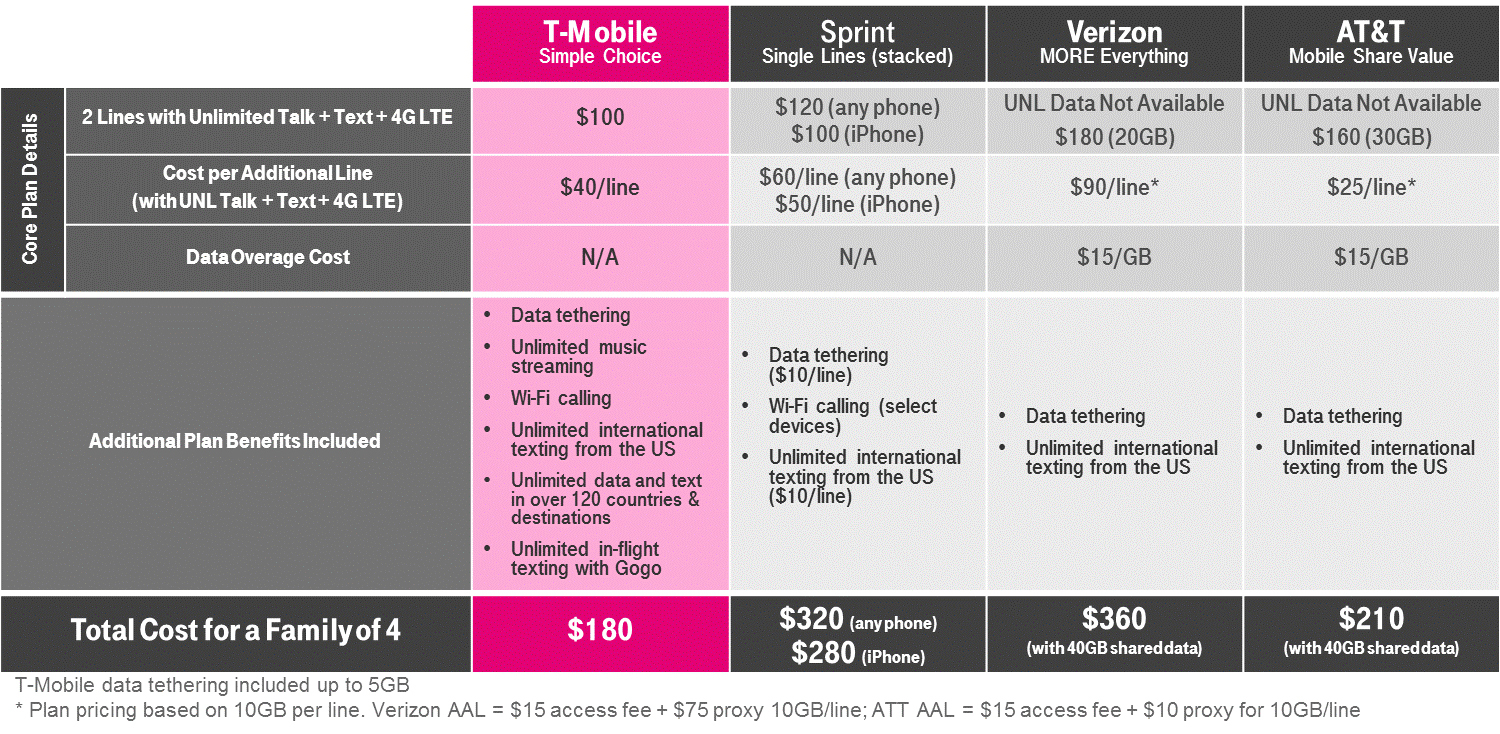 The company is also going to be bringing back a promotion that offers a family of four 10GB or 4G LTE data for $100. Customers will receive 2.5 GB per line of data until 2016 and then receive 1GB per line.
T-Mobile appears to be making these decisions to retain existing customers and hopefully attract new people to their service. Over the past year the company has made a number of aggressive moves and its Uncannier campaign has managed to win over customers and add 2.3 million new customers in the last quarter.
The competition is fierce though. In October the country's third largest wireless carrier, Sprint, announced that it would be introducing a low-end family data plan. AT&T and Verizon Wireless responded by increasing the amount of data offered on existing shared plans.
Reference:
"T-Mobile Introduces America's Only Unlimited 4G LTE Family Plan"  T-Mobile – Newsroom. Published December 9, 2014