Target Corp announced its first increase in US same-store sales, with quarterly profit ahead of expectations. However, the company will be reviewing the loss of its Canadian business unit.
US same-store sales increased by 1.2 percent, above the expected range of flat to 1 percent, with sales in the US increasing to $17.3 billion from $16.9 billion last year.
Third quarter 2014 adjusted earnings per share was $0.54, down 2.9 percent from $0.56 per share in 2013. GAAP earnings per share was up $0.55 in third quarter 2014, an increase of 2.7 percent from $0.54 last year. (GAAP stands for Generally Accepted Accounting Principles – a set of official procedures, rules and standards that publicly-traded companies must use when preparing their financial statements.)
Net earnings for third quarter was $352 million in 2014, up from$ 341 million last year.
Target said that third quarter Canadian Segment sales rose by 43.8 percent from third quarter last year, slightly below expectations, to $479 million. However, its Canadian segment suffered a loss of $211 million before interest and taxes.
The Company expects Adjusted EPS of $1.13 to $1.23 in fourth quarter 2014, reflecting operating results in its U.S. and Canadian Segments.
It has also changed the range of its full-year forecast, now expecting adjusted earnings of $3.15-$3.25 per share for the year ending January, a smaller range than its previous forecast of $3.10-$3.30.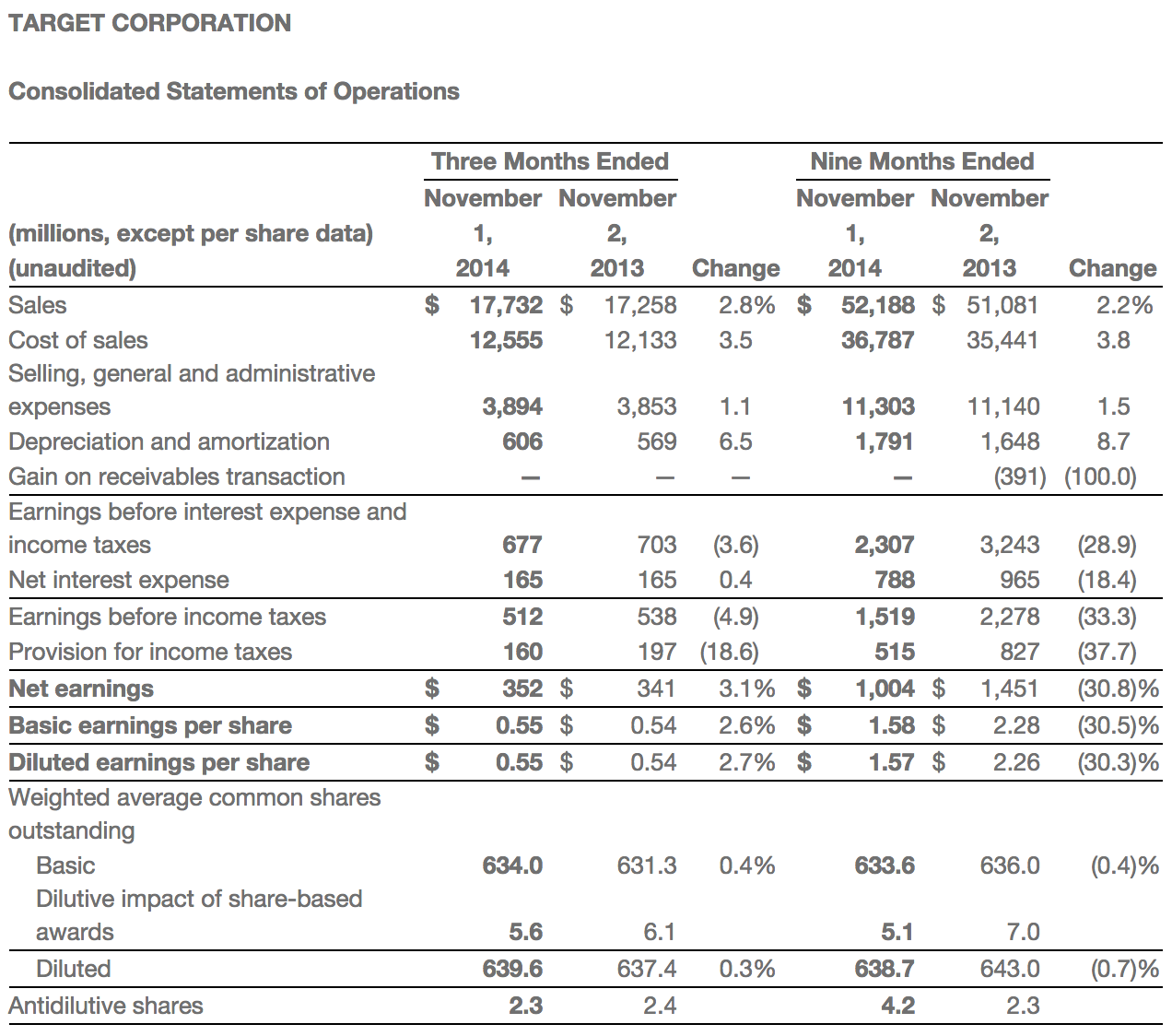 Source: "Target Reports Third Quarter 2014 Earnings"
Brian Cornell, chairman and chief executive officer of Target Corporation, said:
"We're pleased with our third quarter financial results, which were driven by better-than-expected performance in our U.S. Segment,"
Adding:
"We're encouraged by the improving trend we've seen in our U.S. business throughout the year, and our fourth quarter plans are designed to sustain this momentum. In Canada, we've made improvements to our operations, pricing and assortment in time for the holiday season, and we're eager to measure how our guests respond. The entire company is energized as we approach the peak of the holiday shopping season, and we are looking forward to delivering an outstanding store and digital experience to our guests."
Shares of the retailer surged 5.4 percent to $71.15 after the results were posted.