Tata Steel, the second largest steelmaker in Europe, has decided to sell its British steel plants amid high costs and Chinese competition, putting thousands of jobs at risk.
The company said it will "explore all options for portfolio restructuring including the potential divestment of Tata Steel UK, in whole or in parts" amid a "deteriorating financial performance of the UK subsidiary in the last 12 months".
The move puts approximately 15,000 jobs at its UK business at risk – as well as a further 25,000 jobs in the supply chain.
According to The Guardian, a source familiar with the matter said 'there were weeks rather than months to agree to a rescue deal'.
Tata's Port Talbot plant, which employs 5,500 of Tata UK's workforce, is believed to be losing £1m a day.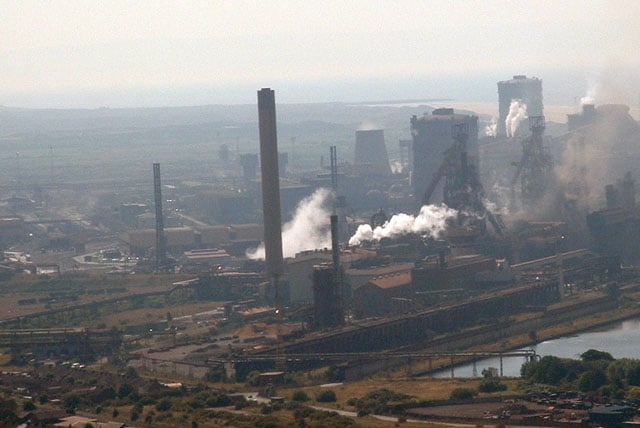 The Guardian's source said that the UK government's refusal to back higher tariffs against Chinese steel imports was the 'last straw' for Tata.
UK government is looking at all options.
Meanwhile, UK Business Minister Anna Soubry told the BBC that the UK government is considering "all options" for Tata's Port Talbot steel plant.
Business Secretary Sajid Javid is on his way back home from a visit to Australia to lead the government response. The steel industry is vital to the UK economy, Javid said, but he added that nationalization is not the answer to the crisis.
Javid said: "There are buyers out there. It might require some sort of government support and we are ready to look at all options."
He added that it is "too early to tell what options exactly are on the table, we need to speak to potential buyers".
---
---
Corbyn criticizes government for not responding to the surge in Chinese imports.
Labour leader Jeremy Corbyn travelled to Port Talbot and said:
"It seems to me that too many people are not prepared to say to the Chinese government: sorry, your behaviour is not right, not fair, not proper and certainly not within the rules of the World Trade Organisation,"
Liberty Steel expresses interest in acquiring the business, but says a decision depends on how much support it would receive from the government and Tata.
Liberty Steel said that the downstream operations of Tata Steel's business are of interest to them, but added that taking on Tata's iron and steelmaking facilities would be 'a huge challenge.'
It said:
"Like others in the industry we will have to take time to reflect on Tata's announcement and its implications. The scale and timing of yesterday's decision was much more dramatic than anyone was expecting. While the downstream operations will be of interest, we're clear that taking on the iron and steelmaking facilities present a huge challenge.

"We have shown in Scotland that we are capable of working constructively with all stakeholders to achieve a positive outcome. Our engagement will depend very much on what Tata and the government are prepared to do to help save these businesses."
Prime Minister David Cameron discussed the Tata Steel situation with Welsh First Minister Carwyn earlier this afternoon.
A Downing Street spokesperson said:
"Both the PM and First Minister agreed it was an extremely worrying time for the workers and wider community in Port Talbot, and South Wales more broadly. They also agreed that the UK and Welsh Governments would continue to work together closely to do everything possible to secure the future of steel making at Port Talbot and elsewhere in the UK.

"The PM and First Minister pledged to work to support a sales process that delivers a sustainable long term future for the plant. They also agreed to remain in close contact in the days ahead at both official and ministerial level."