Canadian metals and mining company Teck Resources Ltd posted a 68.5% fall in third-quarter earnings on Wednesday, caused by declining steelmaking coal prices, the company said.
Third-quarter adjusted profit attributable to stockholders was $159 million ($0.28 per share), compared to $252 million ($0.44 per share) in the same quarter last year.
The Vancouver-based company posted profit attributable to shareholders of $84 million ($0.14 per share) in Q3 2014, versus $267 million ($0.46 per share) in Q3 2013.
Earnings before interest, taxes, depreciation and amortization (EBITDA) was $651 in Q3, compared to $815 million in Q3 2013.
The company had a cash balance of $2 billion on October 28th, plus $3 billion available under its revolving credit facility that expires in 2019.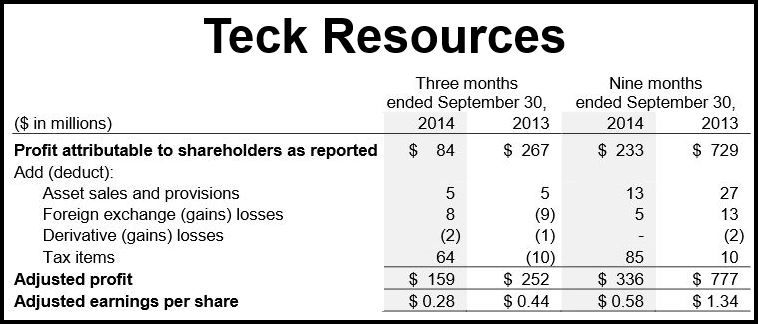 (Source: Teck Resources Ltd.)
President and CEO, Don Lindsay, said:
"Our operations performed well during the third quarter and this has allowed us to report profits, conserve cash and maintain a strong financial position with approximately $5 billion of liquidity at the end of the quarter."
"We are pleased with the progress being made in the development of the Fort Hills oil sands project and the reopening of the Pend Oreille zinc mine while continuing our focus on reducing costs and spending on other capital projects."
Canada's biggest diversified resources company, which is also the second-largest exporter of seaborne steel-making coal, said it took a $64 million non-cash tax charge because of new tax legislation in Chile.