According to a survey by the research firm Kantar Worldpanel, Tesco has, for the first time in a year, experienced slight sales growth.
Kantar said that sales rose 0.3% for the 12 weeks to 1 February compared to the same period the previous year.
The firm said that "Britain's largest retailer is bouncing back from a tough year,"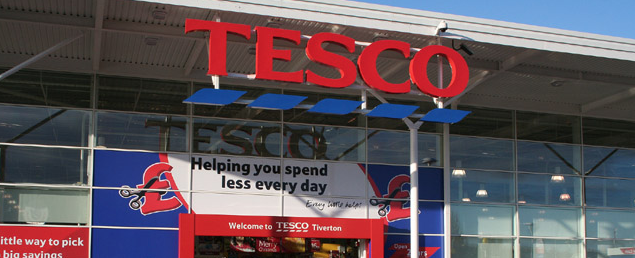 However, the survey also indicated that the UK's largest supermarket chain is continuing to lose market share as discounters such as Lidl and Aldi eat into its market.
Tesco chief executive Dave Lewis has struggled for the past year to retain market share, but he hasn't had much success, in fact, the company's overall market share has dropped from 29.2% last year to 29%.
But Fraser McKevitt, head of retail and consumer insight at Kantar Worldpanel, said that the chain has attracted an "additional 236,00 shoppers into its stores in the last 12 weeks,"
It's been two years of declining profits for the supermarket giant. Is this a sign that maybe it's on the right track again? It's still far too early to tell, but the news is encouraging – it means that Tesco is beginning to climb back up.
The company has focused on growing again and has cut prices and hired about 6,000 extra staff to improve customer service. And it appears to be having a positive impact.
Analysts at Barclays said that the back-to-back figures suggest "the longer-term trends (for Tesco) are clearly more encouraging than they have been for some time."
The UK grocery market grew at its fastest rate since June 2014, gaining 1.1 percent over the 12 weeks, as like-for-like prices dropped by 1.2 percent.
"Shoppers are taking advantage of both lower fuel prices and the continuing price war among the supermarkets to slightly increase their grocery spending," said McKevitt.