Another profit warning issued by troubled British supermarket chain Tesco plc, its fourth this year, sent shares down 12% to a 14-year low. Morrisons and Sainsbury's dropped by about 5% each on fears that Tesco's problems will intensify the current price war.
Britain's larger supermarkets are losing market share to German discounters Lidl and Aldi.
Tesco has had a terrible year, with falling sales and margins, and an embarrassing accounting scandal. Billionaire Warren Buffett said buying Tesco shares was a huge mistake.
Investors and analysts are now wondering whether Tesco's share price has hit rock bottom, or whether there is further to go.
In a statement made on Tuesday, Tesco said:
"On the basis of the changes and investments made to date we now anticipate group trading profit for the financial year ending February 2015 will not exceed £1.4billion."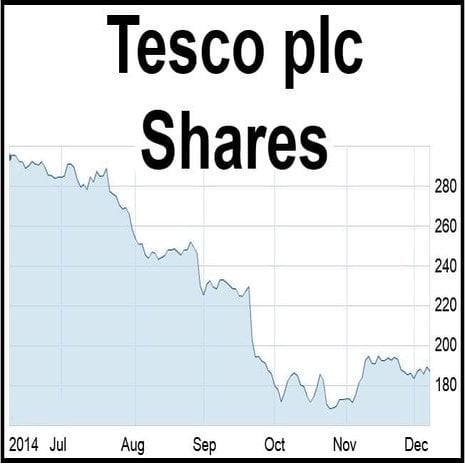 Tesco's share price has been falling all year (Chart: Yahoo Finance UK & Ireland).
Tesco's CEO, Dave Lewis, said:
"Tesco is focused, and will continue to focus, on doing the right thing for customers. This means running our business in a way that everything we do creates sustainable value. Whilst the steps we are taking to achieve this are impacting short-term profitability, they are essential to restoring the health of our business. We will not engage in short term actions that compromise in any way our offer for customers."
"We still have much to do but are making good progress in developing our plans to improve the long-term positioning of the Group and I will share more of that on the 8th January. Our priorities remain restoring competitiveness in the UK, protecting and strengthening the balance sheet and rebuilding trust and transparency. For now, all the Tesco team is focused on delivering the best Christmas for customers."