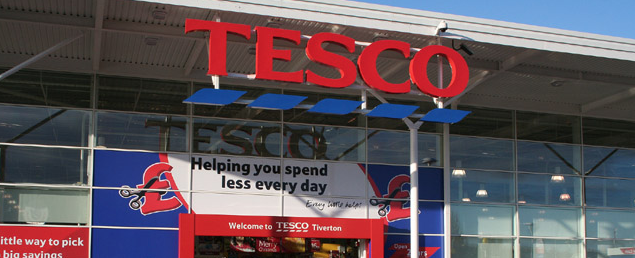 Tesco reported a big drop in profits for the first half of its financial year, despite a slight improvement in like-for-like sales.
The UK's largest supermarket chain reported operating profits of £354 million for the first six months of the year – 55% lower than the £779 million last year.
Like-for-like sales in the UK dropped 1.1% in the second quarter, which a slight improvement from the 1.5% decline in the first quarter.
However, chief executive Dave Lewis said that he is "confident" about the struggling retail giant's recovery.
"We have delivered an unprecedented level of change in our business over the last twelve months and it is working," he said. "The first-half results show sustained improvement across a broad range of key indicators.
"In the UK, we continue to improve all aspects of our offer for customers, resulting in volume growth which is allowing us to create a virtuous circle of investment."
Since the start of its financial year Tesco has closed 53 unprofitable stores and has postponed plans to open 49 new stores. Last month the retailer announced a £4.2 billion sale of its South Korean business (Homeplus) to the Asian private equity firm MBK.
The group said that it expects £400 million in annual cost savings, adding that its asset sell-off programme has concluded.
"We have finished our portfolio reshaping to reduce our indebtedness and we are not looking to make asset sales to reduce our debt. I am really keen to stop speculation in Malaysia, Thailand and Europe that we will sell off businesses because that is not something that we are looking to do," Mr Lewis said.
Mr Lewis told the BBC in an interview:
"We obviously had some issues to deal with, we dealt with them. It meant that in the second half of last year we made no profit whatsoever in the UK.
"So if I compare to the second half of last year, the first half of this year feels like we've made some progress.
"Our sales are growing compared to where they were either a year ago, or indeed in the second half of last year. And we've generated some profit as we rebuild the profitability of Tesco business. But importantly at the same time, as improving what it is we're doing for our customers."
Meeting the National Living Wage will cost the retailer hundreds of millions of pounds
Meeting the government's proposed National Living Wage rate of £9 an hour by 2020 will cost the retailer approximately £500 million.
According to Mr Lewis, the company already pays employees more than the £7.20 minimum which will be introduced in April 2016 under the National Living Wage.
The "big four" have been hit hard by the rising popularity of discount retailers 
The UK's "big four" supermarket chains have all been affected by the surge in popularity of discounters Aldi and Lidl. In an effort to win back consumers the big four have been slashing prices and cutting costs.