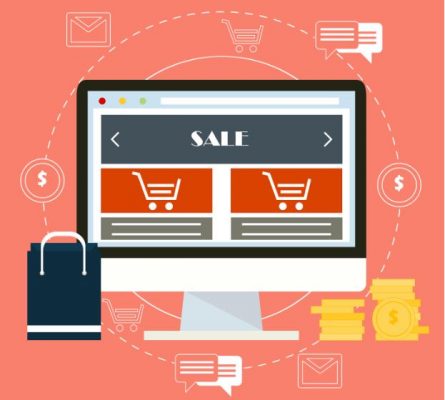 E-commerce websites are an essential asset for every business to trounce geographic limits, reach a wider audience, and lower operating costs. Every company destined for greatness must leverage e-commerce marketing. However, having an active e-commerce website does not automatically translate to search engine visibility, more sales, and increased profits. You need to leverage e-commerce marketing to make your business visible to search engines and prospects.
How Does E-commerce Marketing Work?
E-commerce marketing combines multiple selling strategies. It's the art of peddling your store and brand to prospects by creating and sharing compelling and exciting content. Companies need a strategic e-commerce marketing strategy to generate website traffic, convert visitors into customers, and build lasting business-client relations.
E-commerce owners can sell their businesses through various channels, including social media, network marketing, email, search engine optimization, and affiliate programs. The online store's strategy to market its products directly affects conversion rates, sales, and profits.
Cut Business Operation Costs
When you compare the costs of running an e-commerce website and operating a retail store, you won't have doubts about giving your existing business an online presence. In online business settings, you don't need a physical store to keep your goods, as is the case with retail stores. E-commerce stores don't require employing multiple workers to pack and unpack products. 
In fact, you can partner with established product manufacturers and have orders shipped out directly from their warehouses. This practice is commonly known as drop shipping. Once a client places an order, the manufacturer's team will package and deliver it to the receiver's address. You will then get paid a commission based on the terms of your agreement with the product manufacturer. If strategizing and converting prospects poses a challenge, enroll in a relevant e-commerce marketing course.
Establish a Global Presence
E-commerce marketing makes your business visible to over 5.03 billion internet users. Your business can appear at the top of over 50 well-established search engines with proper marketing strategies. Unlike retail stores that limit your client base to the targeted geographical location, e-commerce gives your business a worldwide presence. It eliminates the linguistic and geographical limitations that cause stagnated growth.
Online marketing enables you to seek and test out new markets even if you don't speak the same language. With the increased number of talented translators and voice-over transcribers, you can make your products known worldwide.
Boost Your Business Sales
Online, you're connecting with billions of prospects. Provided your marketing game is top-notch, it will be easy to convert site visitors into clients and sales. It's a game of numbers; the more prospects you turn into clients, the more sales and profits you'll make.
Get closer to your customers to know what they want in order to create effective marketing strategies for your business. Work with influencers, digital marketers, and content creators to improve brand awareness and increase website traffic.
Develop a Smarter Marketing Strategy
The digital marketing industry has witnessed substantial growth in the last few years. E-commerce company owners have multiple channels to direct their marketing efforts. They can easily connect with their clients through social media and influencer marketing, pay-per-click, or email marketing.
Companies that want to leverage the competition and stand out from the rest can scrape through their competitors' websites using proxies. They can collect valuable data, including product prices, reviews, and marketing strategies. Residential proxies are ideal tools for every e-commerce company that wants to outshine its competitors.
Access Product Feedback With Ease
Most online shopping websites have integrated sections where clients can leave feedback after using specific products. Positive reviews indicate that the goods you sell address the clients' pain points. Unfavorable comments show you the areas you need to improve to give clients exactly what they want.
You can adjust your service delivery and product range to meet clients' needs through the feedback you receive online. In retail stores, you rely solely on word of mouth. Considering not many people will give you positive or negative feedback concerning a product you sold, you may never realize when you hit or miss the mark.
Conclusion
For your business to continually sail the growth ladders, you must leverage e-commerce marketing. Know which digital marketing strategies complement your business niche and invest wisely to see your business attract new prospects that convert into clients.
---
Interesting Related Article: "Starting an eCommerce Business & How to Determine Your Niche"