Raspberry has just unveiled the new Raspberry Pi 3. The new version packs a faster processor and features wi-fi and Bluetooth.
The new computer was unveiled in celebration of Raspberry's fourth birthday. Since the Raspberry Pi launched four years ago it has shipped more than eight million units, making it the most popular British computer in history.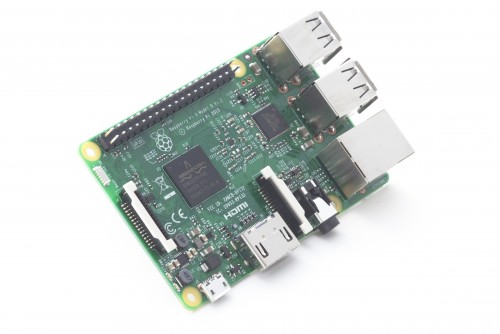 The Pi 3 is a tiny and affordable single-board computer that people can use to learn programming.
The Pi 3 boasts a faster 64-bit processor and built-in wi-fi and Bluetooth connections.
According to Raspberry, the Pi 3 is now on sale for $35 (the same price as the existing Raspberry Pi 2), featuring:
• A 1.2GHz 64-bit quad-core ARM Cortex-A53 CPU (~10x the performance of Raspberry Pi 1)
• Integrated 802.11n wireless LAN and Bluetooth 4.1
• Complete compatibility with Raspberry Pi 1 and 2
The specs of the Pi 3 make it almost as powerful as some laptops which were on the market only a few years ago – but at a fraction of the price. Raspberry has been able to boost the power of the Pi without increasing its price, thanks to the rapid drop in the cost of computer components.
The Pi 3's 64-bit processor gives it a 50% performance improvement on the Pi 2.
But the features which stand out the most are wireless LAN and Bluetooth 4.1, allowing the Pi 3 to become a control centre for the "internet of things" and act as a hub for smart home gadgets – to link devices and sensors together.
---
---
The company said that it will not discontinue production of earlier Pi models as long as there's demand. Raspberry Pi 1 Model B+ and Raspberry Pi 2 Model B will continue to sell for $25 and $35 respectively.
Eben Upton, Raspberry Pi Founder, told the BBC that on launch day there will be a "few hundred thousand units" available from online stores.
"The two main things that people do with their Pi are use it as a PC replacement or use it as an embedded computer," Mr Upton was quoted as saying.
"The Pi 3 is doubling down on both those things rather than going looking for new things to do."
---
---
Upton said in a blog post:
"The Raspberry Pi Foundation has grown from a handful of volunteers to have over sixty full-time employees, including our new friends from Code Club. We've sent a Raspberry Pi to the International Space Station and are training teachers around the world through our Picademy program.
---
---