A salon is a place where you can relax, unwind and indulge in a range of beauty treatments, including haircuts, coloring, facials, waxing, and manicures. With so many salons to choose from, it can be challenging to know which one is right for you. In this article, we will explore everything you need to know to choose the perfect salon to meet your beauty needs.
Define Your Needs
The first step in choosing the right salon is to define your needs. What treatments are you looking for? Do you need a hair stylist, esthetician, or nail technician? Are you looking for a salon that offers all-in-one services, or are you looking for a salon that specializes in a particular area? Defining your needs will help you narrow down your search and find a salon that specializes in the services you require.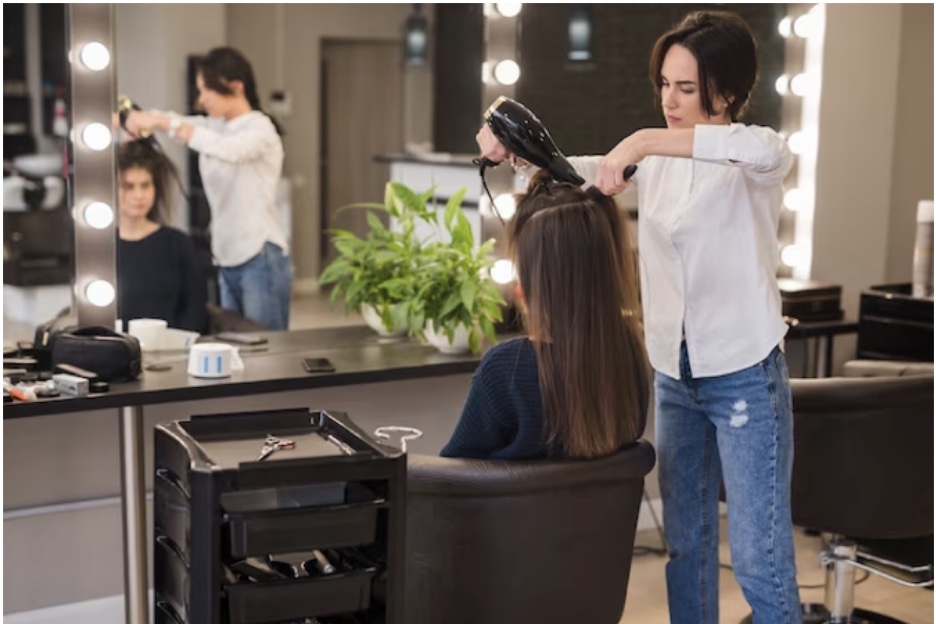 Research Your Options
Once you have defined your needs, it's time to research your options. You can start by asking for recommendations from friends and family, checking online reviews, or visiting salons in person. Make a list of potential salons and do some research to learn more about their services, prices, and customer reviews.
Visit Salons in Person
Visiting salons in person is one of the best ways to get a sense of the salon's atmosphere, cleanliness, and professionalism. During your visit, pay attention to the salon's decor, equipment, and hygiene standards. Take note of how the staff interacts with customers and whether they seem knowledgeable and attentive. If possible, schedule a consultation with a stylist or esthetician to discuss your needs and get a sense of their expertise.
Consider the Location
Location is an important factor to consider when choosing a salon. Ideally, you want a salon that is convenient to your home or workplace, making it easy to schedule appointments and avoid long commutes. Consider the salon's proximity to public transportation, parking options, and traffic patterns to ensure that it is easily accessible. For example, if you live in Edinburgh, check out the famous salon MacGregor Hairdressing in Edinburgh.
Evaluate the Price Range
Salon prices can vary widely depending on the salon's location, services offered, and level of expertise. Before committing to a salon, evaluate its price range and ensure that it fits within your budget. Keep in mind that higher prices do not always indicate better quality and that some salons offer package deals or discounts for repeat customers.
Look for Specializations
Many salons specialize in specific services, such as coloring, extensions, or skin care. If you have specific needs or concerns, look for a salon that specializes in those areas. Specialized salons often have experienced staff and use high-quality products tailored to your needs.
Check for Availability
Availability is another important factor to consider when choosing a salon. Make sure that the salon can accommodate your schedule and that they have flexible hours or online booking options. Some salons may require appointments weeks or even months in advance, while others may have same-day availability.
Get Recommendations
Word of mouth is one of the most powerful ways to find a great salon. Ask friends, family, and colleagues for recommendations and find out about their experiences. If you see someone with a hairstyle or beauty treatment you admire, don't be afraid to ask where they got it done. Personal recommendations can be a great way to find a salon that matches your needs and style.
Consider the Overall Experience
Finally, when choosing a salon, consider the overall experience. A great salon experience is not just about getting a great haircut or facial – it's also about feeling comfortable and relaxed. Look for a salon that has a friendly and welcoming atmosphere, with staff who are courteous and attentive to your needs. Consider the salon's amenities, such as complimentary beverages or snacks, comfortable seating, and a relaxing atmosphere. A great salon experience should leave you feeling rejuvenated, refreshed, and confident in your new look.
Evaluate the Cleanliness and Hygiene Standards
In light of the COVID-19 pandemic, cleanliness and hygiene standards have become even more critical when choosing a salon. Evaluate the salon's cleanliness standards, including the frequency of disinfecting surfaces, tools, and equipment. Check if the salon has implemented measures such as mandatory mask-wearing, temperature checks, and social distancing to ensure the safety of customers and staff.
Ask About the Products Used
The products used by the salon can significantly impact the results of your beauty treatments. Ask about the brands and types of products the salon uses and whether they are suitable for your hair or skin type. Look for salons that use high-quality, organic, or eco-friendly products that are gentle on your hair and skin.
Check the Qualifications of the Staff
The qualifications and experience of the salon staff can make a significant difference in the quality of the services provided. Check the qualifications of the hair stylists, estheticians, and other staff members to ensure that they are licensed and trained to provide the services you require. Consider asking about their experience and expertise in specific areas to find a staff member who can meet your specific needs.
Evaluate the Availability of Additional Services
While you may only need a haircut or manicure initially, it is always good to find a salon that offers additional services such as massages, pedicures, and facials. This ensures that you have access to a range of treatments in one place and can try out new services as needed.
Conclusion
Choosing the right salon can be a challenging task, but by following these tips, you can find a salon that meets your needs and exceeds your expectations. Defining your needs, researching your options, visiting salons in person, considering the location and price range, looking for specializations, checking for availability, getting recommendations, considering the overall experience, evaluating cleanliness and hygiene standards, asking about the products used, checking staff qualifications, and evaluating the availability of additional services are all important factors to consider when choosing a salon. By taking the time to find the right salon, you can ensure that your salon experience is enjoyable and relaxing and leaves you feeling confident and beautiful.
---
Interesting Related Article: "4 Steps to a More Efficient Beauty Salon"