The bustling beauty Bali is one of the top islands in Indonesia. It rates high among the top destinations to visit in the world on the tourism front. Bali is undoubtedly one of the most romantic destinations to visit along with your partner. A Balimoon in the company of your loved one is the best way to start your life on the right note. Be it the pristine beaches or mesmerizing waterfalls, Bali has it all for you in a nutshell. Here is a list of the best things to do along with your better half for the unbeatable Bali experience.
Water sports at Kuta
Start off your romantic escapade on a high note with some adrenaline-filled water sports at Kuta. Indulge in a variety of water sports like scuba diving, snorkelling and the unique activity of undersea walking. If you are inexperienced in swimming, the undersea walking activity is a blessing. You along with your partner can walk on the sea bed with protective equipment enabling you to breathe normally while observing the sea life. This activity will surely leave you with an exhilarating feel.
Embark on a day-trip to scenic Nusa Penida
Nusa Penida is an island located off the southern coast of Bali and is an ideal getaway if you prefer some peace and quiet. Once you reach Nusa Penida Island after a speed boat ride of around 40 minutes, set off on an exploration spree along with your loved ones. You can hire a private car to take you around the island or take the romance up a notch by exploring the island on a scooter. If you are an adventurous couple, you can take up scuba diving around the reefs of Nusa Penida as well.
Visit Tegenungan waterfall
Towards the northern region of Ubud, you should definitely pay a visit to Tegenungan waterfall. It is one of the most romantic things to do with your life partner on your Bali honeymoon. As you watch the cascading waterfalls whilst holding the hand of your partner, make sure you click some postcard-perfect pictures to carry home as memories. If you are up for it, you can also go for a refreshing swim around the waterfall. There are also different restaurants which are located around Tegenungan waterfall making it the ideal place to head to for the ultimate Balinese experience.
Go on a Sunrise Trek over Mount Batur
Trekking up a mountain is always an experience that is one of a kind. The speciality of Bali is its Sunrise Trek above Mount Batur. As the name suggests, the idea behind the trek is to catch the famous Balinese sunrise from the top of Mount Batur. You will have to start your trek early in the morning and head over to Mount Batur along with your group. Follow the instructions of the guide carefully and trek up to the summit of Mount Batur. After taking in the stunning sunrise, sit back and enjoy a simple breakfast along with your loved one. Make sure you click a picture which you will frame once you are back home.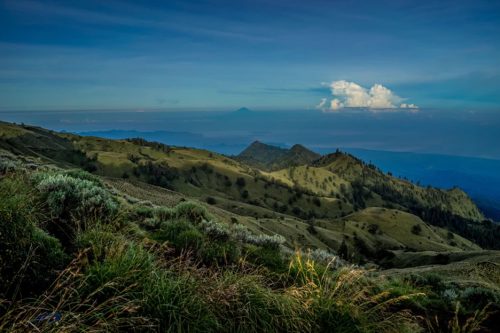 Get on to the Bali Swing
If you are to visit Bali and not go on the Bali Swing, it is a grave injustice to the 'Island of the Gods.' Most of the Bali Swings are located in close proximity to the rice terraces of Ubud. You can combine a visit to the rice terraces along with the visit to the Bali Swing. Apart from taking in the view of the rice terraces on an eye-level, you can look forward to a bird's eye view of the sprawling rice terraces when you get onto a Bali Swing. Feel adrenaline hit you hard as you are swooshed up into the sky along with your better half. Yes, you can get onto a Bali Swing even as a couple. Now, how romantic is that!
Take in the beauty of Uluwatu temple
Uluwatu is located slightly towards the southern region of Bali. Pay a visit to the Uluwatu temple and witness the Kecak dance performance. The dance performance is a true depiction of the culture of Bali and presents excerpts from the Hindu epic, Ramayana. Apart from this, you can look forward to an enchanting Balinese sunset which will leave you craving for more. This would be the perfect end to a quiet little evening before heading back to your hotel.
Head out to a nightclub and savour mouth-watering cuisine
Any vacation that you embark on should end with a bang! The best way to do that would be to head out to a nightclub in Bali and put on your party hats. Let your hair down and a groove to the beats of the DJ and drink like there is no tomorrow! If you still have some spirit left in you, gorge on some delicious Balinese delicacies at one of the local restaurants. After all, food is the way to everyone's heart! Your partner would agree to that too. Post dinner, head back to your hotel for some leisure time in the company of your partner.
There you have it! These were some of the most romantic things to take up during your Balimoon. You can look forward to these and a lot more when you vacation in Bali. Bali has extensive private pool villa options which are the ideal getaway for some peaceful time with your better half. Speaking of Ballooning, you should definitely plan your Bali honeymoon package along with Pickyourtrail as your travel partner. From customising itineraries to having a smooth vacation, your Balimoon will be the best you have ever had. Start planning your vacation today and Happy Ballooning!
---
Interesting Related Article: "Getting married? Here's How to Organise the Perfect Honeymoon"